How many Super Bowls has Tom Brady played in & how many rings has he won? Records & stats
After Tampa Bay Buccaneers' victory over the Kansas City Chiefs in Super Bowl LV, quarterback Tom Brady added new records to his long list of Super Bowl accolades.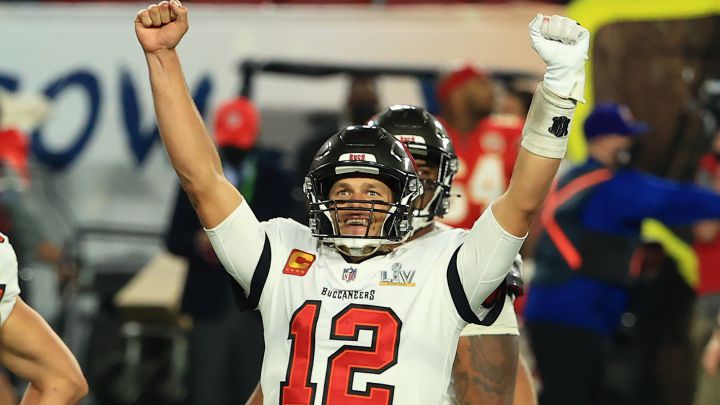 No NFL player has appeared in or won more Super Bowls than quarterback Tom Brady, whose Tampa Bay Buccaneers defeated the Kansas City Chiefs in Super Bowl LV on Sunday 7 February.
Brady: nine Super Bowls, seven NFL championship rings
Brady, 43, is featuring in his first Super Bowl for the Buccaneers, who he joined in 2020, but he has played in the NFL's showpiece game no fewer than nine times during his 19-year stay at former team the New England Patriots.
Of those nine Super Bowls, Brady and the Patriots were victorious on six occasions: in 2001, 2003, 2004, 2014, 2016 and 2018. And the tenth appearance, the first one with the Buccaneers, has seen him collect his seventh ring.
Linebacker Charles Hayler is the Super Bowl's next-most decorated player, having won the NFL championship five times with the San Francisco 49ers and the Dallas Cowboys between 1988 and 1995.
More Super Bowl MVPs than anyone else
Brady has also amassed a wide range of other Super Bowl records, including claiming an unprecedented five MVP awards and in 2021 becoming the oldest quarterback to win a Super Bowl, aged 43 years and 188 days, passing up his previous record from 2018 (41 Years and 184 days).
Brady becomes Super Bowl's oldest ever player
After appearing in Super Bowl LV - surpassing kicker Matt Stover - he has become the oldest player to be in a final and the Buccaneers' victory has turned him in the oldest player to win an NFL ring.
Stover featured in the Indianapolis Colts' Super Bowl XLIV defeat to the New Orleans Saints in 2010 at the age of 42 years and 11 days. Brady was 43 years and 188 days old on Sunday.
The previous oldest player to be on the winning side in Super Bowl history was Jeff Feagles, who was 41 years and 333 days old when the New York Giants beat Brady's Patriots 17-14 in 2008.
Among Brady's other records, he has completed more passes (277), made more touchdown passes (21) and accumulated more passing yards (3,039) in his Super Bowl career than any other player..