Baylor qualify from Final Four 2021: result, score, summary
Baylor vs Houston
Baylor dominate Houston
The Baylor Bears are going to the National Championship after defeating the Houston Cougars 59-78.
Baylor controlled the game from wire to wire. Led by Davion Mitchell and Jared Butler in the first half, they jumped out to a twenty point lead in the first half. Butler had 17 points in the opening 20 minutes and Mitchell had 7 assists in the first half.
The defense was the key for Baylor, who came into this game hearing about Houston's top ranked defense. They held the Cougars to a Final Four low 20 first half points, and kept Kelvin Sampson's at an arms length in the second half.
They can enjoy this win tonight as they watch and wait for their opponent in Monday's National Chamionship game.
Follow the National Championship match, as Gonzaga play Baylor.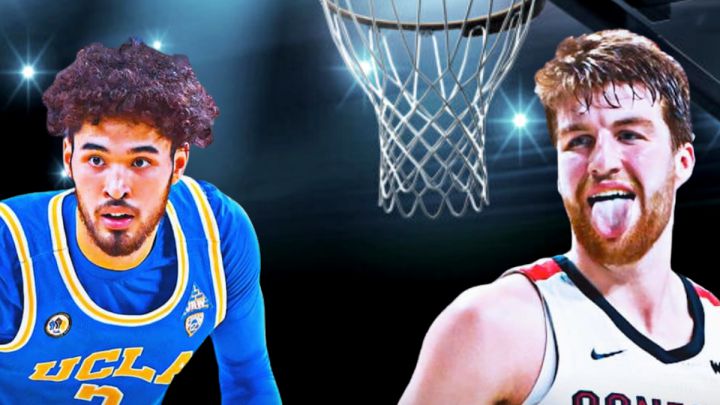 Butler the leading scorer with 17 (all in the first half) and Davion Mitchell ends the game with 12 points and 11 assists
They now await the winner of the Gonzaga vs UCLA game later on tonight
It's all over! Baylor is going to the National Championship
Shead going to the line with 2.8 seconds, makes 1 of 2
Paterson with his first bucket of the game
The emotion starting to show on the Houston bench as reality sets it. Some of the players are in tears under towels.
Under a minute to go, mid range jumper from Houston
Teague has been Baylor's best performer in the second half
Sasser fouled, and makes one of three from the line. First point since early in the second half
Mitchel in the corner, has his double double 12 pts and 11 assists
Jarreau with the follow off the missed shot out of the time out
Houston have been more competitive in the second half, but Baylor have looked in control from the very start
Flagler on the tear drop, goes down hard and we go to the last media timeout of the game
This is the closest Houston has been in the second half
White Jr. to the line, sinks both free throws
Grimes with a three. He's heating up
Teague with the scoop on the left side. 8 points for Teague all in the second half
Grimes with an and 1... makes the free throw
Mark with a follow up on the boards
Tachchoua to the line for two shots. The big man has 11 points and 5 rebounds
Tchatchoua again with an easy basket close to the iron
Sasser has been quiet for Houston in this second half
Under 8 to play from Indianapolis and Baylor in command
MItchell now with 10 assists
Tchatchoua answers with an easy bucket close to the basket
Grimes hits 3 of 3 from the line. Grimes with 7 points all in the second half
Grimes fouled on the three by Mayer. Will go to the line with just 4 points scored today.. averaging 18 ppg
Baylor have 17 assists on their 21 fgs
Thamba tied up underneath and Baylor take a time out up by 20
Mayer with his first points of the second half
Under 12 to go in the first semifinal, Baylor hit a free throw
Mitchell is one assist and one point away from a double double
Baylor's Vital to the bench with 4 fouls. Can Houston take advantage of one of Baylor's stars on the bench.
Baylor with 19 bench points, Houston just 2
Houston are looking much better D out of the timeout. Cougars are on a 12-3 run
Grimes with two straight buckets and the lead is 16
Houston continuing to give up offesive rebounds
Houston are within 20 since halfway through the opening 20 minutes
Houston are looking better scoring the ball, but need to come up with stops if they want to cut into this lead
Kelvin Sampson has never lost to Baylor in 22 previous matches. He's got his work cut out if he wants to keep that streak alive
Chaney finding his groove on offense. He's got 6 second half points
Sasser with the floater of the glass, he's got 19 tonight
Baylor's Vital going to the bench with 3 fouls. Chaney hits both free throws
Teague to the line for the first time tonight. Averaging 16 ppg splits the two free throws
9 Turnovers for Houston tonight
Jarreau answers back and Houston getting to the basket much easier in this second half
Thamba with 4 straight points
Thamba with the the first bucket of the 2nd for Baylor
Chaney miss down low, but it's a differnet look to this Cougar team in the 2nd
Houston on the board with the first possesion of the 2nd half with a Chaney jump hook
Baylor's offense may get the headlines, but their defense has been outstanding
The Cougars are just 2-12 from inside the arc
Houston shot just 26.9% from the field in the first half
Who is going to step up for Houston in this second half other than Marcus Sasser
The biggest win in Final Four history No. 2 Villanova 95, No. 2 Oklahoma 51 in 2016
Houston has just set the record for fewest points scored in the first half of a Final Four game.
Sasser was the only scoring threat for Houston in that first half
Our top scorers through 20 minutes in Indianapolis
Jared Butler has 17 points for Baylor, and Marcus Sasser has 17 for Houston
Baylor put up 45 points on the nations second best defensive team this year
Baylor Coach Scott Drew likes what he has seen in that first half, but knows that there are still 20 minutes of basketball
Sasser with a bucket.. first fg in 6 minutes for the Cougars
Mitchell with the three and the lead is 24
Fewest points in the first half in Final Four history.. 21 Houston have 18
Houston are 6-25 from the field
Mayer driving into the paint and making it look easy again on the offensive end
Houston had gone more than 4 minutes without a basket before Gorham's free throw
Vital goes to the bench with 2 fouls
Important part of the game for Houston. They need to find themselves on the offensive end before the half
10 points in the paint for Baylor, 0 for Houston 17 minutes in
Baylor are rolling in this first half and Houston have no answer
7 assists for Mitchell, and Butler has 17 first half points already
Beautiful dish by Mitchell, and the finish under the rim for Butler
Baylor can't miss! 9-0 run for the Bears
The Cougars need some one to step other than Marcus Sasser who has 15 of the teams 17
Houston are in danger of letting this game get away from them in the first half
Butler left wide open again and knocks it down for two three pointers in a row
Jared Butler with a three off another offensive rebound
Sasser with ANOTHER bucket! He's got 14
Another offensive rebound for Baylor. Put back by Mayer
TV timeout in Indianapolis, Baylor in command in this first half. Houston needs to find a way to get clean looks close to the basket
Baylor's defense has been air tight in the first 12 minutes. Just 1 fg inside the three point line for Houston
And 1 for Jared Butler!!! Baylor running in transition, and Butler converts the three points play
Sasser again!! That's four for him tonight, he's got 12 of Houston's 14 points
Houston are down by the most they have been down all tournament
Kelvin Sampson needs a time out, Baylor finding easy buckets on the their end and locking the Cougars down on the defensive end
Houston are having trouble finding good looks close to the basket
Sasser with 9 of the 11 Houston points 8 minutes in
Timeout on the floor. Baylor still in command early in the first half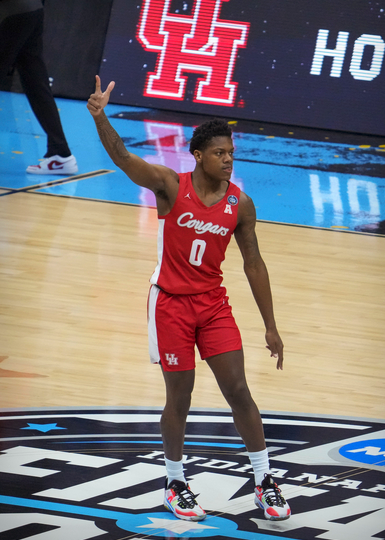 Houston Cougars guard Marcus Sasser (0)
Sasser with another three! That's three for him
Tchatchoua back to the line sinks both free throws
Baylor going to the line after two offensive rebounds, Tchatchoua to the line makes one of two
Baylor are up at the first TV timeout in a high scoring start to the game
Baylor are on a 7-0 run in the last two minutes
Matthew Mayer with 5 quick points off the bench
All even after Mayer knocks down the mid range jumper
Sasser with his second triple of the game
This is just the second Top 25 team Houston has played all year
Michell hits the second 3 for Baylor
Both teams exchanging threes for the opening points of the game
Incredible defensive start to the game! Big block by Gorham, but Jarreau stealing the spotlight by juming over Macio Teague
We are underway here from Indianapolis!!
Baylors Starting 5
0 Flo Thamba
11 Mark Vital
12 Jared Butler
31 MaCio Teague
45 Davion Mitchell
We've got the two teams out and ready... tip-off is next!
11 for Baylor is Mark Vital, will he be?
Houston Starting 5
0 Marcus Sasser
3 Dejan Jarreau
4 Justin Gorham
24 Quinten Grimes
32 Reggie Chaney
That's Houston out, here are the Bears!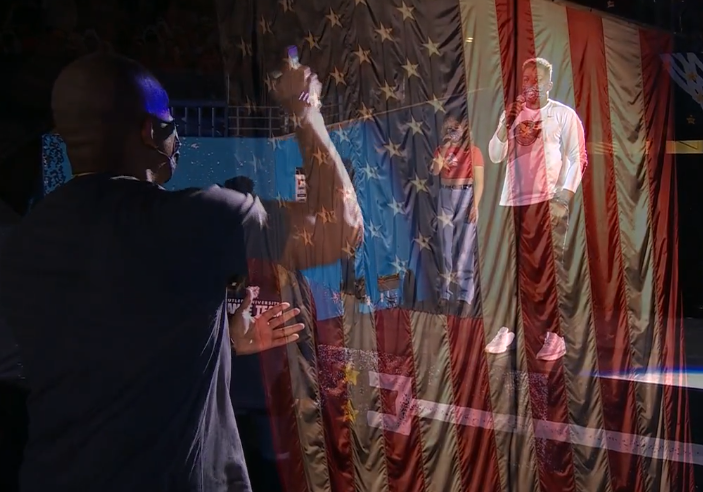 Odds for tonights first semifinal Houston vs Baylor
The Baylor Bears are 5 point favorites in Vegas, and few points are expected
Baylor -5
Over/Under 135 points
NCAA getting excited
All-caps on this account... must mean there really is not long to go now. Houston v Baylor tips off in less than half an hour!!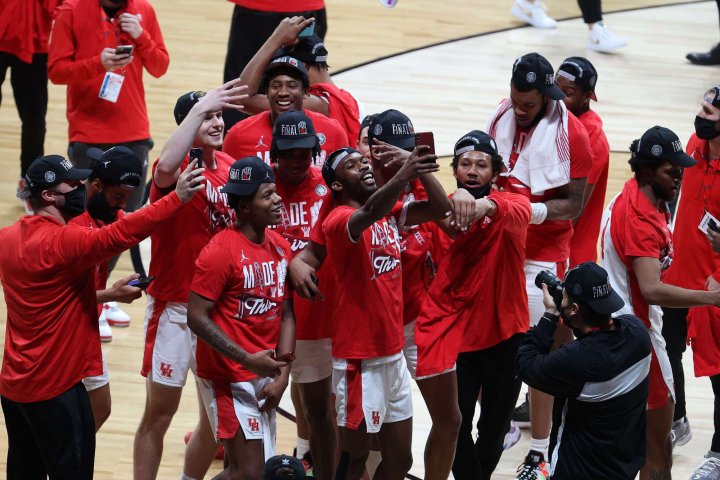 And now a look are the Houston Cougars Roster for the Final Four
0 Marcus Sasser
1 Jamal Shead
3 Dejon Jarreau
4 Justin Gorham
5 Cameron Tyson
12 Tramon Mark
13 J'Wan Roberts
20 Ryan Elvin
24 Quinten Grimes
30 Caleb Broodo
32 Reggie Chaney
35 Fabian White Jr.
52 Kiyron Powell
55 Brison Gresham
Head Coach Kelvin Sampson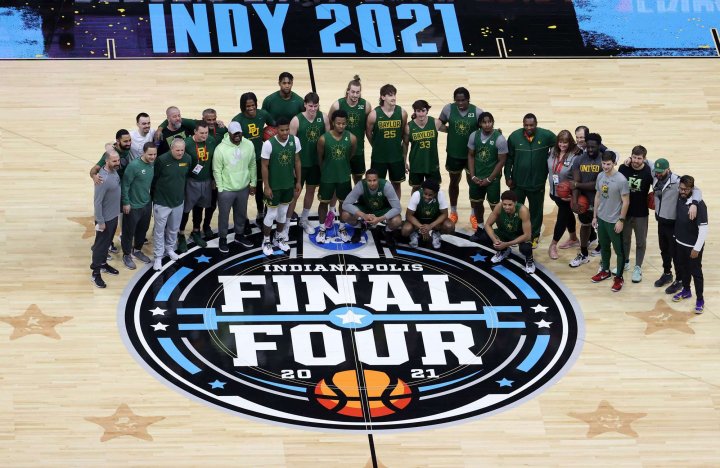 Here's a run down of the 2020-21 Men's Basketball Roster
0 Flo Thamba
4 LJ Cryer
5 Jordan Turner
10 Adam Flagler
11 Mark Vital
12 Jared Butler
13J ackson Moffatt
23 Jonathan Tchamwa Tchatchoua
24 Matthew Mayer
31 MaCio Teague
32 Zach Loveday
35 Mark Paterson
42 Dain Dainja
45 Davion Mitchell
Head Coach Scott Drew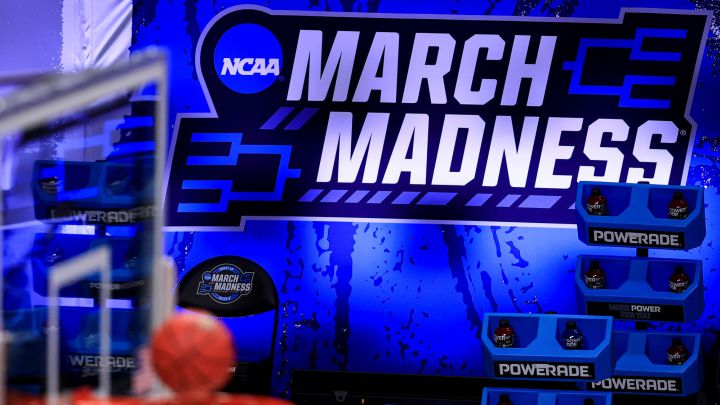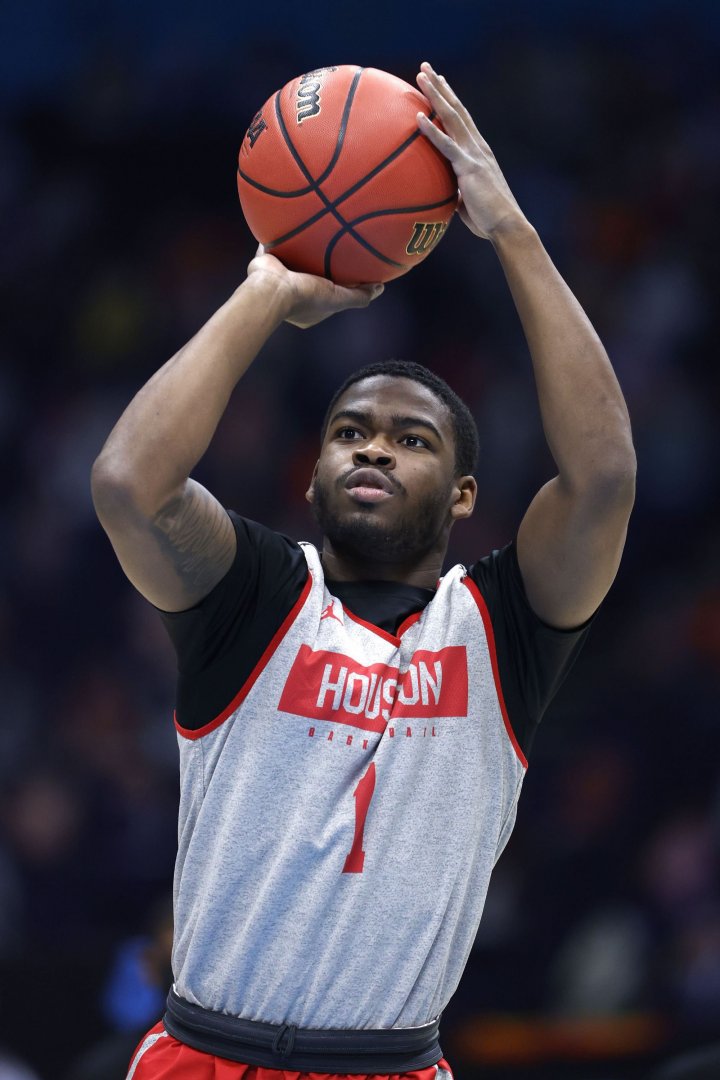 Houston Cougars record
The Cougars, like the Bears, have also never won the tournament, but they have every reason to fancy their chances this year, coming into this game 28-3 and on an 11-game win streak and having been crowned American Athletic Conference tournament champion. They've got the nation's top field goal percentage defence and have allowed the second fewest points per game. Again, just like the Bears, they are stingy in defence.
Up front, keep an eye on junior guard Quentin Grimes, who leads the Cougars offence with 18 points a game. Also keep an eye on how good the entire team is at grabbing offensive rebounds - they read the ball coming off the rim so well.
This is coach Kelvin Sampson's second Final Four, having got to this stage with Oklahoma in 2002.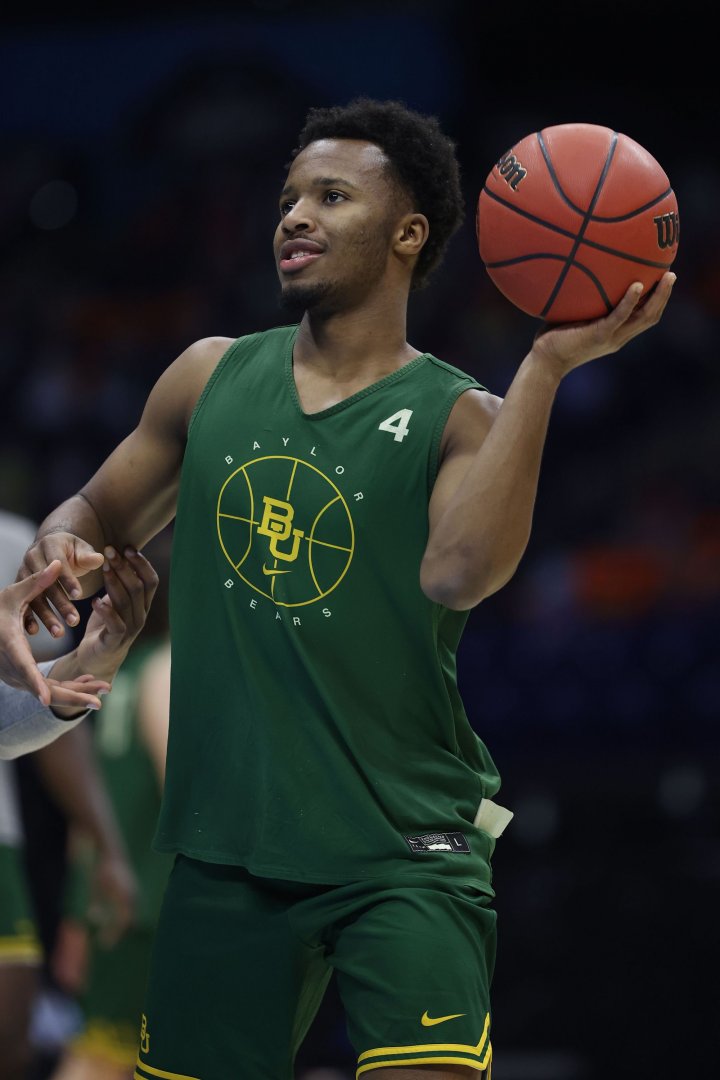 Baylor Bears record
1-seed Baylor are 26-2 and this is their first final four since 1950, and if they can go on to lift the trophy on Monday night it'll be their first ever win.
The Bears got off to a flying 17-0 start but missed six games in February due to covid-19. When they got back to the court things didn't quite click and they lost to Kansas on the road and then got knocked out of the Big 12 by Oklahoma State.
Check out their turnover stats during the NCAA tournament: forced 67 turnovers but given up just 27. They have one stingy defence. But it's not just defence, a reporter on Monday, after Baylor's win over Arkansas, asked senior guard MaCio Teague about some of their rivals trying to slow them down, while others tried to rush the play, but neither tactic worked.
"I feel that shows we have real hoopers on our team," Teague said. "We can play any style of basketball, and...we can overcome it all."
The question now is whether they can overcome the Cougars and go into the Championship Game on Monday?
NCAA Final Four semi-final one: Baylor Bears vs Houston Cougars
Hello and welcome to our live coverage of the first semi-final of March Madness Final Four, coming straight from Indianapolis' Lucas Oil Stadium, pitting the Baylor Bears against the Houston Cougars.
Tip-off is at 5:14 pm EDT (2:14 pm PDT and 23:14 CEST) and we'll have coverage of all the build-up and then play-by-play commentary.
After that we'll have another live feed for you to jump to covering the second semi-final featuring out-and-out favourites Gonzaga against 11-seed UCLA Bruins, while this feed will capture reactions to the match.