Apple 'Spring Loaded' | M1 iPad Pro, M1 iMac, Air Tags...
Apple Special Event: Spring Loaded - new products
Here's what Apple announced today in their online special event:
AirTags: bluetooth trackers, work with Find My so you won't lose anything ever again. $29 for 1, $99 for a 4-pack
Purple iPhone 12: just the new colour.
Apple TV 4K: various upgrades including a funky new automatic TV colour balance setting that uses the iPhone to measure the TV's output. $179 for the 32gb model, $199 for 64gb.
M1 iMac: New design for the first Apple Silicon M1 iMac. The low-power usage and low-heat output of the M1 chip means the new iMac is considerably thinner than previous models. New video, mic and speaker system. Base model in 4 colours from $1299, all 7 colours from $1499.
M1 iPad Pro: Major performance jumps with the M1 in the iPad Pro, new wide-angle camera, studio quality mics, new XDR liquid retina screen available on the 12.9" version. Possibility of 2TB of storage. 5G option. 11" from $799, 12.9" from $1099.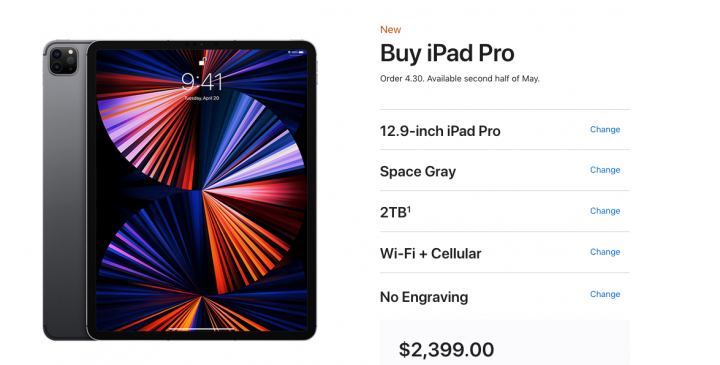 Ok, the products are up on the Apple Store now, so as promised here's the fully specced 12.9" iPad Pro... $2,399
No, no One More Thing today. That's it from Cupertino! Today's Apple Special Event is over, thanks for following!
Back to Tim out in the Apple Campus garden and he's summing up. Will there be OMT??
M1 iPad Pro pricing starting at:
11" $799
12.9" $1099
(Goes running to find the price of the fully specced 12.9" 5G, Liquid Retina XDR, 2TB iPad Pro...)
100% recycled aluminium for the enclosure. You might get my sandwich wrapper in your iPad Pro, think of that.
Apple Pencil updates next. More languages available in Scribble.
The developers are really, really excited. (As you'd expect on a promo piece)
Using the wide-angle camera one of the developers built hawkeye for tennis. That's neat.
"Processing power is insane"
iPad Pro promo feature time. What developers got up to with it...
Display does look absolutely stunning. And you'd expect this technology to gentle trickle down to the consumer level products over the coming years.
Mini LEDs, 120 times smaller than previous design. 10,000 mini LEDs on the screen. 72 LEDs on the previous iPad Pro. 1,000,000:1 contrast ratio.
New display. XDR display available on the 12.9 inch iPad Pro. It's the XDR display crammed into the iPad. 1600 nits maximum brightness.
iPad Pro true-depth camera system with a 12 MP Ultra Wide camera with 120 degree field of view.
Offers Centre Stage to keep you in the centre of the view. It pans to keep you in the shot and if other people come in they get included in the shot. Example being shown is a family cooking on a video call.
New camera unit on the iPad, with "studio quality" mics.
5G on the iPad Pro: 3.5gb/s download speeds (your mileage really may vary with this)
iPad Pro now offers 5G as expected.
2x storage access speed and now 2TB storage as the biggest option. That's a hefty chunk of data.
USB-C port now with Thunderbolt, with USB 4 too. 4x more bandwidth. 40 gb/s. And Thunderbolt offers more options for accessories. Storage and 6k displays for example.
40% faster graphics on the iPad from last model... 1500x faster graphics than the first iPad Pro.
Apple talking up the performance of the new iPad Pro with the M1. 50% jump in CPU performance.
So the Mac and the iPad converge
The chap breaking in is in fact... Tim Cook! He's put an M1 in the iPad Pro!
Apple had a bit of fun making a spy movie - bet it was shot on an iPhone.
More M1 news... a spy is breaking into Cupertino, Mission Impossible stylee, to get his hands on an M1.
New iMac pricing
$1299 in 4 colours
$1499 in 7 colours with better specs.
Order 30 April, available mid-May.
"iMac can do it all" says Apple. Time for a promo video!
Thumb unlock on the bluetooth keyboard, just like the portables.
State of the art connectivity. 4 USB-C, 2 of which are thunderbolt ports, but no USB A. New power cable. The ethernet port is on the power adaptar, to keep the desk less cluttered.
iMac with Big Sur OS: Instant wake from sleep, everything running extremely quickly. And "Gaming on iMac is better than ever". Are Apple about to start taking gaming seriously on the Mac... well it got a mention there.
85% faster than previous 21" iMac they say. And for some apps, 2x faster graphics.
Apple's silicon is brutally good. Making the entire widget can have its benefits.
With all the video calling we've been doing over the past year, Apple has focused on a better 1080p camera system. "This camera will make you look like a rock star!"
They say it's the best camera they've ever put in a Mac. To be honest that is not exactly a very high bar.
Also the best mic system in a Mac.
And also a new speaker system. Apple's speaker game has been absolutely on point recently (the 16" MacBook Pro is a monster, and the M1 Air is remarkably potent) so my guess is that this iMac will sound amazing.
The big chin is going to come in for criticism though.
24" 4.5k display in a body the size of the previous 21"iMac.
Here's Colleen Novielli to talk through the new iMac. Design first. 7 different colours (including the 'standard' aluminum').
It's got a big old chin on it, you have to say.
The back is a sheet of pure colour. Looks like a fair amount of ports on the back of it.
M1 has allowed us to get closer to the thin design they want. The thermal requirements of the previous iMacs have been swapped out for two tiny fans. Under 10 dB in normal operation. iMac volume down 50%.
I can tell you the M1 Air rarely even gets warm, no matter what you do with it.
New Mac... is the iMac! With industrial styling like the iPhone 12. And in a slew of colours. Looks very, very tasty.
Lots of apps now native on M1: Twitter, Quicken, Slack etc etc.
John Ternus, SVP Hardward Engineering, talking through the M1, breakthrough performance and energy efficiency.
ANOTHER APPLE SILICON MAC!!
Talking about the M1 Macs and how well they've been received. I've been playing around with an M1 Air since launch and it's an amazing machine.
Back to Tim Cook... and he's talking about the MAC!!
New remote! It's shiny aluminium and has a lot of buttons for an Apple product. "The only remote you need for your TV", it has a power button for your TV too.
$179 with 32gb
$199 64gb
Order April 30, available in second half of May.
Apple have a new colour balance setting, which uses the iPhone to measure the TV colour balance and then the Apple TV can automatically adjust the video output to ensure you have accurate colours on the TV. The example shown is pretty impressive.
The next generation of Apple TV 4k, with an A12 bionic. HDR at high frame rate. Good for sports, and people streaming in HDR at high frame rates.
Ted Lasso is back in July.
Best way to watch it is OF COURSE Apple TV 4K... so we're getting a look at that now.
Tim Cook going through content available on Apple TV, with a sneak peek of content coming soon.
Apple TV is next and we're back with Tim Cook.
Apple says privacy is locked down on the AirTags.
1 AirTag is $29.
4-pack for $99.
Available 30 April.
You track your AirTags in your phone, with what Apple is calling 'Precision Finding'.
The chap has found his keys, with AirTag! It's a tiny silver button. You can personalise, with emojis or letters.
Finding things accessory... could it be AirTags? Looks like it. There's a dude looking for his keys in a panic!
More iPhone news, with Caroline Wolfman-Estrada, iPhone engineer. She's talking about Find My... the way to find all your Apple gear.
Purple iPhone will be a big hit you'd reckon. People who love the colour purple REALLY love the colour purple.
iPhone 12 - Cook says its the most popular phone in the world (something that is subjective, of course)... Launch of a new colour of phone. Purple!
Podcasts next. Cook saying the biggest change to Podcasts since its debut. A new podcast app coming, and podcast subscriptions. Launches in 170 countries next month.
Apple Card is first up, with the ability for people who use the card with someone else to share their credit history. There's also a new family option.
Tim Cook talking about how Apple is improving the environment. Apple is now carbon neutral and runs most of its operation on renewable energy. Aiming to be fully carbon neutral, including use of products very soon.
Apple also looking to remove a million tonnes of carbon per year in the near future.
The usual video fly through on and around the Cupertino UFO campus... lots of colours... and here's Tim Cook!
Things are happening over at Cupertino... there is soothing music and colours moving around the screen. Cut to Apple CEO Tim Cook in 3,2,1...
Also expect a new Pad Mini and looking really likely this time around the long rumoured Air Tags, wee trackers with bluetooth, so you can find your keys, your car, your favourite mug... whatever you can stick a wee tracker to, basically.
What to expect today:
New iPad Pro with a 12.9 inch mini LED screen, a new A14X chip (likely as fast as the M1 in the Mac family - they are more brothers than cousins these chips). And according to Bloomberg this model will shift the USB-C port to Thunderbolt, for hyper-blazing speeds.
The fruit-themed gadget maker may also chuck in the option for 5G on the iPad Pro, making it the first 5G tablet from the company. The iPhone 12 launched in the fall was the first mobile from the company to feature the technology. (Personal confession, the blazing fast speeds are impressive, but in real world use I've yet to find any use for them that actually makes my day to day life better. Downloading a movie in 12 seconds is great, but it still takes an hour and a half to watch. But no doubt new products are coming down the pipeline to take advantage of all that data).
Hello and welcome to our live coverage of Apple's spring special event called, er, Spring Loaded.
The title of course has Apple fans salivating over what they hope will be a smorgasbord of new products, but the little birdies who flit relentlessly around the Apple supply chains are suggesting some modicum of restraint to unbridled hopes of shiny new Apple Silicon Macs. Expect new iPads, quite possible Air Tags, and maybe a surprise. Maybe.