Apple launches MacBook Air, MacBook Pro and Mac Mini with new M1 chip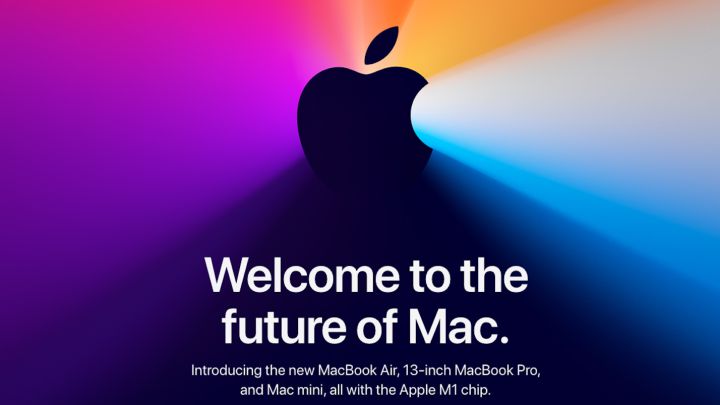 Apple Special Event: 'One More Thing'
Welcome to 'One More Thing' - Apple launches Apple Silicon powered computers
- Apple announces new chip for the Mac, the M1. "The most powerful chip we've ever created".
- Serious boosts to battery life for the laptops.
- New MacBook Air with M1 chip, starts at $999.
- New Mac Mini with M1 chip, starts at $699
- New 13inch MacBook Pro, starts at $1299
- All three available to order today, shipping next week.
Live stream of the Apple special event:
Not a test
There wasn't much doubt that Apple were confident about these chips (as they should be, they've got serious chip chops from mobile, and do you really think they haven't tested the M1 to utter destruction?), but if there was any doubt, well, exactly. Most popular Mac goes M1 first up.
Kind of a big deal...
Apple's iPhone and iPad chips have been killing it in mobile, and now it looks like they are doing the same on the computer.
The Macs are now in available in the US store.

Store is just being updated with the new Macs, if you're itching to go and grab one right now.

That's it! All done from Cupertino.
Wait! "One More Thing". The PC from the adverts is here. "I've still got it!" he says. And then his battery is drained and he has to leave...
Back to Tim, talking about the importance to Apple of making products that change people's lives.
Film to celebrate the new Macs, with developers and creators. "The chime is back!" Nice detail.
"Oh my god, it's so fast. That's crazy!" and the film ends.
You can order them today and are available next week. Big Sur is out on Thursday.
Energy consumption down by 60% with the new more efficient chip.
"Largest generational improvement" Apple have ever had, with this new chip.
New 13inch MacBook Pro - same design as before. And it starts at $1299 ($1199 for education).
"The new 13 inch MacBook Pro can do things no other compact three point notebook can do, like play 8k pro res footage without dropping a single frame."
Battery life is also very impressive, just like the new Air. 17 hours wireless web, 20 hours for video playback. 10 more hours than before.
A 13inch MacBook Pro with the M1.
Here's Shruti Haldea, Mac Product Line Manager to tell us more. "Best selling notebook in its class".
And now a lot more stats on how much faster the new Pro is.
Another Mac!! One for creative Pros...
Mini will have 2 USB C and 2 USB A (the A's don't get mentioned).
Mac Mini starts at $699 - a $100 drop.
The Mac Mini with the M1: 3x faster CPU, 6x faster graphics (the chips in the mini previously were not top performers though)
"Mac Mini compared to the best selling PC in its price range is 1/10th the size and 5x faster."
This could be a pretty compelling machine.
Julie Broms, Senior Manager, Hardware Engineering up to introduce the Mac Mini.
Next Mac to get the M1 will be the Mac Mini.
The MacBook Air, still starts at $999. So a far more powerful machine at the same price. That's pretty good.
Battery is a big leap, as expected
15 hours wireless web, 18 hours of video. That's a six hour boost. Impressive.
2x longer on video calls - perfect for these covid times.
It's very interesting they've not updated the form factor to make a big 'Wow' statement.
Apple reckon the new Air will be faster than 98% of all PCs sold in the last year. (There are a vast amount of underpowered PCs out there, though)
"it's the world's best-selling 13 inch notebook" says Laura of the Air currently. And now going through how much faster and better the Air will be with the M1. 5x faster graphics. "The biggest leap ever for MacBook Air".
Nice video of the new Mac assembling around the chip...and it's a NEW MACBOOK AIR.
It looks to be exactly the same form factor as the current Air...
Laura Metz, Mac Product line manager to tell us more.
That's Craig's slot over... back to John, after another lovely tour of Apple HQ (they really like their new building)
Developer section, saying the move was really easy. "We ported it in one day", says one.
The developers are, of course, extremely excited by the power of the new Macs.
Big Sur technologies. Universal apps can run on both Intel and Apple M1 Apps. You download them directly from the App store. Adobe bringing their apps as universal apps next year.
For other Intel apps, as we knew, you can use Rosetta 2, that translate them on the fly, meaning the new Macs can run all the old software.
iOS apps will be available DIRECTLY on the Mac. (How does touchscreen work?)
A lot of chat about how good Big Sur is at running on the new M1 chip - the integration of the memory with the chip should indeed make things even more "buttery smooth" as Craig Federighi says.
Before we get to see the new Macs, it's time to talk to Craig Federighi, head of software, who's going to tell us all about the new OS - Big Sur.
"Bold new design, powerful updates for apps like Safari and messages..."
Apple on the M1: "The best chip we've ever created"
So what will the first Mac to get it look like??
Graphics - the GPU is integrated into the M1 chip. Up to 8 GPU cores. "A class of its own" reckons Apple in terms of performance.
"The world's fastest integrated graphics" says Apple about the M1.
The M1 also has the neural engine we've seen on the iPhones and iPads. So it can do machine learning.
M1 - industry leading performance, but focused on power efficiency. This is going to be the MacBook chip. System-on-a-chip - everything is integrated into the chip and the memory is directly linked too, to make it all faster.
5 nanometer technology, so a lot of transistors on a chip -16 billion on M1
2 core - high-performance and high-efficiency.
World's fastest CPU core. Ok, that's a claim. And the M1 has four of them.
4 efficiency chips too, and a controller to switch between them.
Apple's best ever performing chip (but not claiming best ever)
Best CPU performance per watt, say Apple. 2x performance at same energy use. Think nice long battery lives.
Here's John (VP Hardware Engineering ) to tell us more about the new Macs, from down in the basement of Apple HQ.
Apple Silicon up front. Performance and power efficiency the most important things. Says a couple of years to move the line up over.
M1 chip will be the first Apple Silicon chip.
Mac sales grew by over 30% last quarter says Cook (note there was a pandemic which helped boost sales of computers across the board).
There he is, in the cafeteria! "Hello and welcome back". He's got some exciting news for us and can't believe it's the third event this fall. Goes back over the new Watches, the new iPad Air, and of course the new iPhones 12, along with the HomePod mini and Apple One and Apple fitness.
But there is JUST ONE MORE THING. "It's time to talk about the Mac".
It's a perfect California day there... now where's Tim Cook hiding...
Here we go... music changes and we go flying into the Apple logo and off to Apple HQ, with a myriad of pastel colours.
All set. Cupertino about to start broadcasting...
Apple Silicon... and what else?
In addition to the Apple Silicon powered MacBooks, we'll also most certainly get the launch of the company's next OS, called macOS 11 Big Sur (Big Sur being a rugged part of California - Apple have been naming the releases of their Mac operating system after parts of California for a while now, having run out of members of the cat family, which they used back in the earlier days of OS X, Mac OS X Cheetah, Puma, Jaguar, etc.)
We might also finally get Apple's Airtags - small, wireless trackers you can stick to any item and then track it from your phone. These have been rumoured for yonks now, but today may still not be the day, if Apple decide they want the focus on the Mac.
AirPods Studio - Apple are reckoned to be about to release a premium over-the-ear headphone, based on the AirPods tech, any time now. Will today be the day?
And of course, don't rule out a true 'One More Thing' utter surprise... though there have been no rumours of anything in the build up to the event.
How long will you be able to buy an Intel Mac for?
A very important question, given potential compatibility issues for some customers of moving to the new chips. Our reckoning though would be Apple is aiming to best Intel for performance at the same time as being able to keep them cheaper meaning they don't see any need to produce Intel Macs for any longer than necessary. (Potentially they may be locked into buying Intel chips for some time, too, contractually).
Apple really doesn't like holding onto legacy stuff (just remember how quickly it binned floppy disks, CD drives, headphone jacks, USB A etc, etc when it decided they weren't part of its future), and the suspicion would be that it believes Rosetta 2, the software to translate intel apps on the fly for the new silicon, is good enough to mean most people should just buy one of the new Macs, rather than worrying about compatibility. Will we get a route map for phasing out the Intel Macs today?
The last time we heard 'One More Thing'
Maybe the most famous phrase from consummate showman (and that's a compliment not a criticism) Steve Jobs was last used back in 2017, for the announcement of the iPhone X, which wasn't really a surprise.
One More Thing today clearly isn't a surprise either - the move to Apple silicon was announced back at the Worldwide Developer Conference - but it's a nice nod to Jobs and fits perfectly with the fact we've had two special events already since the summer.
Will we get a 'One More Thing' moment within the 'One More Thing' special event though?
Apple Silicon is a fascinating proposition
Whilst the iPhone launch earlier in the fall will probably be the event that attracts most attention of the three special events this fall, today's announcement is without doubt the most interesting in terms of where the future of computing could go.
Hello and welcome to our live coverage of Apple's 'One More Thing' special event, which is being streamed from Apple HQ in Cupertino.
Today's event is going to feature the announcement of what is a pretty major step for Apple - the launch of its first computers running Apple Silicon, chips designed by Apple rather than using the Intel chips they've used up to now since 2005.
It's a pretty big deal because the Apple Silicon is based on ARM's chip architecture, which offers a number of potential advantages, including much lower power use, meaning longer-lasting batteries. Imagine a laptop with a 25 hour battery.
Apple of course already ships vast quantities of its own-designed chips in iPhones and iPads, as well as the T2 security chips its popped onto some of its computers.
With a new chip though comes a new instruction set, meaning existing programs (or apps as they seem to always be called these days) won't run natively. Apple have been through this relatively recently - if 15 years ago counts as relatively recent in the tech industry - when they moved their computers from PowerPC to Intel chips. Back then the solution was a program called Rosetta, that translated the code on the fly, meaning PowerPC programs ran on the Intel machines. It worked a treat, and Apple have come up with Rosetta 2 to carry out the same process here. And developers are already working on Apple Silicon powered developer machines to get their code ready for the switch.
What's more, presumably iOS apps (i.e apps for the iPhone and the iPad) should run natively on these new machines - though of course the lack of a touchscreen might make it hard to control them out of the gate without some manner of replicating touch with the mouse. (Could today's announcement include a touchscreen computer - Apple have staunchly held out against such a move so far, so don't expect it).
This is the third Apple event of the fall, and while probably the second event, the launch of the new iPhones picked up the most worldwide attention, this is likely the most significant by a long way, because it could be heralding in a new era of computing, because if Apple's silicon can do what the company hopes it can do, form factors and speed and power use can all take a jump up. Apple have been producing blazingly fast chips compared to the competition for their phones and tablets, let's see what they have for us for their computers.
.