Brett Favre thinks Rodgers' time in Green Bay may be coming to an end
Brett Favre played with Aaron Rodgers for three years before moving on to the New York Jets. Favre and Rodgers were in a similar situation in 2008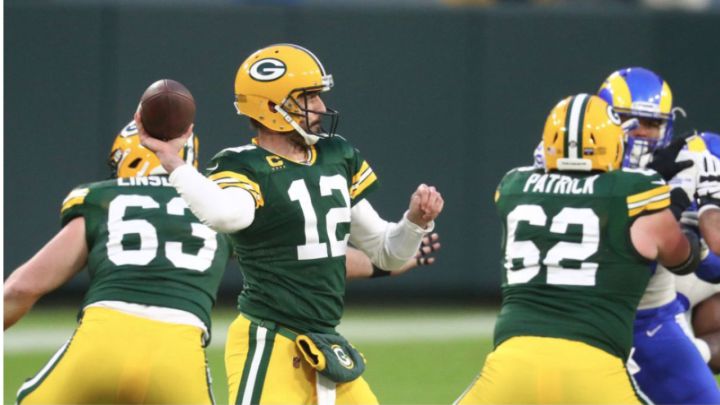 Green Bay Packer and NFL legend Brett Favre says he hopes Aaron Rodgers will stay in green and gold, although he did voice concerns that the reigning NFL MVP may have played his last game at Lambeau Field.
Favre detailed his text chat with a Wisconsin radio show
Favre recounted his text conversations with his former teammate to ESPN Wisconsin radio's Wilde & Tausch, saying Rodgers is comparing the current situation with the 2008 Packers season.
"Boy it's a good question; that's the million-dollar question," prefaced Favre on the radio program "I think I know Aaron fairly well, and honestly I just don't see him coming back and just saying, 'All right, let's just bury the hatchet, whatever caused the rift, and I'm just going to come back and play because I love the guys, I love the Green Bay fans' -- I assume he does -- but his rift isn't with the fans or the players. It's with the front office. Will he just swallow his pride and come in? Maybe. But I don't see that happening."
A similar situation to the one from Green Bay's 2008 offseason
The two played at Green Bay for three years, and Favre says he reached out to Rodgers shortly after reports surfaced of his doubts about returning to the Frozen Tundra. Favre gave a dark prediction with the regards to the future of the franchise if Aaron returns, "If there's not a trade, my gut tells me that he'd rather sit out than play. That's just my gut."
The three time Super Bowl MVP was in a similar position back in 2008, three years after Green Bay drafted the former University of California QB. Rodgers was forced to sit the bench as Favre's back up in his first few years in the league. The difference from this year to the 2008 offseason is the Packers obliged Favre to make a decision on he would play the next season, feeling pressured the GB No. 4 abruptly retired.
Favre would love to see Rodgers win another ring with the Pack
The retirement lasted for only a few weeks, but by then the Green Bay front office had made up their minds. Favre was eventually traded to the New York Jets, where he played a year before retiring two years later as a Minnesota Viking.
Favre said he would love to see Rodgers win another Super Bowl with the Packers, but if he chooses to leave he inquired if he'd be interested in going to the Mississippi native's childhood team, the New Orleans Saints.
To which Favre said Rodgers responded 'Thanks for checking on me. I'll touch base with you after all this is over.' And that was it,"