Real Madrid have spoken with Conte
Antonio Conte is a free agent following his departure from Inter Milan and is currently top of Real Madrid's list of choices to replace Zinedine Zidane.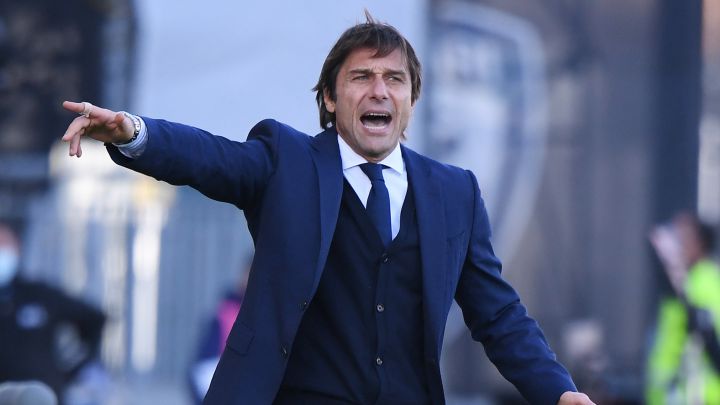 Real Madrid has begun the search for a new coach now that Zinedine Zidane's departure has been officially confirmed, with the club's sporting bosses evaluating a range of options before making a final decision -- a decision with which they have no intentions of rushing.
Antonio Conte has been identified as one of the frontrunners for the job. And as AS has learned this Friday, Madrid have already made contact with the Italian coach to discuss his availability and find out more about how his potential ideas for the club's new project should he be chosen to lead it.
The Italian coach is now a free agent after his shock departure from Inter Milan and is currently top of the Madrid board's list of choices.
In the conversation with Conte, Madrid wanted to ascertain how Conte's idea fits with the club's plan to revamp the current squad. The time has come to make difficult decisions as the Madrid looks set to offload big names who have been important to the club over the past years. And that is why the board sees it as essential the club and the new coach follow the same line.
See also:
Real Madrid and Conte have been linked before
This is not the first time Conte has been linked with the job, as the Italian was the main candidate to replace Julen Lopetegui in October, 2018. But at the time, two circumstances stopped the move from happening. Firstly, the Italian coach did not want to take on a project that had already been started and, secondly, was the opposition from some of the heavyweights in the dressing room. "Respect is earned, it is not imposed," Sergio Ramos said at the time when asked about Conte's possible arrival.
However, the situation has now changed because those same leaders in the dressing room that objected to Conte in 2018 will not be there next season, including Ramos, whose future remains up in the air amid the ongoing impasse regarding his contract, which is set to expire on 30 June.
Conte a winning team builder
Madrid will undoubtedly be looking to Conte's ability to build winning teams, as he has shown this year by leading Inter to the Serie A title to break Juventus' dominance in Italy.
He is a very demanding coach, with a strong character and who always builds very competitive teams -- just what Madrid needs after a trophyless season.
Madrid may have started talks with Conte, but that does not mean that the club has made a decision. There are other capable options on the list, particularly Mauricio Pochettino, who is very much to Florentino Pérez's liking and would be in pole position for the job if he leaves PSG -- something that seems quite likely because his relationship with sporting director Leonardo appears to be broken.