All-NBA 2021: First, Second and Third Team selections
The NBA has announced the members of the 2020/21 All-NBA First, Second and Third Teams. Steph Curry was named to the First Team for the fourth time.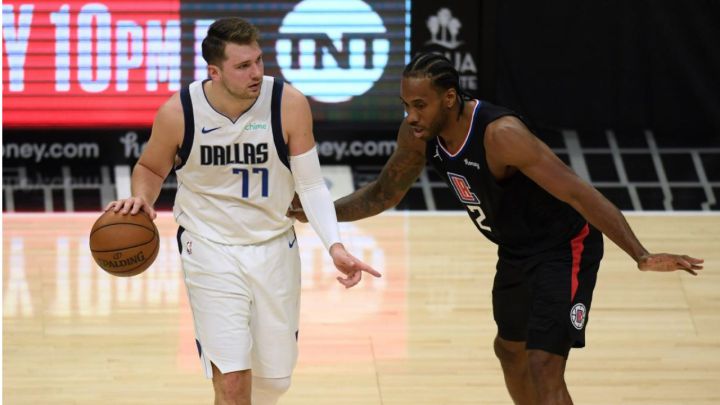 The NBA has announced it's All First, Second and Third teams for the shortened 72 game regular season. Some noticeable names dropped off the list, and the new generation of superstars are getting comfortable in the NBA First team.
The voters results were announced before Tuesday night's game between the Milwaukee Bucks and the Brooklyn Nets.
All-NBA First Team
The 2021 All-NBA First Team is headlined by Steph Curry who has been named to basketball's top team for the fourth time in his career. Kawahi Leonard and Giannis Antetokounmpo were named to the First Team for the third time and this is the second time that Luka Doncic and NBA MVP Nicola Jokic have had the honors.
G Steph Curry: 32 ppg, 5.5 rpg, 5.8 apg
G Luka Doncic: 27.7 ppg, 8.0 rpg, 8.6 apg
F Giannis Antetokounmpo: 28.1 ppg, 11 rpg, 5.9 apg
F Kawhi Leonard: 24.8 ppg, 6.5 rpg, 5.2 apg
C Nicola Jokic: 26.4 ppg, 10.8 rpg, 8.3 apg
All-NBA Second Team
LeBron James dropped off the NBA First Team list for just the second time in the last 14 years. Joel Embiid was in the running for the MVP of the league, but was beat out by Jokic not just for MVP but for First Team Honors. Chris Paul was instrumental in taking the Suns back to the Playoffs for the first time since the 2009/10 season with league's second best record. Julius Randle was named this years most improved player. Damian Lillard was his spectacular self, but just missed out of First Team honors, this is the fourth time he has been named to the Second Team.
G Damian Lillard: 28.8 ppg, 4.2 rpg, 7.5 apg
G Chris Paul: 16.4 ppg, 4.5 rpg, 8.9 apg
F Julius Randle: 24.2 ppg, 10.2 rpg, 6.0 apg
F LeBron James: 25 ppg, 7.7 rpg, 7.8 apg
C Joel Embiid: 28.5 ppg, 10.6 rpg, 2.8 apg
All-NBA Third Team
Bradley Beal finished less than a point per game behind Steph Curry for this years scoring title. Kyrie Irving is the only one of the Nets' Big Three to appear in the All-NBA Teams selections. Jimmy Butler was instrumental in getting last years NBA Finalists back to the playoffs in the East, leading the Heat in points and assists. Paul George was fantastic for the Clippers teaming up with First Team selection Kawhi Leonard. Rudy Gobert was named Defensive Player of the year and was an anchor for the Utah Jazz and their best record in the regular season.
G Bradley Beal: 31.3 ppg, 4.7 rpg, 4.4 apg
G Kyrie Irving: 26.9 rpg, 4.8 rpg, 6 apg,
F Jimmy Butler: 21.5 ppg, 6.9 rpg, 7.1 apg
F Paul George: 23.3 ppg, 6.6 rpg, 5.2 apg
C Rudy Gobert: 14.3 pag, 6.6 rpg, 1.3 apg, 2.7 bpg