Why has Ron DeSantis avoided a vaccine mandate for Florida?
Gov. Ron DeSantis criticized President Joe Biden's nursing home vaccine mandate saying that it's a "massive hammer" and could lead to staffing shortages.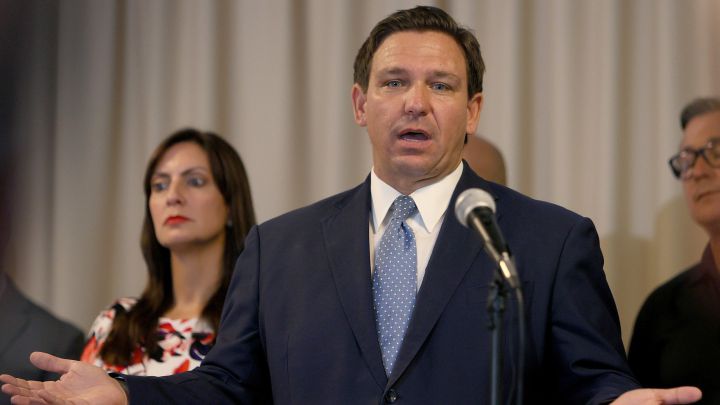 Florida Governor Ron DeSantis announced the state had opened two new monoclonal antibody treatment sites, speaking to the press he took the opportunity to decry President Joe Biden's recent mandate for all nursing home staff to be vaccinated at facilities that rely on Medicare and Medicaid funding.
The governor said that many of the staff at nursing home facilities now have natural immunity having already had covid-19 and recovered, and in his opinion the mandate could make staffing harder for nursing home facilities that are currently understaffed calling the mandate a "massive hammer."
President Biden's covid-19 nursing home vaccine mandate
President Biden in an effort to get a jab in the arm of the vaccine holdouts is looking to use the power of the federal purse. Facilities that depend on Medicare and Medicaid could see their funding cut if the employees at those centers aren't vaccinated. This move mimics similar mandates by companies around the nation for staff to get vaccinated or risk losing their job.
Nursing home facilities bore the brunt of the covid-19 outbreak last year and according to Center for Medicare and Medicaid Services (CMS) data just over 60 percent of the approximately 1.6 million nursing home staff are fully vaccinated. The new vaccination mandate by the White House would apply to nearly 15,000 facilities which serve around 1.3 million residents. The spread of the Delta covid-19 variant has been driving case numbers up in nearly all 50 states, especially among the unvaccinated.
.@POTUS announced a requirement for staff and residents in nursing homes to get vaccinated against COVID-19. On today's episode of An @AARP Take on Today podcast, we hear from AARP state leaders as we break down our most recent nursing home dashboard.https://t.co/TbU2WJfTBm

— AARP External Relations (@AARPMedia) August 20, 2021
Infections among long-term care residents increase in sync with lower staff vaccination rates
According to data from the Center for Disease Control and Prevention (CDC) and CMS there is a strong correlation between the rise in covid-19 cases among nursing home residents and the rate of vaccination among those who staff the facilities. Florida's vaccination rate among nursing home facility staff is the second worse in the nation according to the AARP nursing home covid-19 dashboard with just over 45 percent vaccinated. Nationally around 83 percent of long-term care residents are fully vaccinated, but in Florida only 72 percent have gotten all their jabs, third worst in the nation.
In a joint statement from Health and Human Services medical experts and health officials are now recommending that the elderly and healthcare workers get a booster shot. Data shows that while protection against the Delta covid-19 is strong, it reduces over time for those who received the two-dose Pfizer-BioNTech and Moderna vaccines. Data will come out in a few weeks for the Johnson & Johnson one-dose vaccine. This could begin in late September if approved by the FDA and CDC advisory committee.
Gov. Ron DeSantis (R-FL) on Biden's vaccine mandate for nursing home staff, the rates for which trail the rest of the country:

"That's a massive hammer that they're trying to bring down." pic.twitter.com/VlA1Cx8iz0

— The Recount (@therecount) August 19, 2021
DeSantis says Biden nursing home mandate is a "massive hammer"
"The issue is these nursing homes could lose access to Medicare and Medicaid funding. So that is a massive hammer that they're trying to bring down," DeSantis said Thursday at the Ormond Beach Senior Center. The governor was there to announce the opening of two new monoclonal antibody treatment sites, where those who contract covid-19 can receive an injection that decreases an individual's chances of being hospitalized by 70 percent DeSantis said.
"The issue's going to be, what's that going to do to the staffing? They're already short-staffed," DeSantis added. The governor went on to say "there's a lot of people that feel strongly against being mandated, that they think it's something they should chose. And they may have reasons why they make different choices. So, I don't know how it's going to work. And there's going to be a concern amongst these institutions about maintaining all the staff."
DeSantis supported his position on the lack of necessity to mandate vaccination in nursing homes saying "many of [the nursing home staff] have recovered from covid and have natural immunity. A lot of the folks that proport to be [experts] don't recognize that which has obviously been proven in these studies." A study by the CDC released earlier this month looking at the risk of reinfection found that individuals with natural immunity were over twice as likely to contract covid-19 again as those who are fully vaccinated.
Florida is currently the state with the third highest infection rate in the US with 111 per 100,000 with cases increasing on average by 31 percent over the last 14 days. Florida has a daily average of new cases approaching 24,000. Around 51 percent of the population is fully vaccinated.
Biden can mandate masks or vaccines and pay people to stay home instead of this nonsense of exposing us to the virus which allows the virus to continue mutating. https://t.co/8rElFZAJsG

— Sema (@_SemaHernandez_) August 15, 2021
Covid-19 mandates "pure use of executive power"
"That is a major hammer to bring down. And it has not been legislated by Congress," DeSantis said. "I mean that's a pure use of executive power to try to bring this down and really could be something that could potentially shake up the industry," DeSantis continued. The governor for his part has proclaimed that public schools in Florida cannot require universal masking when in the school buildings which met its first legal setback on Thursday when a judge allowed a lawsuit against the governor's order to move forward.
As for vaccination mandates, at least one legal challenge to block the Indiana University mandate for students and staff to get vaccinated was blocked by the Supreme Court.