Manny Pacquiao vs Yordenis Ugás fight summary: results, stats, highlights
That wraps up our coverage of the Manny Pacquiao-Yordenis Ugás WBA Welterweight showdown. Thanks for joining us as boxing history was made!
Yordenis Ugás maintains his WBA welterweight belt and defeats Manny Pacquiao by unanimous decision! 115-113, 116-112, and 116-112.
Pacquiao struggles to make it up in the last round, but Ugas continues to dominate. Ugas deals accurate overhand rights that rock Pacquiao. The Filipino's eyebrow starts to drip blood.
Ugas continues to set the pace of the fight in the penultimate round. Pacquiao suffers a solid overhand right and is pushed back to the ropes.
One more round to go and it looks like the Cuban has a chance for an upset.
The tenth round sees an early flurry of punches from Pacquiao that forces Ugas back. But Ugas recovers and lands well-timed shots and combos to the Filipino's head. Ugas continues to lead with more punches landed.
Pacquiao endeavors to find an opening while avoiding getting hit by Ugas' right hand. Ugas leads at the end of the ninth with more punches landed.
Ugas ends the eighth round strong, with some solid hits from his right hand. Pacquiao unable to get in closer, and continues to get hit by Ugas' counters.
On to the second half, where Pacquiao gets in a couple of good combinations. Ugas continues to effectively use his jabs, and adds on right-handed hooks to the body. Ugas lands more punches.
Pacquiao continues to be hounded by Ugas' loonger reach in the sixth round. Ugas gets in some jabs, and manages to keep Pacquiao at bay.
The fifth round sees Ugas getting in some right hooks. Pacquiao pierces Ugas' defense with some combinations. The toe-to-toe action excites the crowd.
Ugas lands a blow below the belt and gets a warning from the referee. Pacquiao gets time to rest it out.
Ugas gets in some solid rights, pushing Pacquiao back. Ugas avoids giving Pacquiao any opening similar to those that appeared in the previous round.
Ugas lands a couple of solid right straights early in the round, but Pacquiao finds his rhythm late and connects with a combination to the head that pushed Ugas to the ropes.
In the second round, Ugas starts his attacks with jabs, maximizing his longer reach. The fighters size up each other. Ugas' forearms help his defense against Pacquiao's attacks.
The first round is underway, Ugas starting with a jab. Pacquiao gets in straight lefts and displays his fast hands. Ugas targets Pacquiao's body. Ugas pushes Pacquiao down to the floor as the round ends, but is ruled a clear slip.
The fighters are introduced and the crowd goes wild for Pacquiao, chanting "Manny, Manny!"
Both fighters enter the ring, and the crowd is so ready for the fight to begin!
It's time for the main event!
Manny Pacquiao tries to reclaim his WBA "super" welterweight title after a two-year hiatus.
Yordenis Ugás wants to show there is merit in him owning the WBA belt.
In the final round the two fighters give their all, going toe to toe, blasting away at each other and trying to wrestle for position on the inside. The two former champions fight hard from a close distance and wait for the judges' decision.
Robert Guerrero wins by unanimous decision 96-94.
In the ninth both Ortiz and Guerrero continue to try to get in the punches up close. The fighters land blows mostly to the body.
At the start of the eighth, the fighters keep their distance trying to get jabs in. But again they close the distance and throw punches with bodies connected.
Guerrero's left eye is practically closed shut, but throws a lot more punches than Ortiz. Ortiz tries to jab from further away but Guerrero closes in. Ortiz' connects with a combination, but his cut begins to bleed again at the end of the seventh.
We're in the second half of the match now, Guerrero landing a solid left to Ortiz' body. Fighting in close quarters continues.
Onto the fifth, where both men are dealing with facial injuries. The two are moving noticeably at a slower pace. Guerrero lands better punches despite his swollen eye.
The two boxers throw punches from a close distance, neither of them giving an inch. The fourth round ends with a flurry from Guerrero, whose left eye is now swelling.
The fighting in close quarters continues in the third round. Victor Ortiz gets a cut above his right eye, dripping blood.
In the second, a solid straight left from Ortiz stuns Guerrero. Ortiz muscles Guerrero onto the ropes. Guerrero attacks with a burst of punches starting with a left uppercut at the end of the round.
The co-main event of the night has begun with Ortiz getting in a heavy straight left. Guerrero responds with a solid right hook to the body. The boxers fight in close proximity.
In the tenth round Mark Magsayo knocks out Julio Ceja after a flurry of punches starting with a monstrous right and wins the bout! Ceja stays down for a few minutes after the KO.
Magayo remains undefeated and earns himself a shot at the WBC featherweight belt.
Up next, former world champions Robert Guerrero and Víctor Ortiz face off in a welterweight collision.
In the ninth round, a powerful right from Magsayo hits Ceja's head, but Ceja recovers.
The eighth round continues, with Ceja landing four times more body shots than Magsayo during the entire match. Both fighters have slowed down their rhythm. Magsayo is able to keep more distance this time, with a little less pressure from Ceja.
Ceja continues to push Magsayo to the ropes, relentlessly attacking with body shots in the seventh.
In the sixth Magsayo tries to gain back ground and gets in a solid left hook to keep Ceja at bay. Ceja pressing Magsayo to the ropes.
Magsay starts more aggressively in the fifth, but Ceja matches his aggressiveness. Ceja hurts Magsayo with a body shot and pounds away. Magsayo is down with a bloody nose from a left hook by Ceja.
Magsayo connects with a left hook, Ceja following his trainer's instructions and targeting Magsayo's body. Ceja picks up the pace, but Magsayo opens up with a combination demonstrating that hand speed.
Magsayo with a flurry of punches with none connecting in the third, Ceja landing a big right hit to Magsayo's head and several to the body.
In the second round, the Mexican recovered quickly from his first-round fall and found his rhythm. Magsayo meanwhile continues moving quickly, with the two exchanging body shots.
The second match of the night is on!
Unbeaten contender Mark Magsayo has begun going head-to-head with former world champion Julio Ceja, in a WBC featherweight title eliminator match.
Magsayo starting out strong, knocking down Ceja to the floor with a left hook in the first round!
The first bout of the evening is over, with unbeaten Carlos Castro defeating Óscar Escandón by KO in the 10th and final round of their featherweight bout.
The showdown between Mark Magsayo vs. Julio Ceja is up next.
Manny Pacquiao may be more famous than his opponent, but Yorgenis Ugás' trainer is confident the Cuban can and will prevail over the boxing great.
Manny Pacquiao's last fight was two years ago, when he defeated Keith Thurman. Pacquiao won by split decision and became the oldest welterweight to win a major world title in boxing history.
Manny Pacquiao is anxious to return to the ring after a long period of preparation to win back his title.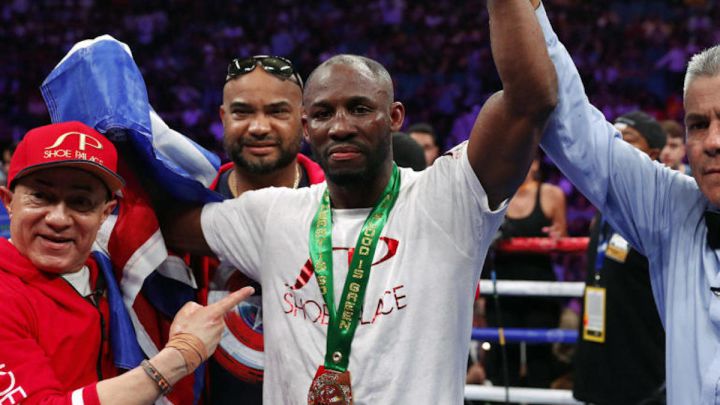 What is Yordenis Ugás' boxing record?
Yordenis Ugás was a last-minute replacement for undefeated WBC and IBF welterweight champion Errol Spence Jr. to fight Manny Pacquiao.
Although there was disappointment that the Pacquiao-Spence matchup failed to materialize, Ugás also promises to be a formidable opponent. More on the Cuban's fighting credentials in this story.
Yordenis' Ugas journey from Cuba to tonight's fight has been a long one, and he's ready to make his mark in history.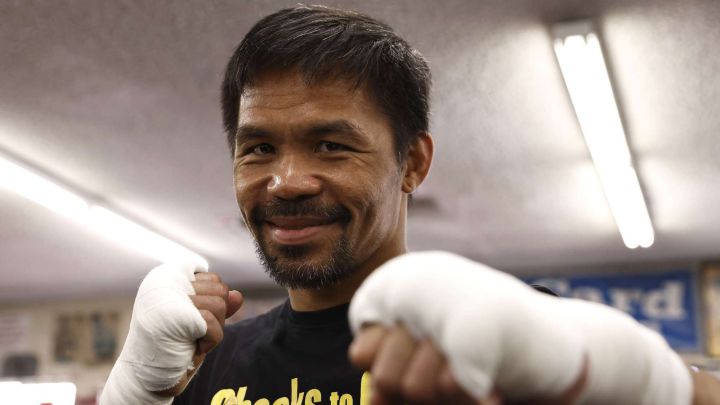 Manny Pacquiao's net worth and earnings
The eight-division world champion's first fight purse was reportedly less than one dollar. He's come a long way since then, and has made a fortune in winnings since those early days.
Find out how much the Philippine senator is worth in this story.
Hello everyone and welcome to our live blog for Friday, Aug. 20, where we bring you a blow-by-blow account of the much-anticipated battle between boxing legend Manny Pacquiao and WBA "super" welterweight champion Yordenis Ugás. Pacquiao has weighed in at 146 lbs., Ugás at an even 147.
Manny Pacquiao will aim to retake his WBA "super" welterweight title after his two year hiatus.
Pacquiao was meant to face Errol Spence Jr, but the American withdrew from the bout with a torn retina in his left eye. Ugás then stepped in as his replacement.
Ugás, who won a bronze medal for Cuba at the 2008 Beijing Olympics, majorly troubled Shawn Porter in a WBC title fight in March 2019, and he wants to show there is merit in him owning the WBA belt.
Stay with us tonight and we'll make sure we're on top of all the explosive action for you.