NFL
Which player match-up will decide the Kansas City vs. Cleveland season-opening clash
The decisive confrontation between two of the best teams in the AFC will be a challenge for the Browns and Chiefs coaches due to the players high caliber.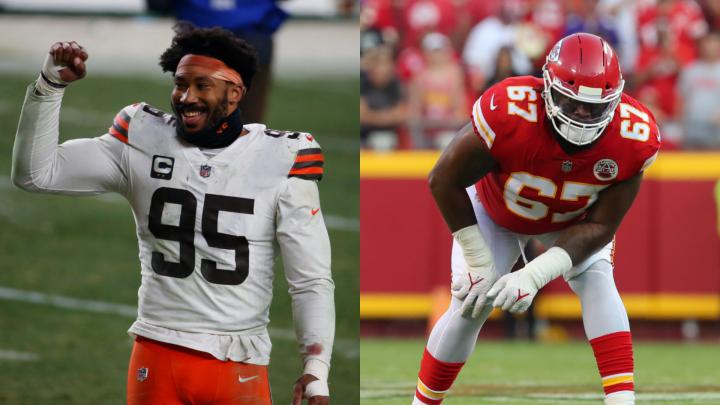 Sunday's week 1 last season playoff rematch between the Kansas City Chiefs and Cleveland Browns at Arrowhead Stadium is loaded with star names. Patrick Mahomes, Travis Kelce, Odell Beckham Jr, Nick Chubb among them.
However the deciding factor of a matchup that could prove determine in the AFC postseason race may be a right tackle who has not played an NFL regular-season game.
Chiefs offensive lineman Lucas Niang opted out of the 2020 season but now has been entrusted with helping protect Patrick Mahomes.
In fairness to Niang, he is not alone in being an inexperienced player on a Kansas City O-Line remodeled after the Chiefs gave up 33 pressures in their Super Bowl LV loss to the Tampa Bay Buccaneers.
The Chiefs are set to start two rookies on the interior of the line in center Creed Humphrey, a second-round pick, and sixth-round selection Trey Smith.
But Niang, who is for all intents and purposes a rookie after his decision not to play last year, is the player with the most difficult task.
On the right side of the line, he will be tasked with shutting down the Cleveland Browns' left defensive end, Myles Garrett.
Sixth in sacks since entering the league as the consensus best player in the 2017 draft with 42.5 in 51 games, Garrett has established himself as one of the most feared pass rushers in the NFL.
His pressure rate last year was 21.5 per cent, a drop-off from a 2019 season when he posted a 26.7% pressure rate that was eighth among edge rushers with at least 200 snaps at that position in a Defensive Player of the Year caliber campaign ended by suspension.
In other words, Niang will be facing an elite pass rusher who, unlike last season, has had the benefit of a full offseason.
There is only a limited sample size to judge Niang's ability to keep Garrett in check, though the numbers from his last college season at TCU in 2019 are encouraging.
He allowed nine pressures on 126 pass protection snaps and was not credited with giving up a single adjusted sack.
With the size and arm length to lock on to pass rushers, theoretically Niang has the tools he needs to nullify defenders as he did in college.
Yet, Garrett represents a massive step up from what Niang faced at TCU. As such, expect him to receive plenty of assistance against Garrett from tight end Kelce and from running backs when they are drafted in to help in protection.
Garrett had seven pressures, his fifth-most in any 2020 game, and a sack in the Browns' 22-17 playoff loss to the Chiefs. However, he is a player who can decimate bad offensive lines, as evidenced by his 15 pressures against the Cincinnati Bengals last year.
The challenge for Niang is to prevent him from having such a telling impact. His success in doing so will have a significant influence on the Chiefs' ability to maintain superiority over one of their key AFC rivals.