Club World Cup final - Chelsea vs Palmeiras: Date, time, how and where to watch online and on TV
UEFA Champions League holders Chelsea take on the winners of the Copa Libertadores, Palmeiras, in the 2022 FIFA Club World Cup final on Saturday in Abu Dhabi.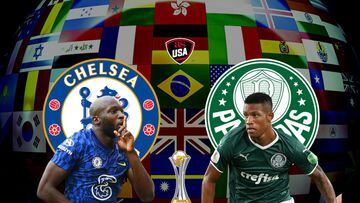 In reality, the Club World Cup has remained an invention to satisfy small confederations and a challenge for CONMEBOL football to be able to get closer to that of UEFA. Those who celebrate this tournament the most are the Asian, African, or CONCACAF clubs, who see how it is possible to face a real European champion. Something unimaginable. But even for South America, it is tough to match the European level, making the tournament less attractive and exciting. Only once in recent years has the representative of the Old Continent lost this title, and curiously it was Chelsea when they fell to Corinthians.
See also:
It seems very difficult that that episode can be repeated, among other things, because the economic differences between one continent and another have skyrocketed since then. Thus, one sees season after season how the European champion extends his dominance to the world almost without breaking a sweat. It is a given title, just the opposite of what a tournament with this name and spirit should represent.
FIFA Club World Cup finalists Palmeiras will undoubtedly feel the pressure ahead of the Chelsea showdown on Saturday at the Mohammad Bin Zayed Stadium after their Brazilian rivals have done ten years ago when Corinthians won the trophy, the last time some Non-European club did it.
Both Chelsea and Palmeiras reached the competition's final after the pair overcame sides from the Middle East and North Africa, respectively, against Al Hilal and Al Ahly. Romelu Lukaku's goal proved decisive in Wednesday's semi-final win over Saudi side Al-Hilal, while Palmeiras reached the final thanks to a 2-0 victory over Al Ahly.
Chelsea have a private jet on standby ready to fly Tuchel out on Saturday morning or earlier if he returns two negative Covid tests, having been in isolation in England throughout the tournament so far.
What time does Chelsea vs Palmeiras start?
The 2022 FIFA Club World Cup final between Chelsea and Palmeiras will kick off at the Mohammed bin Zayed Stadium, Abu Dhabi, on Saturday 12th February 2022 at 8:30 pm local time (GST).
In the US, that is 11:30 am ET, and 8:30 am PT. In the UK, the game starts at 4:30 pm (GMT).
Find out what time Chelsea vs Palmeiras starts wherever you are in the world.
Where can I watch Chelsea vs Palmeiras in the US and UK?
In the US and UK, the following television channels will be broadcasting Chelsea vs Palmeiras:
US: Fox Sports 2, FOX Deportes
UK: Channel 4
Viewers in the US and the UK will be able to stream the game online on:
US: FOX Sports App, Foxsports.com
UK: All4
Chelsea vs Palmeiras: live with AS USA
You can also follow the Club World Cup clash in Abu Dhabi with AS USA's live-text coverage. Before talking you through the action, we will be building up to the game from about an hour ahead of kick-off at the Mohammed bin Zayed Stadium.