Russia - Ukraine war news summary | 28 March 2022
Headlines
- Abramovich and two other members of peace talks delegation between Ukraine and Russia experienced symptoms consistent with poisoning in early March
- The so-called Luhansk People's Republic plans to hold referendum to join Russia
- President Biden says that Putin "cannot remain in power"
- Anthony Blinken clarifies that the US has no intention of regime change in Russia or anywhere
- One month into the war, reports show that Russia will withdraw troops from Kyiv to boost fighting in the Donbas region.
- Negotiations between Russia and Ukraine continue, no agreements made on a ceasefire, security guarantees, no compromises on territorial integrity reports, says Ukraine''s Minster of Foreign Affairs
- Ukrainian forces retaking the city of Kherson from Russian control, Ukrainian officials say Irpin liberated
- India is working on currency exchange with Russia so that the countries can continue trade
Russia-Ukraine: Conflict Background
- Foreign fighters like "Wali" are targets of the Russian army
- How many casualties has Russia suffered?
Related News
Olympic medal to help the children of Ukraine
German cyclist Tony Martin is auctioning off his silver medal from the 2012 London Olympics. The money he raises will go to Wir helfen Kindern, a foundation that would support children in Ukraine and their families.
"It's not easy to separate me from the biggest trophy I could win in my career but considering the fact that millions of people lost almost everything, it is something I really want to do," Martin said.

'The solution to this humanitarian tragedy is not humanitarian. It is political'
The UN is doing everything in its power to support people whose lives have been overturned by the war in Ukraine. But let's be clear. The solution to this humanitarian tragedy is not humanitarian. It is political. This war must end.
Ukraine hopes peace talks will acheive ceasefire, US says Putin not ready
Russian and Ukraine will continue the first face-to-face peace talks in over two weeks on Tuesday in Istanbul. The Ukrainian delegation hopes that the encounter could lead to a ceasefire. However, President Vladimir Putin does not appear ready to make any compromises to end the war according to a US official.
Russia's invasion of Ukraine began over one month ago and has forced millions to flee the violence unleashed upon civilian population centers. The total number of refugees that have sought shelther abroad is approaching 4 million. Russians too are fleeing their own country as the Kremlin clamps down on dissent about the war within the country.
'Ukraine will never be a victory for Russia'
A dictator bent on rebuilding an empire will never erase a people's love for liberty. Brutality will never grind down the will to be free. Ukraine will never be a victory for Russia.
US official says suspected peace talk poisoning was not poisoning
Reuters reports that on Monday a US official said intelligence suggests an environmental factor, not poisoning was responsible for the sickening of Russian billionaire Roman Abramovich and two Ukrainian peace negotiators. A fourth individual that was with them who ate and drank the same as the others didn't fall ill.
Earlier, the Wall Street Journal and investigative outlet Bellingcat, citing people familiar with the matter, reported that Abramovich and the negotiators had suffered symptoms of suspected poisoning after a meeting in Kyiv earlier this month.
The US official, who spoke on condition of anonymity and declined to elaborate, told Reuters: "The intelligence highly suggests this was environmental, e.g., not poisoning."
Making light of non-stop air raid sirens from Russian bombing
Russian forces began bombing Ukrainian cities in the early morning hours of Thursday 24 Febuary. In some beseiged cities, like Mariupol the bombardment has been unrelenting.
Red Cross says it is not involved in Russian forced deportation of Ukrainians
Ukraine's Deputy Prime Minister Iryna Vereshchuk on Friday accused Red Cross chief Peter Maurer of taking a "very questionable decision" to open an office in Rostov-on-Don, Russia. Russian media reported that Maurer asked Russia to facilitate the opening of a Red Cross office in the Russian city near the border with Ukraine.
Ukraine has accused the Russians of deporting thousands of Ukrainians, including over 2,000 children, against their will from besieged Mariupol and other regions occupied by Russian troops.
The aid agency said the potential opening of an said office was as part of efforts to scale up its operations in the region to meet humanitarian needs where they arise.
"Our priority is to reach victims of armed conflict, wherever they are, in order to assist them," the ICRC told Reuters.
Zelenskyy offers to give up NATO membership but looks to have Article-5-like protections
Written into the Ukrainian Constitution is the goal of joining the European Union and NATO, which were put there after Russia invaded the country for the first time in 2014. That time Russia annexed Crimea and essentially occupied parts of two eastern regions of Ukraine, Donbas and Luhansk.
Ukrainian President Volodymyr Zelenskyy is offering to give up his nation's dream on joining NATO, essentially becoming like Austria, Finland and Sweden, part of the European Union but neutral. In return he is asking a coalition of nations including NATO members, China and Russia that they will guarantee Ukraine's security should it be attacked, similar to the joint security guarantee that NATO members give to each other under Article 5 of the alliance.
Russia's last independent newspaper closes until end of Russian war in Ukriane
Novaya Gazeta, Russia's last remaining independent newspaper operating inside the country, has said it will cease print and online operations until the end of hostilities in Ukraine.
The announcement came after it received a second warning from the state media watchdog for allegedly violating the country's "foreign agent" law.
The warning came a day after a group of Russian journalists, including Novaya Gazeta's editor-in-chief, Dmitry Muratov, interviewed Ukrainian president, Volodymyr Zelenskyy, which was subsequently banned by the state censor, Roskomnadzor.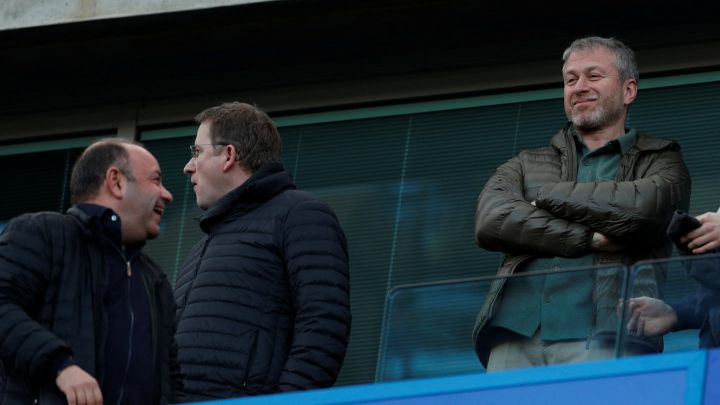 Have Abramovich and Ukrainian peace negotiators been poisoned?
The Wall Street Journal, with the help of investigative journalism group Bellingcat, has reported that Chelsea owner Roman Abramovich, as well as a delegation of Ukrainian peace negotiators, may have been poisoned at the beginning of March.
The group is said to have been targeted while negotiations were ongoing in Ukraine. Symptoms including sweating, irritation and peeling skin. The symptoms are not thought to be life threatening and some analysts have proposed that they were a scare tactic to put pressure on those looking for a settlement.
Town north of Kyiv liberated by Ukrainian troops
The mayor of Irpin, a town north-west of Kyiv, said Ukrainian forces had seized back control of the town on Monday.
The town, which sits just 12 miles outside the capital, has seen some of the biggest fighting in the north of the country.
"We have good news today - Irpin has been liberated," Mayor Oleksandr Markushyn said.
Plans in Moscow to restrict visas for "unfriendly" nations
A draft presidential decree is being developed on retaliatory visa measures in response to the unfriendly actions of a number of foreign states... [We will] respond to unfriendly actions by the United States and its satellites [including] illegitimate sanctions... decisions that infringe on the rights of Russian citizens and legal entities.
AFP reports at least 5,000 dead in Mariupol
Ukrainian MP Inna Sovsun says around 160,000 are still trapped in Mariupol, which has been under siege for a month.
She also says 20,000 people are reported to have been taken to Russia against their will.
"They were basically just abducted by the Russian state," she says.
What have the Russians said about prospective talks?
While we cannot and will not speak about progress at the talks, the fact that they continuing to take place in person is important, of course. We are adhering to a policy of not disclosing any information about the talks, which we think could only hurt the negotiation process... Unfortunately we cannot see any substantial achievements or breakthroughs [in the talks] so far.
Negotiations postponed until Tuesday at least
(Reuters) - The Kremlin said that peace talks between Russia and Ukraine may get under way in Turkey on Tuesday and it was important that they would take place face-to-face, after what it described as a lack of major progress in negotiations so far.
Russian President Vladimir Putin and his Turkish counterpart Tayyip Erdogan agreed in a telephone call on Sunday for Istanbul to host the talks, which Ankara hopes will lead to a ceasefire in Ukraine.
Turkey said the talks could begin as early as Monday, but Kremlin spokesperson Dmitry Peskov said that was unlikely as the negotiators would only be arriving in Turkey on Monday.
What has Zelenskyy said in an interview about the west?
[France] are afraid of Russia. And that's it. And those who say it first are the first to be afraid.
To be honest, Johnson is a leader who is helping more. The leaders of countries react according to how their constituents act. In this case, Johnson is an example... Britain is definitely on our side. It is not performing a balancing act. Britain sees no alternative for the way out of the situation.
[Germany] are trying to be balanced. They have a long relationship with Russia and they are looking at the situation through the prism of the economy. They help out at times. I think they are trying to adjust to the situation as it develops.
Red Cross unable to help those trapped in Mariupol
The International Committee of the Red Cross (ICRC) has said it is still unable to get into Mariupol as there are no safe routes into the city.
"The sides have to be the guarantors and have an agreement to allow safe passage. They have to publicise the route and allow plenty of time for people to get out," ICRC spokesman Matt Morris told the BBC. "We don't have a team currently able to access," he said.
International humanitarian law, he said, "requires that people should be allowed to leave, but should not be forced to leave".
Ukraine willing to give up NATO application for peace
Our goal is obvious – peace and the restoration of normal life in our native state as soon as possible. Ukraine's sovereignty and territorial integrity are beyond doubt. Effective security guarantees for our state are mandatory... Security guarantees and neutrality, non-nuclear status of our state. We are ready to go for it. This is the most important point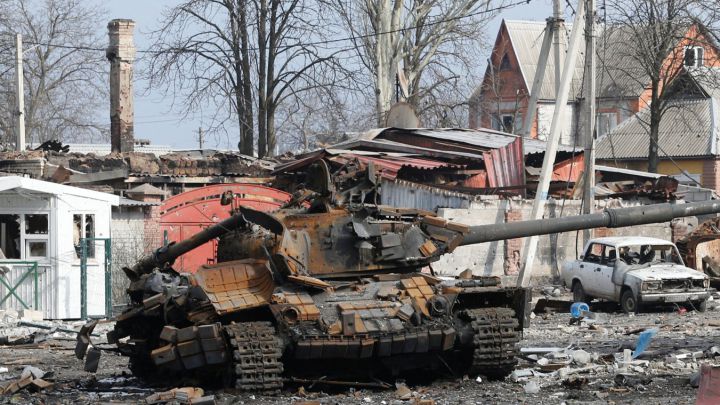 Has Russia lost military capacity since the beginning of the invasion?
The Russian invasion of Ukraine is over a month old and the expectation of a war over "within 72 hours," the Russians have yet to conquer Kyiv. Much of the east is under huge bombardment, as well as the siege of Mariupol in the south which has harkened minds back to some of the most vicious sieges in modern history.
Clearly, the invasion is not going how Russia planned, evidenced by the changing of tactics announced over the last few days.
Mariupol mayor: "Humanitarian catastrophe" if civilians not evacuated
The situation in the city remains difficult. People are beyond the line of humanitarian catastrophe, we need to completely evacuate Mariupol. The Russian Federation is playing with us. We are in the hands of the invaders.
No evacuations from Mariupol on Monday
There are no plans to open any humanitarian corridors to evacuate civilians from cities under siege today, the Deputy Prime Minister has said.
Iryna Vereshchuk said the decision was taken because of intelligence reports warning of possible Russian "provocations" along the routes.
So far, more than 3.8 million people have fled Ukraine, with millions more internally displaced. It is estimated that more than 160,000 people remain in the city, a far cry from the pre-war population of half a million.
Mariupol a shadow of its former self
All over social media in the last few weeks has been the shocking images of a city devastated by war. Mariupol, on the Black Sea, has been at the forefront of the conflict in Ukraine, not least because of its geographical closeness to Russia. It has been under siege for a month, with no running water or imported food for three weeks.
Videos have shown a city crumbling, with untended bodies lying in the street where they fell.
Hello and welcome to AS USA coverage of the Russia-Ukraine for March 28. Ukrainian forces continue to stall the progress of Russian troops and have begun counter-offensives to reclaim territory.
It is now over four weeks since the beginning of the invasion, Russia has changed its war objectives to focus invasion on Moscow-occupied separatist areas of Ukraine.
Biden traveled to Europe to shore up the NATO alliance resolve for what he says will be "a long fight ahead." Foreign leaders have negotiated a deal to wean Europe off reliance on Russian gas.