Why has Dmitry Bivol not been paid for beating Canelo Álvarez?
Sanctions on Russian athletes after the invasion of Ukraine have affected the light-heavyweight world champion despite the bout taking place in the USA.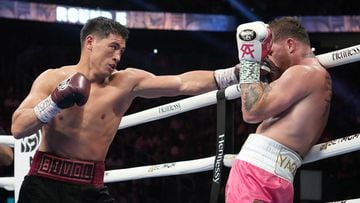 Dmitry Bivol recorded one of the biggest results in boxing this year when he defeated Saúl 'Canelo' Álvarez to retain his WBA (Super) light-heavyweight title, having gone into the bout as the underdog only to emerge from the T-Mobile Arena, Nevada, with a unanimous decision. However, a week after the fight, Bivol has revealed that he is still waiting for his share of the purse, because of Russia's ongoing offensive in Ukraine.
In an interview with Russian news agency Tass, Bivol explained that his payment for the Álvarez bout had "still not arrived" due to sanctions imposed on Russian athletes in the wake of the Kremlin's invasion of Ukraine in February, which has displaced millions of people and led to the deaths of over 3,000 civilians, according to the United Nations. Russia has also been accused of war crimes in Ukraine and is facing increased pressure from the international community in the form of sanctions, armaments supplies to Ukrainian forces and the decision of Finland - and possibly also Sweden - to seek membership of NATO.
Bivol has fallen short of condemning Russia's invasion - although he has been at pains to point out he is originally from Kyrgyzstan - but was under no illusions about the reception he was likely to receive in the US after Ukraine called for the fight to be called off. The undefeated light-heavyweight champion was prevented from displaying the Russian flag in the T-Mobile Arena on 7 May and the Russian national anthem was not played.
Nonetheless, despite the sanctions in place and describing the issue of payment for the fight as "very complicated," Bivol said he and his team were still looking into how they may be able to receive their share of the purse from his victory over Álvarez.
Sanctions imposed on Russian teams and athletes
Following the invasion, Russia's men's national team was disqualified from World Cup qualifying and all club sides were prevented from playing in European competition next season. The women's side also lost their place at Euro 2022 to Portugal while Russian and Belarusian tennis players have been banned from competing at Wimbledon this summer, among other sanctions imposed.