PREMIER LEAGUE
Will Erling Haaland be fit for Manchester City's Premier League clash with Liverpool?
Haaland has scored 42 goals for City this season. Guardiola's side are preparing to face Liverpool in the Premier League.
Erling Haaland is an injury doubt for Manchester City's crucial Premier League game against Liverpool on Saturday, although manager Pep Guardiola hinted in his pre-match press conference that he would be willing to gamble on his player's fitness.
The 22-year-old striker missed Norway's Euro 2024 qualifiers against Spain and Georgia after suffering a groin injury and didn't train with the City squad on Thursday as they prepare for their Premier League return this weekend.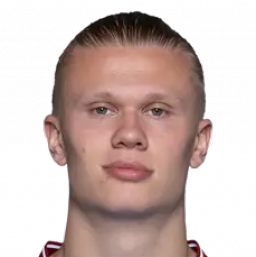 Alf Inge Haaland, the player's father, spoke earlier in the week about his son's latest setback.
"You can't just go two weeks without training and then jump right into a fight," the former City player told TV2 Sport.
"There must be a progression there. It is about how he responds to treatment in the next few days."
Guardiola: "Life is about taking risks"
However, in his pre-match press conference on Friday, Guardiola suggested that there is a fair chance that the former Borussia Dortmund could be involved in the clash, even if he is not at full fitness.
"We'll see today [Friday]. The doctors and especially the player will decide, how does he feel. Yesterday I spoke to him and he feels good. But we'll see what happens, life is [about taking risks] in these stages and you have to take it."
City face Liverpool and Bayern
After the Premier League fixture at home to Jurgen Klopp's side, City will travel to take on Southampton and then play Bayern Munich in the Champions League quarter-finals on 11 April.
The German side know Haaland well from his time at Borussia Dortmund and have just appointed Thomas Tuchel as their new head coach after sacking Julian Nagelsmann.
Haaland's goals
Haaland has scored an incredible 42 goals in his first season with the Manchester club, who will be hoping he returns to action as City challenge for the Premier League, Champions League and FA Cup.
The Norway international is only the sixth Premier League player ever to register more than 40 goals across all competitions in a single club campaign.