BARCELONA - GETAFE
Torres neither forgiving nor forgetting as Barça host Getafe
The Halloween incidents at the Coliseum in October still rankle with the president of Los Azulones, who travel to the Camp Nou with seven men out.Roma vs Atlético Madrid live online coverage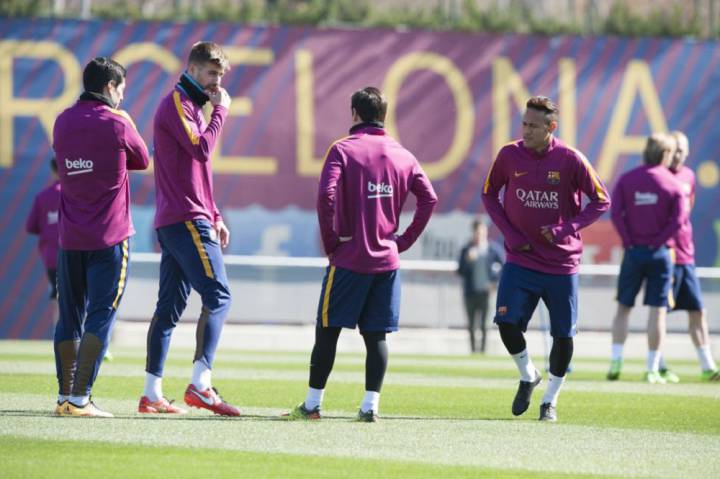 It was a peaceful week at Barcelona. A couple of days off for the first-team squad, the fans catching their breath from two and a half months of two games a week, and the sensation that the LaLiga title is getting closer and closer.
At least, it was until Ángel Torres, president of today's opponents Getafe, lit the blue touch paper ahead of a league clash that could leave his side in the bottom three by the end of the weekend.
Speaking on Friday, Torres revisited the controversial Halloween incidents following Barça's 2-0 win over Los Azulones at the Coliseum Alfonso Pérez, arguing that the visitors that night "showed a complete lack of respect" with their unfortunate post-match celebrations.
"Piqué behaved badly," he said. "Everything which Barça did on the night of Halloween got out of hand." And as a result, the Getafe chief explained, he would be boycotting the traditional directors' lunch before the game.
It's clear that Andrés Iniesta's apology as captain, allied with the subsequent statement issued by the Camp Nou club expressing its regret, did not prove enough for Torres. The episode still rankles with him, hence his decision to stand up Barça president Josep Maria Bartomeu.
Leaving these inter-club tensions to one side and moving to matters on the field, Barça coach Luis Enrique may well rotate in defence for the visit of the Madrid outfit, and has opted to rest Sergio Busquets from a midfield that will look to link up with the three indispensable figures up front.
102 goals is the tally boasted by the 'MSN' of Leo Messi, Luis Suárez and Neymar so far this season, and on their return from their recent mini-breaks - Messi to Andorra, Suárez to Liverpool and Neymar to his native Brazil - the hosts' strike trio will be looking to bring it in once more for renewed group hugs.
Their numbers instil a desire to run for the hills, but Getafe boss Fran Escribá is not a man of that nature. He comes into the encounter with no fewer than seven players out through injury or suspension: key individuals in Damián Suárez, Roberto Lago, Medhi Lacen, Carlos Vigaray, Pablo Sarabia, Cala and Álvaro Vázquez will be watching on the telly.
And with the spine ripped out of the side, it'd be a good day for Wanderson to demonstrate just why he's seen as the future of Getafe.