Luis Suárez makes a final push to win the Pichichi & Golden Shoe
The Barcelona striker put four past Sporting on Saturday to leapfrog in front of Cristiano Ronaldo in the race to finish the season as Spain and Europe's top goalscorer.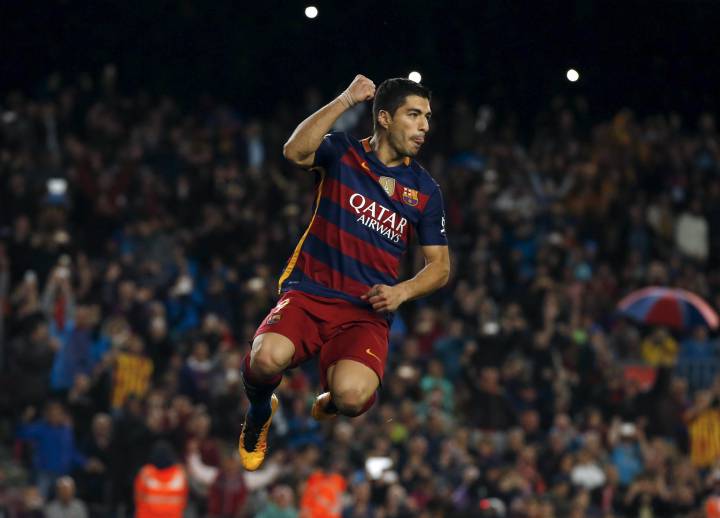 Luis Suárez is enjoying one of his richest ever veins of form in front of goal this season. The Uruguayan has notched up eight goals over the last four days with two world class displays against Deportivo and Sporting to slingshot himself to the top of the Spanish and European top scorer charts. On his campaign trails to scoop the Pichichi and Golden Shoe awards, the former Liverpool man has set a new LaLiga record by becoming the first player to ever net four goals in consecutive matches.
Suárez's tally in the domestic league now reads 34 goals, a haul that makes him the frontrunner for the two aforementioned prizes, ahead of Cristiano Ronaldo. The Real Madrid striker, who was out of action on Saturday due to an injury he sustained on Wednesday against Villarreal, has hit the target 31 times. The other candidates for the Pichichi trophy sit way behind the two ex-Premier League forwards. Messi is third with 24 goals, while Neymar and Benzema are neck-and-neck in fourth having each netted on 23 occasions.
As well as LaLiga, the Barça number 9 has also stormed ahead in the race to scoop the Golden Shoe. Cristiano Ronaldo and Jonas (31 goals) are the most likely candidates to catch him, while Gonzalo Higuaín (30) and Robert Lewandowski (27) are also in the hunt for the coveted metal boot.
Suárez is also on course to surpass his greatest ever tally in a single league season, which he achieved at Ajax during the 2009/10 Eredivisie campaign. The highest number of goals the South American ever managed while playing for Liverpool was 31, during the 2013-14 Premier League season.