Record-breaking Zidane pips Madrid great Miguel Muñoz
The Real Madrid boss has reaped 86 points from his first 33 games in charge, more then Madrid's most successful coach, and Guardiola and Mourinho. Juventus-Real Madrid live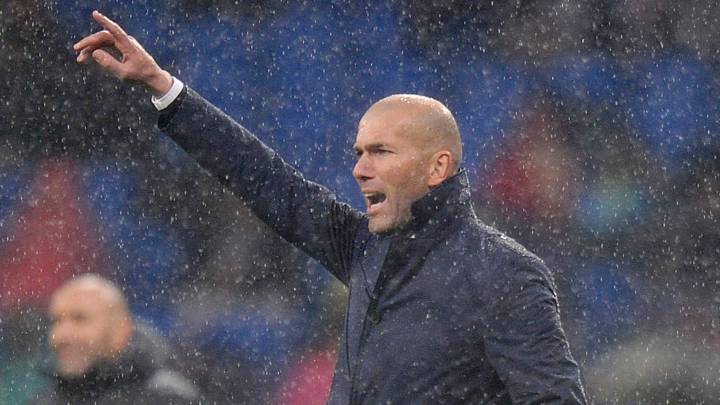 "I think everything will work out just fine," said Zinedine Zidane on January 4, when he assumed control of first team affairs at Real Madrid. The Frenchman took over a side in third position in the league, four points behind leaders Barcelona, and with the squad in a downbeat mood under Rafa Benítez, who never really made a connection with his players. Zidane's was instant. The former player restored peace in the dressing room and swiftly embarked on a record-breaking run as the highest-scoring Madrid manager in history over the course of his opening 20 games, picking up 53 points.
Muñoz precedent
After 13 weeks of the new season, Zidane has eased into top spot in terms of Liga managers as a whole with 86 points gained in his first 33 games in charge (27 wins, five draws and one defeat). The Frenchman has exceeded even the great Miguel Muñoz, who in his first 33 games at the Bernabéu racked up 84 points (27 wins, three draws and three defeats).
Zidane record better than Guardiola and Mourinho
Zidane's record is better than Pep Guardiola's opening spell at the Camp Nou, where he achieved 82 points over his first 33 games in 2008-09 (26 wins, four draws and three defeats), and he has also surpassed José Mourinho's 80-point haul after the Portuguese arrived at the Bernabéu in 2010-11 (25 wins, five draws and three defeats).
Along with Muñoz, Zidane has the best win percentage of any manager in Liga history after 33 games: 81.8%.
Muñoz, Real's most successful manager
However, Muñoz's case is a curious one. Those 33 games were played over two spells at the club: Muñoz was in charge for seven games in the 1958-59 season to replace Luis Carniglia, who was in hospital for an operation, and he returned the following season for the final game in place of Manuel Fleitas Solich, who handed in his resignation after Barcelona won the league on the penultimate day. Muñoz would remain at the club for the next 17 years, winning nine Ligas and two European Cups. He remains to this day Real's longest-serving and most successful manager.
Beenhakker in sight
Zidane will arrive at Camp Nou next weekend for the Clásico on an unbeaten run of 31 games, which equals Carlo Ancelotti's best run at the club. On the horizon for Zidane is Leo Beenhakker's Real Madrid record for games without a loss, set between 1988 and 1989, when Real were unbeaten in 34.