Zidane surpasses Real Madrid record of games unbeaten
As the game entered the final 10 minutes on Saturday evening it looked as though Deportivo may bring an end to Madrid's streak. But Mariano and Ramos had other ideas. Tenerife vs Getafe: Playoff Final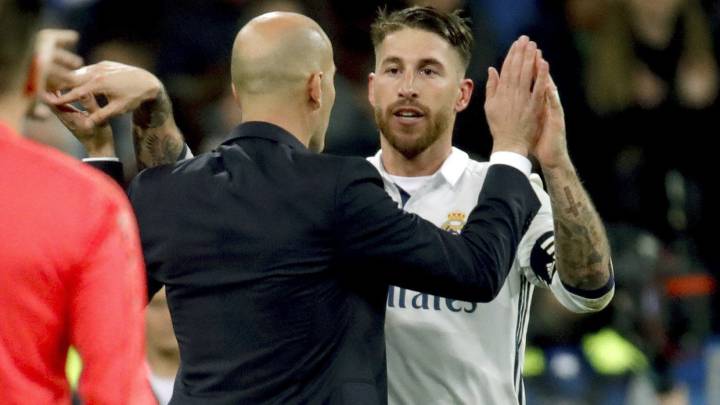 Cristiano Ronaldo Ballon d'Or 2016
Real Madrid - Deportivo match report
Galician history not repeated
Zinedine Zidane's name was etched into the Real Madrid history books tonight as his side came from behind to beat Deportivo La Coruña in the Bernabéu. A win or draw would have seen the Frenchman better Beenhakker's 34-game unbeaten run from 1989 - ominously, that record was stopped in its tracks by another side from Galicia, Celta, who beat Los Blancos 2-0 at Balaídos. This current Madrid side has not tasted defeat in an official game since they beat Wolfsburg 2-0 on 6 April.
Luis Enrique's record
Zidane's men now have the opportunity to bear down on the Spanish football record, held by Luis Enrique when his side went 39 games undefeated in the 2015-16 campaign. In fact, it was Zidane's side who burst the azulgrana balloon with a 1-2 win in the Camp Nou.
To reach this milestone, Madrid have to win their semi-final and final in the Club World Cup that they head off to Japan for on Monday before getting through a yet to be named opponent in the first leg of the Copa del Rey last 16* without defeat. The 39th game would be at home to relegation threatened Granada and the second leg in the Copa would be the record breaking 40th. *The draw for the round of 16 will take place on 23 December.
Europe's best
That said, Zidane does still have four other coaches to reach and overtake before he seals the out-and-out record. Two of those belong to Milan (36 games between 1991 and 1992 and 42 games between 1992 and 1993) as well as Brian Clough's 42-game run with Nottingham Forest in 1978. The current record is held by Juventus, whose unbeaten run stretched to 43 matches between 2011 and 2012, although under two different trainers - Conte in the 2011-12 season, and Luigi Delneri, at the end of the 2010-11 campaign.



Liga BBVA
Leaders
Cristiano

10

Goals
Koke

917

Passes
Illarramendi

159

Steals
*Update 10 de diciembre de 2016