SEGUNDA DIVISIÓN B | TUDELANO | JOHN CLARKSON
Clarkson: "There's a different mentality in Spanish football"
"Spain is different, you have to understand the people, then the players", says John Clarkson, Scottish coach who is aiming to guide CD Tudelano to glory.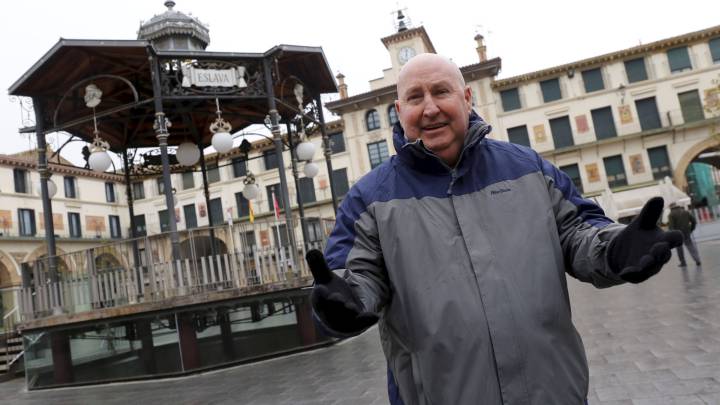 New challenge

John Clarkson's life has taken so many turns it's hard to know where to start with his story but football has been the one constant for the Scotsman who was unveiled as the new coach at Segunda División B outfit CD Tudelano yesterday. It's a dream job for Clarkson, and certainly one of the peaks in a life which has had its fair share of ups and downs, as he himself explained to AS, he came close to death after spending nights sleeping on a freezing Israeli beach only to be saved by a religious group, he has also fought against an addiction to alcohol – one of the battles he has won off the pitch. The next challenge, will involve steering Tuledano to a top-six finish and qualifying for the Spain's domestic Cup competition, the Copa del Rey, if not this season, then the next.
His return to the Spanish game, where he has coached at lower league sides such as UD Benissa, Crevillente Deportivo and FBCD Catarroja and his appointment at Tuledano has caught the attention of the press in Spain and back in the UK but Clarkson says not everything that has been written about his new job is accurate. For example, reports that he has paid 50,000 euros up front to take the Tuledano post are not strictly true.
Can we start with a bit about your background - who is the real John Clarkson?
I'm from a small village [on the west coast of Scotland] where everyone leaves their doors open; it wasn't necessary to have locks. Everybody knows everybody. We had maybe three or four very good footballers - me and three others - Fraser McKay, Hugh MacGillivery... it was a long time ago. All we did there was play football, and tennis, golf. This was the life. And then at 15 I was an apprentice with Arsenal. I would clean the boots. But I ended coming back to Dunfermline, because going from a small village to London… The city was too big for me at 15.
Where did you go after your time at Arsenal?
I returned to Scotland and signed for a team but I was going to a lot of parties... and drinking. Eventually I end up in Israel - I was playing football there. But I was still drinking and partying too much. I had to play under another name because at that point you had to be Israeli to play there. I played a lot of games and I didn't even know the score because I was drunk.
In Jerusalem I sold my boots so I could drink. I was in the gutter. There are not many people like me, who have come through that. It's very difficult, but it's not impossible.
I lived on the beach in Eilat - the hellhole of the world. I had one job. In winter at night, in the desert, it was freezing. I saw people die there. This was all a long time ago. And I was famous (laughs) well, infamous. Everybody knew me, out on the streets.
Anyone who wanted a job done would come down to the beach and pick up people to work. One job was because of the mafia, who'd firebombed a supermarket. Everything on the shelves had to be thrown into the bins. So we were going down the aisles with bottles of vodka and whisky… and it all had to go [indicates drinking from a bottle] Everybody was drunk, every day for a month. One time I was so drunk I went to the police station, I said "send me home, I've no passport", and people there with no passport go to jail... Eventually, I'm very ill with pneumonia. I don't care if I live or die. In fact dying would have been a blessing. I thought, "If I close my eyes I won't wake up". But an evangelist group who happened to be there that day picked me up, gave me medicine and took me away to Haifa.
Many years later, when my life changed, I sponsored two ministers from that group who saved my life. My wife and I paid to help them, to become ministers.
I came back to England, and I had a lot of problems with alcohol. I then decide I'm going back to Israel. On a trip back to England I was met by the police who told me a friend of mine had died, of diabetes, drunk. After that I went into a treatment centre to kick the alcohol. That was 30 years ago. No drink since. I changed my life.
Now you have a business that's doing well. How did you manage to turn your life around?
From living on the beach to this; I had nothing apart from a bag and some clothes. And I started to play football again - I'm fit, healthy. And then bang! Achilles Tendon snaps... then the other one too. And I was working with handicapped people. I'd met them originally through the Christian people in Israel. I was living and working with them for nothing. But because of my broken tendons I couldn't work, so they told me I had to leave. So I worked somewhere else with disabled people and got married to a nurse, bought a house and we had three very severely disabled people living with us like our family. We did that for six years - six very, very difficult years – because I couldn't afford to be ill. One day a friend asked me to coach his team. And I thought "No, not football". Since the broken tendons I didn't want anything to do with football. I wanted to build a swimming pool for the handicapped people. And his company did construction, swimming pools. And he said he would build the swimming pool, which would cost me very little, and I would coach his side. I said "Ok, it's a deal". So I coached the team, we were promoted, won two cups, and became champions.
Which team was that?
Storrington FC, in the south of England. Then I coached other sides - Worthing, in the Ryman League. And then things start to happen. We started to get bigger - helping the handicapped people had now become a business which was growing.
So the business side has been a success?
My business has grown because we look after people correctly. We went from having three people in our house for six years. I built a care home, especially for the handicapped - for young children, who have tracheotomies, some terrible disabilities. We now have six residences and one day centre. We have one that's a nursing home, for elderly people, who need specialized care.
How much money do you earn a year from those businesses?
It depends on the level of the care. In Britain, the government pays or you can go private. But our businesses are very different. We have residences for the elderly, one for dementia, and one for Asperger's Syndrome, which are small, five or six. This work is very challenging because you can't change anything. You have to be very calm around the patients. We have Spanish nurses. And I need more. I want two more.
How much money have you spent on football?
Over the years? A lot. The biggest problem I've had in football was Aviles. There were incredible problems with embargoes. Lots of people weren't paid - the cleaning lady, the coaches of the kids' teams … lots of people. It nearly killed me.
When you went to Benissa?
We came to Spain for the weather because I've got arthritis. And I had so many operations and difficulties with my body, because of playing football and the life I've had. I believe you pay a price in life for what you do, and before, I was crazy. I changed my life. And when I changed my life I had all these injuries. So we bought a villa in Benissa, and the builder was on the board at UD Benissa. They were doing work in the house and I had photos of the clubs in England where I'd coached, and Cups we'd won and [Benissa president] Eduardo says to me: "John, you're the coach". I said "Really?" I was nervous. I spoke no Spanish. I understood a little. I was learning. So at the first training session there's one lad and I'm telling him "do this, do that" and he says "this guy is tonto [stupid]" And I said "Tonto? You're tonto. ¡Fuera! [Get out of here!]" And he went to the president and he told this lad, "John's the boss. Get out of here".
We had no money, but we avoided relegation that year. And the next year, Benissa were champions.
Then you took the coaching post at Crevillente? And you had to pay there?
There were three of us in Crevillente. I arrived there and there was no team. The club had a huge debt. One person left… the usual in Spain, promises, promises then nothing. So the club had problems. And there are two people there: Joaquín, who had a crane business, and José Lozano, the president and vice-president, both good friends, all three of us, put money in.
How much was it?
I don't know.
And you coached there?
I was the coach there. In the first part of the season I brought three players from England. One from Tiverton Town - he was a very good player, who'd played for Aston Villa. Another from Manchester City, and another, a striker, from Doncaster, from FC Manchester United, the team of the Manchester members.
In the first part of the season we are right at the bottom of the table. And I say to Joaquín and Lozano, we have to change this. This is no good. So six players, one of them is here. So we changed six players and I changed the system, back to a Spanish system and in 13 games we beat everybody. We beat the best team I've ever seen at this level, Valencia Mestalla. That team had Jordi Alba, Alcácer, Isco, the keeper was incredible... the best young team ever. I brought six players in, one was Puncho.
What is you tactical model? How do you like your teams to play?
You have to have an open mind. The British system, 4-4-2, doesn't work in Spain. The only team I've seen in Spain playing 4-4-2 was Albacete, in the Segunda B. The second coach went onto coach Liverpool, Rafa Benítez. He was assistant coach.
So I had to learn Spanish football which, for me, is the best there is. I like passing football but sometimes that isn't possible, especially in Segunda B where you need tactics - don't let in any goals, get one chance and take it. That's Segunda B. So you need a really good defence. Central midfield - two pivots. 4-2-3, or 4-1-4-1 for that category; but I like 3-5-2 - the system I played a long time ago. If you have the right players, you can have two strikers. That's the system Conte plays at Chelsea now.
You have three central defenders, or five, because your wing-backs can drop back. And you always have four not three, because you have one up and one back.
And you've always loved Spanish football. What are your first memories of it?
There's a different mentality in Spanish football. For example Gary Neville arrived here in Spain. He knew nothing about Spanish football. His brother was the coach (sic). It's impossible! You have to be here and understand the people. And in Valencia people are very tough about football; they are tough everywhere here. But you have to understand the people first and then the players, because they are completely different from English players. They have a completely different mentality.
I love it but sometimes I think: "What am I doing here?" When I was at Crevillente, we lost the derby against Novelda; we were bottom of the league and the hankies are out, people shouting "Clarkson, out!" (and other unprintable things); I'm thinking, "I don't need this", but as I'm driving home I decide, "No, I don't give in". So I changed the system, changed five or six players and we won 13 games on the trot, and were one point away from promotion. We reached the quarter finals of the Federation Cup, lost to Mallorca, and then everybody was happy and Clarkson is fantastic. I went from being the bad guy to being incredible. That's football. Not just Spain, everywhere.
How do you think the Tudelano players will react to this special situation? You've come here, invested as a sponsor… and you're their coach...
Players don't like change. And they are worried now, because it's January and many players leave in January. Some want to go, others don't. I'm not going to change anything here. It's a really good club with good people - professionals. The sponsor money isn't from me, it's from the people in the background.
It's not you putting in the money?
No. It's people in the background. I have people in India and when I was in Aviles…
...India?
Yes, India. I have a coach in India, a friend of mine; he was my second coach here. He's Swedish; when he comes back maybe he'll come here. The Indian investor. And there's another guy in London who invested in Aviles too.
This is news!
I told you. Pay to train? Nonsense.
Ah, so you've found investors to put money in here.
It's not much money either. It's not like Chinese investments. The problem is when one journalist doesn't write the truth. That's the reason you're here today. And why everyone in England wants to hear about this. And I'm thinking, "This guy is damaging my character". And maybe I'll take him to court. I haven't decided yet. That's for later. I shook the man's hand last night.
But you aren't going to earn money for coaching here?
That's for sure. I have a bank in England, Banco Santander, who agreed a condition with me: No money to Spanish football.
Really?
Yes. Banco Santander. To have an account with them I had to agree not to put any money into Spanish football. And they are a major sponsor of Spanish football.
Because they know you put a lot of money into Spanish football?
Yes. Maybe at one point I put in too much money. Aviles destroyed me…
How much did you lose?
Oh… Three hundred thousand, plus what the investors lost. So with India and the investor, maybe four hundred thousand in total. This was a complete disaster. I would never have gone into that if I'd known the real truth. But that's life. I've learned the lesson.
And if you get promoted to the Second Division, what's the deal?
If we go up to the Liga 1|2|3, the contract says… it's private, but... The contract says I'll be the best paid coach in the Second Division, in Tudelano's history. And the investor's money is repaid.
So it's a risk for them.
It's a normal contract.
And it's this year, or next year.
It's not anything crazy. All this news... I haven't killed anyone. All I've done is sign to coach a team. And the team is a professional outfit. I checked this club out, I talked to players, when you ask players and they all say it's a good club, good president, good people, good directors, everything is paid on time. And I'm thinking "Really?", because it's not normal in Spain.
To be honest, we live comfortably in the south of Spain, where the weather is good all year round. And I'm thinking, I'm going to the north where it's a little bit cold. And when I arrived I thought, "My God!"
What does your wife think about your passion for Spanish football? Putting money into it…
This is the final club for me. Tudelano is the last - not because of my wife. If I don't work in football I have my businesses. Every month I have to go home and look over things. We aren't sitting here in Spain doing nothing. So if I'm not doing football I'm bored. I've played or coached all my life. And my wife prefers me to be coaching.
My problem is I don't like losing. Every day I was going home with a sad face. And my wife didn't like it. So I had to change. Football is football and the house is the house.
Do you worry that people think you are a bit odd?
Odd? Do you know how many people put money into football in England and Scotland? It's normal! But people here think it's something completely different. At every club I've made sure the players have been paid - every single club. For example at Cataroca, the year before, the players didn't get paid. And I ended up with a lot of problems because of that. Vicente Floro, who organised the team, he brought in the players. I'd tell him what I wanted and he'd find the players.
The investors, the Indian and the English investor, what can they get out of this? They don't get anything?
If I get the team to the Second division, they'll earn money. And the Indian guy, has a club in India. But the level of football isn't any good. But the Indians want to be in football.
So you haven't actually put any money in?
The bank in England says no! It's true!
Is it important to finish in the top six?
Yes, because of the Copa del Rey. To play in the Cup next season is very important. And promotion is difficult, but possible. The Cup is a realistic goal, maybe promotion... The most important thing is to make sure we stay in the Segunda B.
You don't need the best players… I watched the Tudelano team last night on DVD. Against Leonesa. And I saw how they celebrated their goal. All of them together. And that's so important. If you have one bad apple in the squad… that can be bad. But they were all together.
They say about you that you use old coaching methods.
[Laughs]
Like for example you make the players run up mountains…
No. I use both old-fashioned and modern methods.
If you're losing games in the last 15 minutes, there has to be a reason, up top, or physical. So I addressed the physical issue. When they arrived at the top of the mountain, the little chapel at the top is just incredible and when the players get there, I saw them, they had that look of "I've done it". And we're timing them. And they have to improve their time the next time they do it.
The first time we did it, we played Húracan Valencia on the Saturday, and we did the mountain run on the Monday. After five minutes we have our centre-back Ayala sent off; we played the whole match with one man down and it finished 0-0. We won the next game.
I understand that mentality. When I was playing, I didn't train, I didn't want to go running, I just wanted the ball. But I learned. If you have the best technical skills in the world, like Ronaldo or Zidane, you don't think about training. But now in football you have to be physically the best.
Which coaches do you admire, or have followed?
I like [Jürgen] Klopp.
Because he is a bit of a character like you?
[Laughs] And I like Zidane. Since he's been at Madrid he's only lost like one game. To be honest I'm more of a Madrid man, than Barcelona. I like to see football. There are two choices in football. You have to play with the players you have. If they don't play tiki-taka football, you can't play tiki-taka football.
You're never too old to learn. And things are changing all the time. I'm told before the game the new method is to not do a warm-up, not do stretching. And I'm thinking "What?!" This was a physical trainer who told me this. But since I've been in Spain I've learnt to always keep an open mind so I said "ok".
Look at the people in Valencia when the two English coaches came in. They'd never coached in England. They don't know Valencia. All they've done is be on TV talking football. They are great players, international players. But this is different. It's different in Spain. The football is different, the people are different. You have to adapt.
You got your UEFA coaching license?
Yes, it took me three years. I did it in Madrid. I got everything translated. I used the internet. I did a bit in Ireland. I could tell you about, but it's better if I don't! Trust me! I told you about the drinking culture… it was incredible.
What changes will you be making at Tudelano?
There'll be no change in the training system. But if I see something that needs to change I'll change it. I'm not here to lose. I'm here because I like to win. If I'm here for the second season I can guarantee we'll be close to winning it.
Will you buy any players?
That depends. The contract states that if we have the money we can buy players; but the president Jesús controls that and he has the final say. There's one player who both of us want but the player wants too much money.
What are you going to do? When will you take over in the dug-out?
I'll be in the stands this week. On Sunday 29th I'll take over. The second coach has a 100% record.
I hear you don't like the press. Why's that?
I'll tell you, remember David Moyes came to Spain, and in Scotland they wrote that he preferred golf to football, because he went out for a round of golf with Richard Bevan. You have to adapt. Spain is different.