Courtois: "I don't see myself at Real Madrid"
The Chelsea goalkeeper says that he is yet to speak with the London club about renewing his contract and also responded to the rumours linking him with a Real Madrid move.
Thibaut Courtois spoke to 'El Larguero' on Cadena SER while on duty with Belgium and spoek about the current situation at Chelsea along with the speculation surrounding his future and a possible return to Spain's captial to play with Real Madrid.
On his family living in Madrid and his frequent visits, the goalkeeper said, "Sometimes I go back to visit my family, who are in Madrid. I enjoy the good weather and the food, but as the same time, it's really nice in London except for the weather. When I walk down the street there (in Madrid), they still complain to me. I miss them a lot and I like that they recognise what I have done. I owe a lot to Spain."
Courtois also spoke about the excellent run of goalkeepers Atletico have had minding their nets, "I don't think it's a coincidence. De Gea arrived from the youth system. He was formed there since he was a child. With Oblak and I, the scouts had good timing to take risks and put young goalkeepers in. Because Atletico is a big club and that puts a lot of pressure on. The three of us came out of it well."
Courtois among the world's best
You could argue that Atletico have had three of the best goalkeepers in the world at present but Courtois also says that you can't forget Neuer and Buffon, "I consider myself amongst the best," he continued.
On the links with a move away this summer, Courtois says, "this is a thing of the press. I am very calm because since the first year I have heard the same things. Here in Chelsea we are battling for the league and FA Cup and I am content."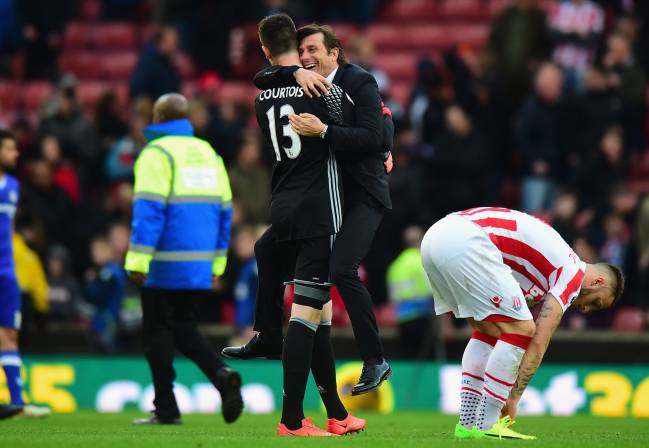 On Chelsea's ambition
Courtois says there is a long term project at Chelsea to win trophies at European level and the Belgian says he is very happy but admits there is no contract renewal offer on the table at present. "I have two more years of contract left. In London everything is going well for me and I am happy," he said.
"At the moment we have not talked about a renewal. Now we are focused on winning the league, even though we have ten points of an advantage. Both the club and the coach want to keep calm now and not think about renewals. We will see at the end of the season whether they offer me something, but at the moment there is no offer. Would I like to be offered a new deal? Sure.. I'm very good at Chelsea and if they want to continue with me, that would be great."
Real Madrid reportedly have Courtois on their radar and he says that "I don't see myself at Real Madrid. I see myself at Chelsea. I feel like a key player within the team. I don't see myself at any other side. It is a club where the demand is very high like at Chelsea or Manchester United or any other big club in Europe. All goalkeepers can fail, but if you have the support of the group...he is not having a year like last year but Keylor is a great goalkeeper."
Follow the Germany vs England coverage and do not miss the tv schedule of the international friendly match
Premier League
Leaders
Diego Costa

13

Goals
Henderson

1391

Passes
Koscielny

337

Steals
*Update 21 de marzo de 2017