Zidane: "If you don't get results at Real Madrid, you're out"
Real Madrid boss Zinedine Zidane spoke to the media on the eve of their LaLiga clash away to Granada on Saturday evening (20:45 CEST).Real Madrid-Sevilla live: LaLiga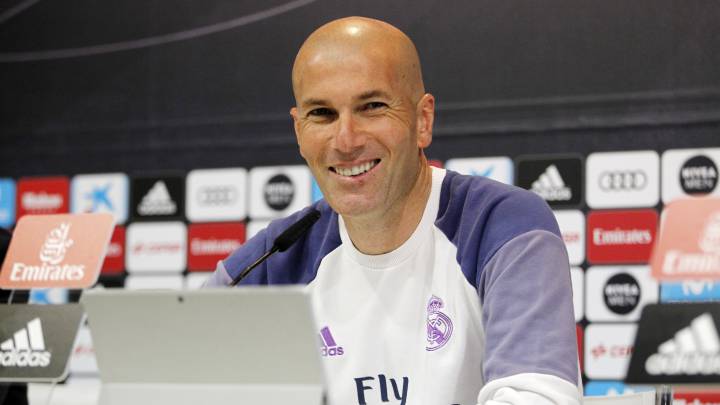 Real Madrid coach Zinedine Zidane looked ahead to this weekend's LaLiga trip to Granada (Saturday, 20:45 CEST) in Friday's pre-match press conference.
Zidane confirmed that Raphael Varane will miss the clash, and also discussed issues including his future and Tuesday's controversial Bernabéu banner.
The Real Madrid boss's pre-Granada press conference:
Granada match: "There aren't many games to go and we know that they're three very important points. We'll look to play as well as possible and give our all as always."
Do you feel harshly treated by criticism you've received this season? "I know that I know the game well and that's the most important thing. I come to work every day with a tremendous desire to improve. People are going to express their opinion - be it positive or negative - and I can't change that."
Focus: "What I'm interested in is trying to keep on moving forward and that - and, above all, being at this club, which is the best thing that's happened to me in my professional career - is what drives me."
Do you think Cristiano Ronaldo is in line to win a fifth Ballon d'Or? "Of course. What he's achieved is all down to him. He's closing in on the next one."
Tifo against Atlético Madrid: "I've seen a lot of banners in every stadium and that's just part and parcel of football and football fans. It's always going to happen. Sometimes if you're on the receiving end, you're pissed off, if you'll excuse my language. But it's going to happen; you can't change that."
Future: "At this club, you're dependent on results. I've been here for 17 years and I know where I am. I know that if you don't get results, you're out. I'm well aware of that, but it doesn't stop me from keeping on working, dreaming and trying to win."
No pressure on already-relegated Granada: "It's more difficult, because for them all that's at stake is a game with Real Madrid. They have players with quality, although they've had a bad season because they're going to go down."
Preparation: "My concern is to make sure we're mindful that this is a hugely important game; we'll be wrong to think it's going to be easy. We're going to prepare well for the match."
Diego Simeone's reported come-to-Atlético plea to Álvaro Morata: "Álvaro is a Real Madrid player, he's happy here and this is his lifelong club."
The BBC: "There are some who maybe think that those who play less are doing better, but [I think] everyone is doing well, including the BBC. There aren't many games where we haven't played well with the BBC on the pitch."
Does the BBC play by decree? "No, that's not the case, and you know that."
Whistling of Cristiano: "He has the respect of all Real Madrid supporters, of the club, of the coach, of his team-mates, which is the most important thing. People either really love Cristiano or not [at all]. There's no middle ground."
Managing Cristiano's game time: "I talk to him a lot. Up to now he's had 60 games a year and he knows that, after all this time, he has to rest. It's not a case of me leaving Cristiano out; it's something we do through dialogue."
Varane, Pepe and Fabio Coentrao: "Coentrao will be with us tomorrow. Pepe will return next week, not tomorrow. Varane's suffered a relapse - though it's not major - and we don't want to risk him."
Kylian Mbappé: "I've said before that he almost signed for Real Madrid [in 2014], but in the end he didn't. He's a player who's showing his huge quality; that aside, I'm not going to comment."



LaLiga Santander
Leaders
Messi

12

Goals
Roque Mesa

1007

Passes
Steals
*Update 5 de mayo de 2017