Tax authorities believe Cristiano Ronaldo failed to pay eight million euros of tax
The tax inspectors involved in the case against the Real Madrid player are not in agreement as to whether criminal proceedings should be started against the playerv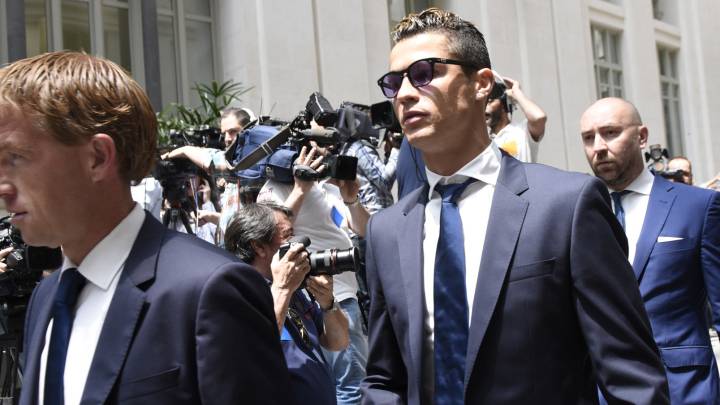 The tax investigation into Cristiano Ronaldo considers there is evidence to prove the Real Madrid player failed to pay up to eight millions of euros of tax in relation to his image rights from 2011 to 2014, according to a report seen by Spanish radio station Cadena Ser.
The results of the investigation are with prosecutors in Madrid, who must now decide whether to act against the player.
Tax inspectors not in agreement over Ronaldo
However, the tax inspectors involved in drawing up the report were not in agreement on whether criminal proceedings should be started against the player (indicating suspected tax fraud) or whether a simple administrative procedure would be appropriate.
Cristiano Ronaldo's image rights money
According to SER, Cristiano Ronaldo held money earned from his image rights in the Virgin Islands, however in 2014 he fully regularised his situation with the tax authorities, prior to any investigation being started. At that point the player paid six million euros of tax, which were paid in relation to the tax year 2014.
However, according to some of the tax inspectors, the player should have filed a complementary tax return for all the years involved, not simply lumping it all together in relation to 2014.
However according to other tax inspectors involved in the case, by using this method, Ronaldo ended up including tax supposedly not paid for 2009 and 2010, meaning he paid more than he would have by using the formula he and his advisors chose, because the tax years 2009 and 2010 were subject to the statute of limitations by the time he paid the amounts (meaning the tax authorities would not have been able to regularise those years).
These tax inspectors, who believe the case should be resolved by non-criminal proceedings also point out that the player never hid information from the tax authorities, and when he regularised his situation, he gave the authorities all the supporting documentation relating to his income.
There is a second point of discrepancy between the inspectors, relating to a complex tax question of the classification of income. Ronaldo declared certain amounts as having been paid as image rights, while the tax inspectors believe it should have been treated as royalties, with a higher tax generally applying. In this instance, again, some of the inspectors feel the player should be subject to criminal proceedings for the misclassification, while others consider it can be resolved through administrative procedures.
Prosecutors in Madrid will now decide whether to start criminal proceedings or not against the Ronaldo.