Hero Bravo sends Chile to final after Portugal's penalty pain
Portugal and Chile played out 120 minutes at the Kazan Arena with no goals to show for it and it was the Man City keeper who came out on top in the spot kick dramaPSG - Real Madrid: Champions League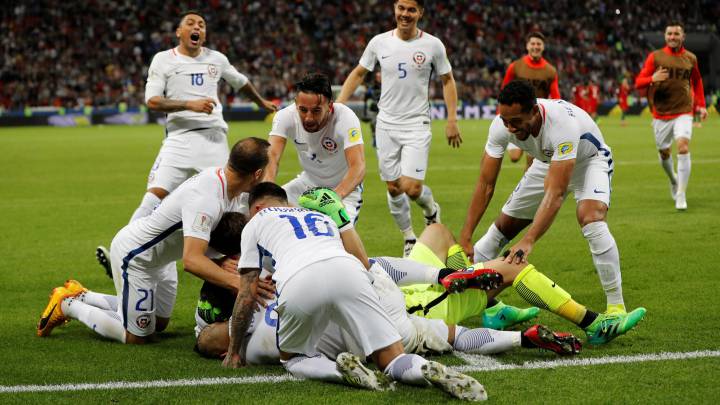 Portugal 0 - 0 Chile (0-3 pens): match report
We should have seen it coming. In the blistering first 10 minutes of the match both Rui Patricio and Claudio Bravo pulled off impressive stops for their respective teams and so it was that the semi-final would be decided by the big men with gloves. Neither team could get passed the opposition's last line of defence for a full 120 minutes and then Claudio Bravo became the headline name for tomorrow's papers as he saved the all three spot kicks that he faced.
Cristiano, Sanchez, Vidal: still no goals
The first 90 minutes were a mix of high energy, direct play, and lack of any real desire to have a concerted amount of controlled possession by either side. Chile had more of the ball but the chances that came about, and the danger caused in the opponents' box were shared equally. The teams went off at half-time knowing that they could easily have had a lead, but could just as easily found themselves behind. Even was fair.
Less explosive was the second 45 but the pattern was similar. Again chances were being created, balls were being delivered into the danger areas and spaces were being exploited. But neither side could get a hold of the game and there was a sense that it was going to peter out, while moments of excitement threatened to really bring the semi-final to life. Nothing came and we headed for an extra half hour.
Portugal press but Chile almost make them pay
Extra-time saw a similar pattern emerge but soon the European Champions took a foothold. Whether it was by design or not, they harried more, and further up the pitch, forcing more errors and long clearances from the Chileans. With this returned possession, Portugal looked the more likely to open the scoring but coudn't carve out any clear cut opportunities. And right at the death of the second period Chile almost stole the game.
Vidal latched onto a pull back from the Portugal goal line and expertly cut across the ball with the outside of his right boot. This sent it spinning off to the far post, Patricio watching it helplessly, but instead of nestling in the corner it came straight back to the waiting Rodriguez in front of an empty net. It was a split-second reaction to get his foot correctly angled and the attempt went higher than he'd hoped and came back off the bar to be cleared by a disbelieving but relieved Portugal side. They had escaped.
Bravo, Vidal,
Aranguiz and Sanchez
So to penalties and Claudio Bravo must have had memories of the match that got his team to the Confederations Cup in the first place. That penalty shoot-out where Lionel Messi missed, Chile beat Argentina, and the Barça star retired from international football, only to return later. Good experience for the Chile keeper to draw upon. Three times Bravo was asked to save, two to his right and the third to his left. All three saved well. Prior to each, Vidal, Aranguiz and Sanchez had buried theirs. Cristiano didn't even get to take his turn.
Chile then head to the final on Sunday and can sit back and enjoy the second semi-final, giving their legs and lungs a needed rest.
Portugal 0-0 Chile: Confederations Cup semi-final how it happened
Thank you for joining us tonight, wherever you are in the world, and we hope you enjoyed the drama right to the end. Remember that we'll be back tomorrow for the second semi-final as Germany and Mexico look to join Chile in Sunday's final.
The Chile squad throw Bravo into the air after three penalty saves. Cristiano leaves the field looking dejected after not getting a chance to take his penalty.
 Nani must score or Portugal are out...stutters and tamely passes it to the right. Bravo reads/guesses correctly and saves it!!! CHILE ARE IN THE FINAL
 Sanchez to make it three for Chile...scores!!!
 Moutinho for Portugal. Pressure building and he doesn't look confident...saved by Bravo again!!
 Next for Chile, Aranguiz...scores. Low and hard.
Quaresma now for Portugal...same side...saved by Bravo! 
 Vidal steps up for Chile. Mr Confident...scores!! Booms it into the left side netting as Patricio goes the other way.
Cristiano and Bravo meet again with the ref in the middle to decide the order. Patricio to face the first penalty.
Remember that Vargas effort I quite enjoyed? Here's one angle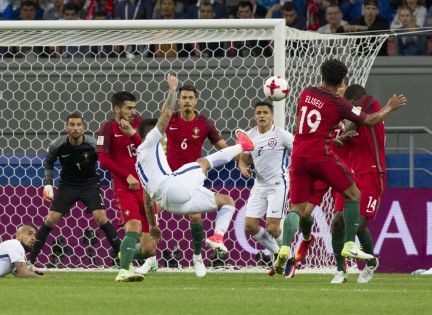 Hearts in mouth time at the end there for Portugal. Anyone else feel that this has a sense of last year's Euros when fortune was on their side?
120'  A couple of corners to Chile come to nothing and the whistle blows. We're headed for the spot kicks.
117'  Post! Bar! Just when it looked like the game was dying out towards penalties, Vidal hits a controlled sliced shot the spins away to the far post. The rebound falls to Rodriguez whose reaction shot pops into the air and off the bar. Wow!
116' Gelson Martins on for André Gomes
115' Cedric also into the book for a foul on Sanchez.
115'  A few late challenges going in from both sides. Let's put it down to tiredness rather than naughtiness...although!
112'  Penalty claim for Chile! Ref waves it away but the replay shows a clear late foot from Fonte on the recently introduced Silva. Portugal let off.
111' Chile bring on Silva for Hernandez (tactical rather than head knock we think)
110' Bruno Alves sees yellow following Chile's Hernandez seeing his elbow to the head.
109'  Quaresma next gets a run into the grassy area down the touchline on the right thanks to Cedric. His whipped delivery is good but met firmly by the head of Isla and away.
108'  That pressure forces a long clearance from Bravo and the resulting pressure leads to Moutinho almost getting in behind the defence. The ball bounces behind to safety.
106'  We're underway once again. Chile need to get more involved if they are to fashion some more chances. Portugal are putting them under more pressure higher up the field and it's working.
Quick turnaround, fluids replenished and we're ready to go...
105'  Alexis Sanchez and Aránguiz almost create something in the closing seconds as the crossfield ball into space is controlled sublimely by the latter on the back of his thigh (he knew nothing about it). There goes the whistle.
104'  Queresma plays another ball into the Chile area, this time from the left with the outside of his right boot, but no red shirt can get on the end of it and Chile clear.
102'  Chile have had a couple of chances in extra-time but have really struggled to get any sort of control. Portugal are pressing high and strong...it worked well for Australia.
101' Portugal change sees Moutinho on for Adrien Silva 
99'  Vidal almost takes a few studs to the head as he gets a strong head on a low, bouncing ball around the six-yard area. Easy enough for Patricio.
96'  Corner for Portugal. Quaresma delivers into the mix but it's cleared. Another corner comes from it and this time it's swung in over the top of Bravo who swipes it away. The Euro champs have certainly had most of the play in this opening few minutes.
Fonte carded for a block on Sanchez
94'  Portugal have started this first period well and move the ball around the Chile half looking for gaps. Chile's pressure eventually gives them the chance to attack and oooooooohhhh Alexis goes really close with a header from the middle of the area. Isla with the delicious cross from the right.
92'  And it's Portugal who get the first chance. Cristiano central out to Quaresma on the left who curls his right foot around the ball but can't find the Real Madrid man's run. The block though bounces out to Andre Gomes who steadies himself but strikes well over.
91'  OK. Let's go! 30 added minutes then maybe penalties to decide the first finalist.
Another extra-time for Santos. He'll be hoping it works out like last summer.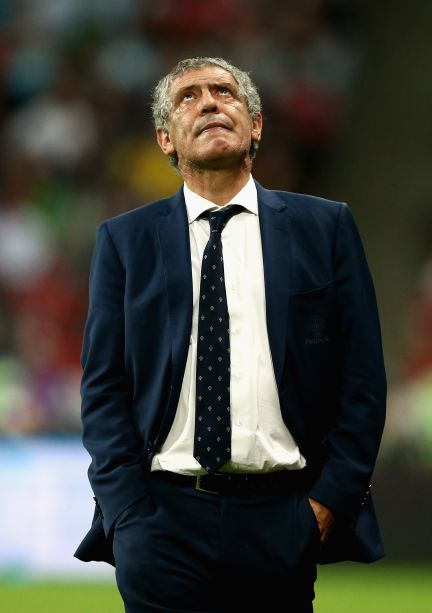 90'+3'  And that's it. The first semi-final will go into extra time. Stay with us for all the action as tired legs and minds could open up more space for chances.
90'+1'  Portugal with a period of sustained (relative) possession but just as it looks like they could make inroads down the right the ball is stolen from them and bounces out for a goal kick to Chile. Time almost up...
89'  For all there has been some neat play - from both sides - we've seen a lot of loose action. Misplaced passes and stray touches. About to enter added on time...of which there will be three minutes.
86'  Cristiano then throws a head at the ball played in from deep and although he makes a decent connection it flies harmlessly wide.
84'  Two similar diagonals played into Alexis running in at the back post but both incredibly difficult to control or direct goalwards.
Quaresma takes the place of Bernardo Silva
83'  Bravo plays it around with his defence as the Portuguese front three push on. Then it's played long and swept up by the European defence.
82'  Soares dinks a neat little ball over Bernardo Silva's head and into the box, but he can't quite collect.
79'  Chile knock it around for about two minutes, before hoofing it straight to Eliseu. Ten minutes for someone to find a winner.
75' And that's André Silva's final contribution, as Nani trots on for the game's first substitution.
74'  Bernardo Silva feeds André Silva just inside the box, the Milan new-boy spinning away from his man and eventually winning a corner, which again comes to nought. Nani is preparing to come on...
71'  Ronaldo picks up the ball on the right-hand corner of the box, looks up and pings an angled shot towards the far corner, his effort taking a wicked deflection off Jara's leg...and looping just past the post! The corner comes to diddly-zip.
68'  Carvalho picks up the ball in space deep in the Chile half and tries to feed in Silva, but it's blocked by a stretching leg.
66'  Some nice footwork from Bernardo Silva as he drifts in from the right in between two opponents. They make sure he doesn't get too much further though. Foul.
64'  Freekick to Portugal about 30 yards out and central. Guess who's lining it up? Cristiano steps up, over the wall and ....over the bar, by quite a bit.
62'  Vidal catches a drive with plenty behind it from a good 25-30 yards out but it's still rising into the crowd behind.
60'  Beausejour and Sanchez exchange passes then the latter switches it crossfield to Vidal who almost plays in Medel. Stopped by Alves.
57'  On second viewing the ball 'popping up' was a deft touch from Vargas himself. Would have been a tasty way to open the scoring tonight.
56'  Chance! Out of almost nothing the ball is partially cleared from Chile's corner and as it pops up Vargas takes it in a half-bicycle kick. Plenty power behind it, on target, but a strong hand from Patricio pushes it around the post. Nice effort!
54'  Space on the right for Portugal and the cross invites André Silva's head to clash with that of Isla. Short stoppage but they're both ok.
52'  Both teams are going at it again but it's already started to feel a little disjointed, as per the latter part of the first half.
Pablo Hernández into the book after catching Carvalho late
49'  Chile now have their chance. Sanchez central in the Portuguese half lays it out wide to Hernandez but Cedric is quickly across to clear.
48'  Again Portugal get forward. Controlled play by Bernardo and Carvalho then into Gomes who has a choice: shoot from edge of area or try to feed Silva in to his right. Shot taken and he doesn't make great connection.
46'  No changes to the 22. Immediately Portugal get forward down their right. Ball centred but easily cleared
46'  The second half is go.
And here come the teams...
As we await the teams returning we can reflect on the two best chances of the half: Cristiano's inch-perfect cross to Silva - saved; and Vidal's misshit that fell to Aranguiz - sclaffed.
A quick check of the betting odds and not much has changed since pre-match, Portugal still the favourites (with European bookies anyway!)
It will be interesting to see if either manager decides to change things for the second half. Chile have edged the possession (around 60%) but Portugal have had just as many dangerous attacks. If I was Santos I'd be getting the play slightly more horizontal in the midfield, giving a little more control and scope for support to join Cristiano and Silva. 
45'+2'  And the whistle blows. Let me sum up: tasty opening, good balance to the game, no one able to get full control of the occasion. A draw a fair position to be in after the first half but it could easily have been with goals shared.
44'  Both teams starting to look like they fancy a half time orange (maybe caviar and vodka!)
Silva of the Andre variety goes into the book for protesting that last tussle. Silly
40'  Free-kick for Chile half way inside the Portugal half on the right side. They fill the area but the delivery is low, short and cleared easily to the Portuguese right back area. From there the side in red break forward and Cristiano again gets fed on the left. He plays it into the area (again) and Andre Silva gets into a bit of a tangle at the back post.
38'  Again Portugal work the ball wide. Cristiano takes his time and does a few languid stepovers before a second defender coming to greet him enourages a cross. It's headed away.
35'  Both teams having a chance to build up but nothing coming of it
William Carvalho balances things up in the ref's book
33'  The pace of the game had dropped a little after the blistering start and I'm happy to report it seems to have returned. Portugal now pick up the fight and work it well into the area. Cleared. Neither side is able to hold onto the ball for too long. This tends to happen when being direct is your modus operandi.
29'  Two (maybe three) chances fall the way of Chile. First a deep header by Aranruiz is glanced wide of the far post after a lovely cross in off the right wing. Patricio had it well covered. Then, a minute later, Vidal throws himself up for a bicycle kick under pressure from defenders and his complete misscue falls to Aranruiz again in loads of space and he slices it horribly wide. 
25'  Sanchez tries to pull the strings inthe centre of the pitch but his pass is blocked and breaks for Cristiano and Silva to start something from the halfway line. Cristiano is well tackled and then Chile get enough players back to spoil any follow-up ideas. A definite balance and flow to the play from both sides.
24'  Cedric tries to make something happen down the right for the European Champions but his lobbed pass skips away off the turf and behind for a goal kick. 
Jara shown a yellow for that last foul
21'  Andre Silva is down holding his leg after a challenge from Jara. It looked nasty on the replay but no way to know if the Chilean meant to stand on the back of his foot as they moved to meet the pass.
19'  Portugal are doing well at nicking the ball back in key areas and getting eyes up for how to create something. Carvalho there doing it although Hernandez seemed to get hurt in the process. Short delay...
17'  Beausejour has had enough of the build-up and tries his luck from around 25 yards. Well wide of Patricio's right post.
16'  Quarter of an hour played and Chile with two-thirds of the possession. Chances better for Portugal though. 
15'  Gomes goes in strong on Jara as Chile try to get something going down the right but only a throw given despite the defender's grimace.
12'  After some Chile possession, Cristiano is fed on the left (where he is hugging the touchline more than I expected) and as he slightly miscontrols en route to the area Jara dives in and always takes him down (would have been inches outside the box). The number seven stays on his feet (commendable) and gets a good cross in head height. No takers.
9'  This has been some start and could easily have seen both nets bulge. Let's hope this tone is kept up throughout the tie...although as I say that the players get a bit narky with each other. None of that lads, stick to the open football.
7'  Chance! Arguably a better one for Portugal as Cristiano picks the ball up on the left and plays a perfectly weighted curled pass across the area (just evading the tracking defender) into the path of his strike partner Silva. His first time shot is blocked really well by the Chile keeper. Bravo!
6'  Chance! And a really good one. Neat interplay sees Sanchez feed through the Portugal defensive line into Vargas but Patricia is sharp out and blocks well. Replay shows Vargas was half a chest width offside in the move.
4'  Portugal win a dangerous free-kick on the left side of the Chile area next to the goalline. It's lifted in to a crowded area but no one is there to meet the initial delivery and the resulting danger is cleared.
2'  Chance! Portugal win the ball back in their own half and between Bernardo Silva works it left to right then into Andre Gomes central who can't get enough power behind the shot to trouble Bravo.
1'  Chile in white get us underway, knock it long out of play and the ball soon finds its way back to Bravo. Chile take a more structured approach this time.
We're off...
Cristiano wins the toss against Claudio Bravo and says in perfect English, "We'll stay on this side!" Chile huddle, Portugal mingle. It's time...
Hands on hearts, eyes closed, to a man! And the fans give it their best too...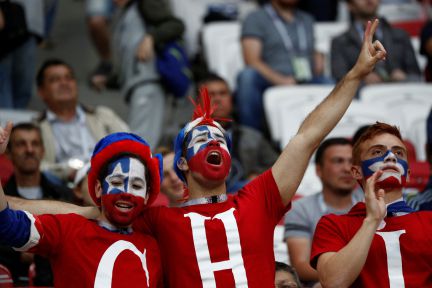 Portugal proudly blast out their anthem and give it a big cheer when it ends. They look up for it. Now Chile...
The Portugal number 7. He's rather loved by the fans and they'll expect him to add to his two goals so far in the tournament.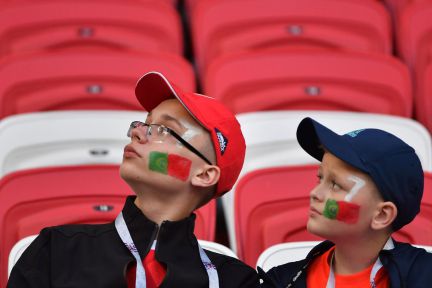 As the players finish off their final warm-ups, we ask: "is Alexis hurt here or enjoying a good laugh?"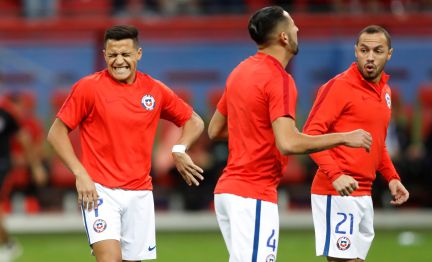 With the talent that has been on show for the South Americans it's clearly been a disappointment to see such a lack of goals, just the four in three games. Compare that to the seven of Portugal and Germnay and six for Mexico. We're expecting more of a threat to be created tonight as the stakes get higher and a final place less than two hours away.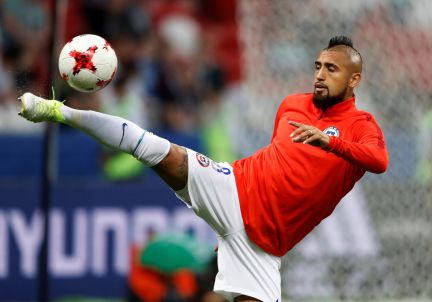 By the way, if you want to see how AS Chile are covering the game you can follow it here. Of course, stay with us on AS English for a down-the-line, no nonsense, impartial view of the game. We just love football!
 Of course, one of the questions we'll soon have the answer to will be if the names making many of the the pre-match headlines - Cristiano for Portugal; Vidal and Sanchez for Chile - will be able to lead their teams to the final. The Real Madrid number seven was picked as MOTM for each of the three group games - some suggest linked to promotional activity - but can he do it tonight? He has own in the Champions League that he can step up when required so let's see... and he'll want more of these images with his country.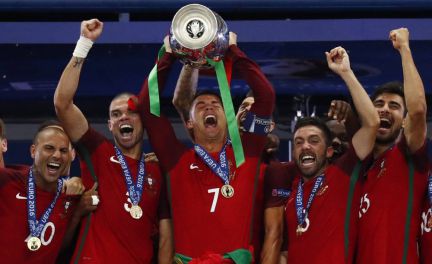 Team news: most of the expected names are in the starting line-ups with Fernando Santos making life easy for minute-by-minuters with three Silvas in the Portugal side. Don't worry, I'll try and separate them out: André, Adrien and Bernardo may be going by their first names tonight!
These two sides last met in a friendly way back in 2011 in Leiria and it appropriately finished 1-1. Goals from Varela and Fernández.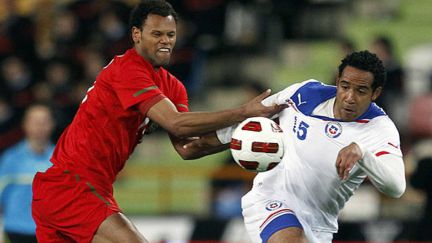 These were the scenecs yeterday at Portugal's Kazan training camp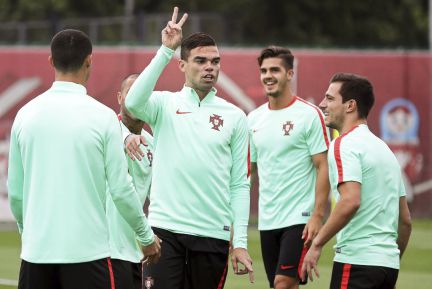 Good morning and welcome to our build-up ahead of live, minute-by-minute coverage of the 2017 Confederations Cup semi-final between Portugal and Chile at the Kazan Arena, Russia. 
Portugal vs Chile: match preview
The Confederations Cup's first last-four clash sees a match-up between the European champions and the Copa América holders as Portugal take on Chile.
A berth in Sunday's final in Saint Petersburg awaits the winners, with their trophy-decider opponents coming from Thursday's second semi between Germany and Mexico.
Portugal
Portugal's 4-0 thumping of New Zealand on Saturday saw them claim top spot in Group A ahead of Mexico, and help to consign hosts Russia to the disappointment of a first-round exit.
Defender Pepe is suspended for Fernando Santos' men after picking up two bookings in the group stage, with José Fonte in line to come into the backline to partner Bruno Alves.
Meanwhile, Raphael Guerreiro suffered an ankle injury in the 1-0 win over Russia in the Seleçao's second group game, and although he is definitely unavailable to face Chile, Santos said on Tuesday that the full-back could return for the final or third-place play-off.
Cristiano Ronaldo comes into the semi-finals as the tournament's joint-top scorer with two, with many billing the match in Kazan as a clash of two star strikers in 'Ronnie' and Chile's Alexis Sánchez.
Chile
Chile haven't sparkled in Russia, labouring to an opening-game victory over Cameroon before stalemates with Germany and Australia.
The 2015 and 2016 South American champions were made to sweat by the Socceroos in their final Group B match, falling behind to a James Troisi goal before a 67th-minute Martín Rodríguez leveller ensured they took second in Group B.
And while Portugal have the joint-most prolific attack in this year's Confederations Cup - alongside Germany - La Roja are the lowest scorers of all the semi-finalists, with four.
Manchester City keeper Claudio Bravo returned in goal against NZ after returning to fitness, and is set to continue between the sticks against Portugal, who Chile have not yet beaten in three previous meetings, which have brought two wins for the Portuguese and one draw.