Argentina 0-0 Peru 2018 World Cup qualifier: match report, goals, action
Argentina 0-0 Peru: match report
Argentina did not have the keys to unlock a resolute Peru side at La Bombonera on Thursday night as their World Cup hopes hang in the balance and the possibility of a Lionel Messi-less Russia 2018 becomes a more distinct possibility.
Jorge Sampaoli opted for Dario Benedetto and Papu Gomez up front instead of Paulo Dybala and Mauro Icardi and while it worked in the sense that the chances were being created for them, neither failed to convert with Messi creating a half dozen chances that you would expect to be tucked home.
Argentina had all the ball in the opening exchanges and Messi came close with a curling effort along with Benedetto, who headed over from a Messi cross. Peru never stopped fighting to get up the field and had the very best chance of the half when Jefferson Farfan fired wide at the front post to make sure the score remained 0-0.
The second half started as the first half did, with Argentina asserting their dominance and Peru struggling to get up to speed. Within two minutes of the whistle, Messi could have scored from a saved Benedetto shot and then Lucas Biglia curled over second later.
Marcos Acuna was next up and he missed from point blank range when Pedro Gallese came out and made himself big. Not long after, Messi had one on a plate for Rigoni but he too missed from even closer than Acuna.
Fernando Gago came on for his first international appearence in over two years and had to be replaced five minutes later when his knee buckled under him and he explained to the bench that it was certainly not good.
Argentina continued to push but Messi was tired and as a result Argentina's heart stopped beating. They continually stalled or took the wrong option up front unless it was Messi who was assisting and he couldn't get his own shots away.
Sampaoli and co. have to wait until Tuesday now to see if they can manage a win and hope that results elsewhere go their way. It might not be easy but if Argentina can make it out of this tight spot, the adversity might bode well heading into a World Cup next summer together.
---
Argentina vs Peru live stream online: as it happened
90'+5' It's all over.
90'+5' Guerrero with the free. Romero makes the save. That was going into the top corner! 
90'+3' And now Peru have a free. Guerrero bundled over by Acuna.
90'+3' The last chance saloon. Messi with a free from miles out. He clips it towards goal to Gallese. And he gathers easily before taking a snooze on the ball 
90' But it goes out for a throw. Argentina with a chance to go forward again.
90' Messi hits the wall with the free. Last gasp stuff now for Messi. Can they nab that goal? Messi breaks and Peru break. 
88' Messi taken down on the edge of the penalty area. Yotun the culprit.
87' Messi drives a shot with his left. Blocked. A very frustrating night for Messi.
86' Polo sneaks in behind Argentina's defense but he's offside.
84' Argentina, and more importantly, Messi look exhausted. They have five minutes to grab a goal.
83' Peru corner. Takes a deflection from the cross. Peru will be in absolutely no hurry to take this one.
82' Messi ruled offside.
80' Mascherano not looking comfortable now and Argentina have made their three subs. 
78' Mascherano picks it up and tries one from outside the box. Just over as it lands on the roof of the net. So close yet again.
77' Acuna sends a rifle of a cross low into the box. Cleared.
75' A ball goes into Peru's box and Gomez turns and spins, looking for a penalty. Referee says no chance! He might have been touched but he made the most out of it and certainly didn't look like he deserved one.
74' A brief spell for Peru attacking but it comes to an end as it flies into the box and Romero grabs it with Guerrero breathing down his neck.
71' Benedetto rises at the back post and heads of a Peru defender. Argentina pushing for that opener!
70' Benedetto through and drives a low shot at Gallese.
66' Enzo Perez replaces Gago. His knee is done.
64'   Peru getting pushed further back. They're still fighting to get forward when they can but those chances are becoming more rare.
64'   Gago looked to be done for the day but he's back up and playing on. His knee was the problem.
61'   Rigoni with a perfect chance. Messi puts it on a plate for him.
60' Guerrero booked for raising a hand as he tried to win the ball. That was coming.
60' Gago replaces Banega.
59' Mascherano takes Farfan down and gives away the free.
57' Messi puts Papu Gomez through on goal and Gallese stands up to the test! He was just a couple of yards out. Keeper saves Peru again.
54' Messi finds Banega and he strikes but it's well over and never coming down.
53' First change for Peru. Cartagena replaces Peña.
49' Otamendi gets mixed up and loses the ball. He hits the ground then claiming Guerrero caught him with an arm. He jumps up and accosts the striker. Ref having none of it.
46' 46' Two very early chances for Argentina. Benedetto strikes at Gallese and Messi follows up but misses. Straight after that and Biglia strikes but the keeper comes up trumps again! He injured himself in the process too. He was at absolute full stretch saving that one. Corner.
  Rigoni replaces Di Maria.
  It looks like Sampaoli will make a change at the break.
  Sampaoli in a very difficult position now as he either changes things or leaves them as they are and hopes they can find a breakthrough. A dodgy strategy if it doesn't work. If he does make a change and it throws them off balance, he'll be lambasted anyway.
45'+1' That¡s it for the first half as the referee picks up the ball as a halt is called.
45'+1' Messi lobs one to the back post. Benedetto heads just over. Really good chance.
45' Peru sit back and try to make it to the break. Argentina with some urgency but nothing doing just yet.
42' Benedetto's pass is behind Di Maria.
40' Ball half-cleared to Messi and he winds up his left and swings it. Doesn't connect properly and drives it out for a throw.
39' Messi curls one at speed but it takes a deflection for a corner. So close. Looked like it was in from here. Corner is cleared by Peru.
37' Another poor tackle. Tapia takes Banega out of it. One of those ones you could see coming. Tapia could see the card coming too. How couldn't he? Peru continue to trouble Argentina but Messi, in particular, looking dangerous.
34' So, so, so close to being a Peru opener. Sergio Romero rooted to the spot and Farfan arrives to meet  alow, hard cross. He misses but inches at the neat post. 
33' Gomes drives a shot towards goal. A left-footed effort that may or may not have been a cross but is definitely a corner. Benedetto gets a head to it and Gallese is comfortable.
33' Trauco moves forward and runs the ball over the end line. 
32' Guerrero been in the wars tonight. Otamendi in around the back again. He's not happy. 
31' Yotun fouled by Di Maria. Very little in it but the Peruvian knew what he was doing. 
29' Benedetto in the penalty area with no support. He tries to go backwards and launches it over the sideline. 
28' Otamendia goes through the back of Guerrero. He got him that time. No yellow still but very lucky. 
  Chile score through Eduardo Vargas. As it stands, Argentina won't be going to the World Cup.
26' Papu Gomez sends one goalbound and Gallese gathers again. Argentina's early promise petering out now slightly. They're not looking as dangerous.
24' Messi makes some headway through the centre and pokes one to Di Maria but he drives over with a left-footed curling effort. Sampaoli raging on the sideline.
22' Farfan with three or four fouls and one too many. He goes in on Banega and gets a booking for himself.
21' Di Maria with another trademark cross but straight into Gallese's hands.
20' Long ball to Messi. It's too long for him though.
18' Peru easing their way into the game. Probably normal given the size and noise from La Bombonera. 
16' Flores whips one way into the back post. Farfan fouls Acuña in the air. 
15' Biglia booked for cleaning Peña out of it with a late, late tackle. Very lucky that wasn't a red. 
14' Corner. Messi gets to it and it takes a deflection. Another corner. A matter of time here before Argentina score, surely. 
13' Benedetto sent through by Messi, pulls it back and Peru get it away. They're fighting against the current here.
11' Acuña borrowed Messi's dribbling skills there for a minute. Down the left and cuts back but Peru there waiting and clear. 
10' Peru peek their heads into Argentina's half for the first time. Sent straight back down into their own half shortly afterwards!
8' Messi wants another free for a couple of clips. He doesn't get it though.
6' Di Maria drops into the middle, allowing Mercado all the room in the world down the right. The PSG man cuts back inside after receiving the ball and whips a cross in. Peru scramble it away.
5' Farfan hauls down Biglia. No card but a word from the ref.
5' Perfect cross by Mercado. Decent speed and a wicked dip on the cross. Benedetto tries to get something on it but no use. All Argentina in the early going.
4' There's how the ref will whistle this. Messi looked to be fouled. No free and then another one on Benedetto and nothing. 
2' Guerrero goes down under a challenge from Otamendi. Came in from behind and might have caught his calf. Peru's number nine limps away, secretly delighted that he just won a free. I don't think he caught him at all.
2' Di Maria tries to take off down the right and puts it out for a throw.
1' We are underway!
La Bombonera in fine voice and looking splendid as ever. Nearly ready for action now.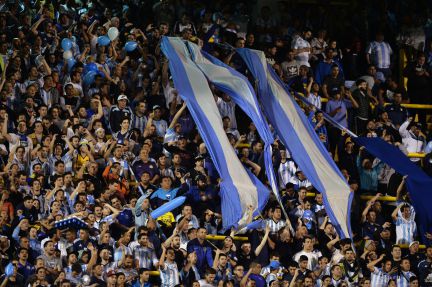 Sergio Peña, and his uncle, Paolo Guerrero starting tonight for Peru! Peña is the son of Guerrero's oldest sister. He doesn't like being known for it though and would prefer that people knew him for his footballing ability. He also shares a nickname with Javier Mascherano - El Jefecito - the little boss.
Darío Benedetto has had an awesome start to the season for Boca Juniors. In five games, he has five goals and three assists! 
Papu Gomez has played just once for Argentina before tonight. It was against Singapore in a friendly. He did score one and also assisted another so not a bad return!
Acuña and Biglia take the places of Acosta and Pizarro and Gomez and Benedetto replace Icardi and Dybala. Quite a comprehensive shake-up by the former Sevilla and Chile manager.
For Jorge Sampaoli, Gabriel Mercado is preferred to Frederico Fazio. And he has made all sorts of changes to his midfield and attack.
Cáceda is replaced by Gallese in goals for Peru and Miguel Araujo replaces the suspended Christian Ramos. Meanwhile, Jefferson Farfan comes in at midfield for the biggest game, possible, of Peru's qualification.
And Argentina team news too: Romero, Mercado, Mascherano, Otamendi, Acuña, Biglia, Banega, Di Maria, Messi, Gomez, Benedetto.
Peru team news is in: Gallese, Rodriguez, Corzo, Araujo, Trauco, Guerrero, Farfan, Tapia, Peña, Yotun, Flores
Argentina have played Peru 50 times. They have won 32, lost five and drawn 13. The biggest beating Peru ever shipped was a 6-0 in 1978 in the World Cup. The same year Argentina won it. 
This is really good explaining all of the qualifying scenarios in South America. Peru, who are ahead of Argentina only have a 61% chance of qualifying though. Argentina have an 80% chance.
Peru are currently sitting ahead of Argentina in the South American qualifying table. They qualified for World Cups in  1930, 1970, 1978 and 1982 but haven't been since. They have two games left against Argentina and Colombia but will play against New Zealand in a two-legged playoff next month if they can't manage to keep themselves in fourth place over the course of the next two games.
Here are some of Sampaoli's quotes ahead of the game regarding how he will play, "We always look for partnerships that work on the pitch. Because there isn't enough time to work a Dybala-Messi partnership, we have to go with something more concrete. Messi is vital for us when the team is in front of goal. To build a structure for Messi is crazy. He has no position. He has to play like he does at his club. Mascherano is an important figure of the Argentina national team. Benedetto can be the 9 for Argentina. Icardi's come here with a knock that has been hampering him since the Australia tour. Alejandro (Gomez) can bring some freshness to the team. He's in great form." via Roy Nemer.
Mauro Icardi was seen as a saviour as Argentina looked to plough their way into the World Cup. He started two games, in which he was anonymous, and was substituted. And so, the time has come for 27-year-old, Darío Benedetto to start for Jorge Sampaoli. There has been all sorts of speculation and questioning over the decision as very few people know him but all he has to do is be better than Icardi was in his two games, which shouldn't be hard.
Argentina have only failed once to qualify for the World Cup, back in 1970, when the Albiceleste finished bottom of Group 1 in Conmebol qualifying. The group winners? Peru, who beat Argentina 1-0 in Lima and then secured a 2-2 draw in Buenos Aires.
...and don't forget to have a good old perusal of our match preview below!
After tonight's match at La Bombonera, Argentina go on to face Ecuador on at 01:30 CEST on Wednesday, while Peru visit Colombia at the same time. 
  It would have been a borderline dereliction of duty had we not described this game in such terms. With two games left to play, Peru have 24 points and sit in the final automatic qualification spot, with Argentina on the same total but one back in fifth - which brings a play-off with the winners of Oceania's qualifying tournament, New Zealand - by virtue of  goals scored. It is tight.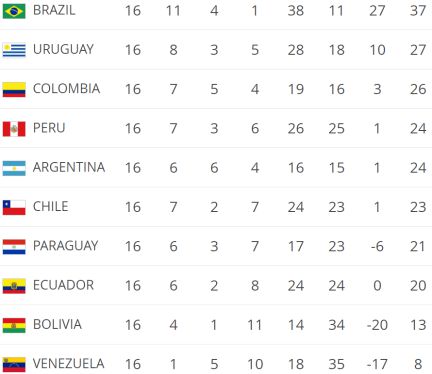 Good afternoon! Join us for build-up to a crunch World Cup qualifier in Buenos Aires!
Argentina vs Peru live: World Cup qualifying preview
Argentina host Peru in Buenos Aires with both teams able to seal qualification for the 2018 World Cup if results run in their favour. Argentina and Peru both have 24 points, but the visitors sit above their rivals by virtue of having scored more goals.
La Bombonera, the raucous home of Boca Juniors, will host the match. It was originally due to take place in the north of the Argentine capital, in River Plate's El Monumental home, but was switched in an attempt to create a more intimidating atmosphere for the Peruvian visitors.
Peru have overcome that disadvantage in the past. In 1969, Los Incas drew 2-2 La Bombonera to progress to the 1970 World Cup at Argentina's expense.
Find out how and where to watch Argentina vs Peru.
Argentina
La Albiceleste have failed to find their groove under the management of Jorge Sampaoli. In the last international break at the beginning of September, Argentina hobbled to draws against Uruguay and Venezuela, leaving them in 5th place in the keenly contested South American qualifying group.
Sampaoli is without Sergio Agüero as the Manchester City striker continues his recovery from a broken rib sustained in a car crash in the Netherlands. Yet an abundance of attacking talent remains. Lionel Messi is top of that list, and if he scores against Peru, he will join Hernán Crespo with 19 goals in World Cup qualifiers for Argentina.
In Agüero's absence, Darío Benedetto could lead the line for Argentina. The Boca striker is in a sensational run of form for his club, having returned to his home country after a spell in Mexico.
Peru
Peru are looking to grace the World Cup with their red-diagonal-striped presence for the first time since 1982, when they were knocked out in the group stage after entertaining the world with their expressive brand of football.
Coach Ricardo Gareca will feel at home in La Bombonera. The 59-year-old started his career in La Boca and went on to make 130 appearances for the club. Judging by Gareca's team selection in Peru's most recent training sessions, Granada midfielder Sergio Peña will occupy a space in the midfield.
The Peruvian talisman remains Paolo Guerrero. The 33-year-old is an example of nominative determinism; his surname means 'warrior' in Spanish, which aptly describes his combative style of play. Watford midfielder Andre Carrillo will be unavailable through suspension.
Peru have played eight World Cup qualifiers in Argentina, and have not won any of them. But history shows that this fixture can throw up a surprise.
Argentina vs Peru live stream online: odds and betting
Peru and Argentina are priced at 26/1 to draw 2-2, as they did back in 1969.