Fuenlabrada 0-2 Real Madrid Copa del Rey: match report, action, goals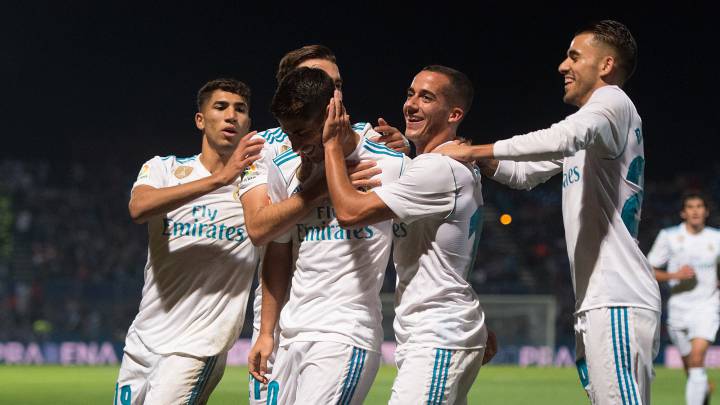 Fuenlabrada 0-2 Real Madrid: match report
Real Madrid suffered in the first half against Madrid minnows, Fuenlabrada, but came good in the second thanks to two converted penalties as they take that lead back to the Santiago Bernabéu for the second leg.
It would take until the 63rd minute for the LaLiga giants to open the scoring through Marco Asensio. Achraf was pulled down by Fran Garcia as the right-back skipped past him in the penalty area. The pull of the jersey looked to be outside the box but Achraf hit the ground inside. Asensio made no mistake with a perfectly-placed penalty beyond Codina in Fuenla's goal.
Seventeen minutes later, the ref was pointing to the spot against as Theo Hernandez was grabbed by Paco Candela, who had just come on, received a yellow card and then got another one for the foul on Hernandez. Lucas Vazquez stepped up this time and while it was nowhere nearly as confident as Asensio's, the result was the same.
Jesus Vallejo was sent off in the 89th minute as he lunged in on Luis Milla and that too was harsh. It wasn't the greatest way to end an overall good debut for a player many believed would have broken into the first team rotation at this point.
The game petered out but Fuenlabrada had a late penalty shout and with the ref in the mood, they thought they had a case. Nacho pulled down two attackers but the referee waved it away as they pushed desperately for a goal to put a dent in Real Madrid's lead.
They couldn't and we will do it all over again as Fuenlabrada go on the road to play in the Bernabéu for the second leg in the search of a couple of goals.
Fuenlabrada vs Real Madrid: as it happened
90'+2' Iribas nearly scores! So unlucky not to win a penalty too in the middle of all that. Casilla actually ends up grabbing it. Game over!
90'   Dioni clips it forward and there are a couple of Fuenlabrada players lurking and Casilla grabs it.
89' Another red. Vallejo sent off. He goes in on Milla with a high foot but that looked very harsh. Maybe a little rash but not a red, surely?
88'   He does shoot! He drives it straight at Casilla and he parries it. Iribas comes in and tries to tuck the rebound home but the keeper grabs it. 
87'   Dioni fouled and have a free from just slightly too far outside the box. Cata Diaz eyeing up a shot?
86'   Game has petered out now as it looks like Fuenlabrada try to make sure they don't go back to the Bernabeu in a couple of weeks time completely out of the tie. Not to suggest they're going to go and win 2-0 there but at 3-0, those dreams dissipate completely.
84'   Ceballos fires it over! Way over.
81' Franchu coming on for Achraf.
80' Lucas Vazquez scores a very, very tame penalty. Very unsure of himself but that goal will do him the world of good. Has been short on confidence due to lack of gametime recently.
79'   Candela just came on and now he's sent off. Rough. He was on the field for seven minutes.
79'   That's a really, really harsh penalty and sending off.
79' Another penalty. theo Hernandez thrown to the ground. Candela sent off.
78'   Another corner for Real Madrid. 
77'   So close! Lucas Vazquez with an effort. Lovely little lay-off from Mayoral and Vazquez curls it wide.
75'   The keeper not happy. 
75'   Annor chases down somewhat of a lost cause. He puts Casilla in the back as he tries to see it out of play!
73' Quite a late one now on Theo as Candela gets a yellow with his first involvement!
71' Fraile goes off and he's replaced by Candela.
71'   What a save! Codina denies Mayoral, who makes good contact on a cross from the right with his head.
70'   Fuenla struggling slightly now. They can't get a hold of the ball.
67'   Mayoral breaks through and might have a penalty. He also might have been offside but he ends up driving over in the end!
65'   Slightly more urgency to what Real Madrid are gdoing now. Asensio gets it outside the box after a nice move and he forces a save from Codina. Corner.
64' Asensio has been anonymous, largely, for the opening hour of this game. He'll be glad of that.
63' Marco Asensio buries it. Codina goes the other away and it nestles in the bottom corner.
62' Yellow for Fran Garcia. He takes down Achraf as the right-back skipped past him. It might have been outside the box but ref points to the spot.
62'   Penalty Real Madrid! 
60'   Zidane sends three out to warm up.
57'   Lucas very unlucky not to have a penalty and it looked like the ref had a think about it. He was making space for a shot in the box and had his arm pulled, or that's how it looked, and he eventually did shoot but he might have been impeded by the keeper.
57'   Ceballos clips it towards goal and it's headed out and over for a corner. Real Madrid building up to something here, it feels.
55'   Achraf sends the ball across and Theo can't get his head to it. It goes out to Asensio and he swings in a cross. Hand-ball from Atienza as he quite blatantly thrw his hand at it!
54'   All Real Madrid to start the half but they haven't had any efforts on target.
53' Annor replaces Quero.
51'   Fuenla push forward but Fraile called offside.
50'   Dioni falls over himself on the way to the ball, recovers and slides into keep it in play. Fiery but useless in the end. 
48'   Lucas Vazquez sends a ball into the box but it's cleared by Cata Diaz.
46'   Back underway! We have one change as Alvaro Portilla for Dani Fernandez.
45'+1'   Asensio sends it into the box. Cleared and half-time.
45'+1'   One minute added on and Real Madrid have a free out on their left. Mayoral the victim. Iribas the culprit. 
45'   Real Madrid continue to push. Shot now by Mayoral is saved by Codina as he tries to see it out until half-time with the ball in his chest. 
45'   An Atienza header only goes as far as Llorente and he chests it and strikes. Codina forced to touch it onto the bar and over. So close to the opener. Lovely strike!
44'   Real Madrid knocking on the door. Mayoral plays it out wide. The home side are so well organised.
43'   Lucas lucky he's not booked now as he throws Garcia to the ground after the two cross paths. Ref has a stern word or two form him and Fuenla prepare to send it into the box. They do and Casilla gathers.
41'   Probably the closest Real Madrid have come. The ball lands to nobody in the six-yard box and it gets poked out to Llorente. He strikes and sees his shot blocked. That could have gone anywhere and the one that landed in the area could have been tapped home.
40'   Achraf with a cross. Put out of play. Real Madrid keep it with Lucas and he wins a corner.
39'   A quick look at Zidane on the sideline and he's not happy so far and he'd be right not to. Although the players he put out there have rarely, if ever, played with each other. They have Fuenla pretty well pinned back more in the last few minutes.
35' Penalty shout as Lucas Vazquez tries to go around Milla on the edge of the square and gets pulled down.
32'   Vallejo very calmly plays it back to Casilla and he, very calmly, plays it to Llorente as Real Madrid start an attack. They have had more possession in the last ten but still not able to do a whole lot in the final third.
31'   Straight back up the field and Real Madrid get it into the box again. No dice again.
30'   Lucas sends a cross into the box with Borja sniffing around. It's headed away. 
28'   Quero gets in behind but Llorente recovers and gets it away. the home side way better in attack.
27'   Fuenla dangerous again from a set-piece. A corner this time as Creavelle can't get a shot away as the ball won't fall to him. Llorente got a touch on the ball with the whole goal in front of the Fuenla player. Header eventually comes in and Casilla gathers it. 
25'   Ceballos slices through Fuenla and shoots befor ehe loses it but it's blocked. Cata gets a tackle in on Tejero and it comes off the Real Madrid player. Goal-kick.
23'   Achraf takes off fown the right and plays it to Lucas, who wins a throw. Real Madrid getting into dangerous territory.
23'   Iribas on the receiving end this time. Fuenlabrada with a very good start. Real Madrid haven't threatened at all and the home side, if anything, have had the better chances.
21'   Probably a better idea to send in the cross but Ceballos has a shot. Codina saves it with ease as it's straight at him.
21'   Foul. Iribas recovered from his earlier knock. He caught Tejero at the edge of the squad, out to the right, and Real Madrid with a dangerous chance.
17'   iribas down now after colliding with his own player. He is lifted to his feet and looks okay.
17'   Fuenla send another free penalty box-bound and Cata Diaz is close but he, or one of his teammates, was offside. Real Madrid to build again.
16'   Atienza pushed in the back by Theo and he gets the chance to calm things down for the hosts.
15'   Fuenlabrada looking far more dangerous a couple of nervous moments for Real Madrid. They get it away and gather possession again to gain control.
15'   Lucas Vazquez fouls Atienza now.
13' Atienza with a header from the corner. Very close!
12'   So close! Casilla and Achraf collide and Fuenla win a corner. The right-back down in a heap as the physios sprint on.
11'   Another very decent possession from Fuenal that ends in a free as Ceballos fouls. 
10'   Dioni the target again but Vallejo manages to mop up this time. 
8'   Cata arrives to chest the ball down and take it away from danger. Dioni breaks and plays it to Quero but they mess it up and it goes out for a goal-kick. Not a bad counter from the home side.
7'   Fernandez fouls Ceballos.
6'   Ball out to the right again to Lucas and he can't control it. It came at him very fast and bounced before it landed to him too.
5'   Llorente with the ball at the edge of the penalty area and met with a lot of Fuenla defenders. He sends a wayward pass out to Tejero. Throw for the home side.
5'   Achraf from the right. No way through and he sends it back to Vallejo and back to Casilla it goes again. 
4'   Ceballos sends a ball way across the field to Achraf. It doesn't hit the target but Milla fouled him in the process of him kicking it and the ball comes back.
2'   Real Madrid a goal-kick. Very tame start so far. Real Madrid with their first possession and it kicks into gear slightly. Not that anything special happened but the ball moving around the back at speed.
2'   Fuenla take off down the right and win a throw. Iribas swaps out the ball as it was flat, it seems.
1' Both teams ready to kick off. Slight delay here but we are underway eventually. 
Estadio Fernando torres is packed to the rafters.
Handshakes out of the way and we're all set! 
Another piece, this time from Diario AS editor Alfredo Relaño, about how Fuenlabrada managed to land the "big fish" in the Copa del Rey.
Another one to watch for Fuenlabrada tonight is Cata Diaz. Not to watch for the future, of course, as he is closing in on 39 years of age. He played with Atletico Madrid and most recently Getafe before a move this summer under strange circumstances involcing social media. They will need all of his experience, and more, tonight if they are to pull off an upset.

Alvaro Tejero is one to watch and gets the nod tonight too. He has played three times for Real Madrid's senior side with two of those coming in the Copa del Rey. He will add to that tonight and will be looking to contribute to his stat of one assist in those three games too.
Just in case you missed it, Fuenla's coach, Antonio Calderon, listed off his team last night. He figured it would do no harm or good not saying it. The odds are stacked heavily against them and naming his team won't change that. It is as follows: Codina; Mikel Iribas, Cata Díaz, Armando, Fran García; Milla, Miguel Ángel Atienza; Hugo Fraile, Quero, Dani Fernández and Dioni.
Zidane offsets the youth in defende with Nacho and Theo, to an extent, who has featured for the first team this season with Marcelo out injured.
A very experimental XI from Zidane but that is exactly what was expected with the squad he brought. A chance for Jesus Vallejo as he hasn't been afforded any this season to date. He was excellent last season in the Bundesliga but hasn't truly convinced the Real Madrid coaching staff that he is worth the risk. A good 90 tonight will help that. Meanwhile, good opportunities for players knocking on the door including Ceballos and Vazquez with Mayoral and Llorente not too far away either.
Real Madrid teams news: Casilla, Achraf, Vallejo, Nacho, Theo, Llorente, Ceballos, Tejero, Asensio, Lucas Vazquez, Mayoral.
Real Madrid players out and inspecting the turf at Fernando Torres stadium.
Former Rayo Vallecano winger, Francisco Feuillassier, has a chance to get some minutes tonight. The Argentine has been in Madrid since 2009 when he was just 11 and moved to Rayo after a spell with Real Madrid's youths before resigning with Real Madrid. "Franchu" as he is known plays as a wide forward.
There is more Copa del Rey action on tonight. Currently, Real Sociedad lead Lleida Esportiu 0-1. We will keep you up to date with other scores throughout the evening too.
Zinedine Zidane has been rightly praised for his rotation with Real Madrid. He goes all-out tonight as he rests every single starter, which will mean some minutes for some of the younger players in the squad to impress. More good news for Real Madrid is that Dani Carvajal is back in training but both Achraf and Nacho have stepped in well in his place. Achraf should see himself get a start tonight too.
The venue for tonight's game is Estadio Fernando Torres after the player, who grew up in the area around Fuenlabrada. On Stpeember 1st, 2011, the stadium was inaugurated and Torres' parents as the guests of honour. They played Atlético Madrid that day. 
This is excellent about Fuenlabrada and their cup date with destiny. It explains perfectly what it means to them to get this big cup tie against their neighbours, Real Madrid, and also gives a glimpse into how give the chasm is between the sides.
Raúl González will have half an eye on proceedings this evening in his role as a youth team coach at Madrid but will his son one day pull on the white shirt? Jorge González has trod the Valdebebas turf, but playing for his current team, school side SEK-El Castillo.

Zinedine Zidane may have been awarded the FIFA Best gong as the, well, best manager of the year but the Frenchman played down his achievement in his pre-match press conference, during which he discussed the Copa del Rey format, Dani Carvajal and his brief coaching career to date.

Zidane will be eager to avoid a repeat of the 2009-10 Alcorconazo, when the then-Segunda B outfir ambushed Madrid in the southern suburb in an historic 4-0 first leg victory.

Real Madrid's French coach has selected a 16 man squad with five Real Madrid Castilla players and one from the U-19 side, Moha.

Hello and welcome to our live online coverage as Fuenlabrada face Real Madrid in tonight's Copa del Rey fourth round (first leg) game. The action starts at 2130 CEST and we'll be building up to it throughout the day bringing you all the latest news as it happens.
Fuenlabrada - Real Madrid: preview
Where were you in November 2009?
Anyone in Spain remembers, what is still possibly the most humiliating defeat in a two legged Copa del Rey tie in the competition's history as lowly Alcorcon eliminated high-flying and deep-pocketed Real Madrid in a feat now known around the world as "El Alcorcon-azo".
Tonight at the Fernando Torres stadium in the Madrid suburbs, 2B side Fuenlabrada will look to emulate their suburban neighbours as they face Real Madrid in the first leg of the Copa del Rey fourth round.
Fuenlabrada
Antonio Calderon, the Fuenlabrada coach is being pragmatic in the whirlwind of media interest surrounding the club leading up to the game with the 50 year old coach affirming that promotion is the club's key objective and that the two legged tie against Real Madrid is a pleasant distraction.
The men in blue from the suburbs went close to securing a place in Spain's second tier last season but fell short losing to Villanovense in the complicated play-off process that sees 16 teams for the four divisions battle out for four spots in the Liga 1|2|3. The side has reinforced well with the likes of Argentine veteran Cata Diaz making the short move from Getafe to shore up the rear-guard whilst former Leganes and Real Oviedo player Dioni is still still an attacking threat having bagged 24 goals in his 36 appearances for "Fuenla".
In his pre-match press conference head-coach Calderon claimed that he didn't need to offer a motivating pre-game talk to his team as they were motivated enough and also admitted that the fact the tie would be decided over two legs hindered the smaller sides.
Real Madrid
Zinedine Zidane is expected to field a "B" team this evening at the Fernando Torres, a reserve team that does however include the likes of full internationals such as Marco Asensio and Lucas Vazques with Jesus Vallejo expected to get his first Real Madrid run-out since the conclusion of his loan deal with German side Eintracht Frankfurt.
The Spanish Cup is the title that still eludes the French coach and despite fielding a weaker side, the 45 old is every bit anxious to add the Copa to his list of managerial honours.
"Our ambition this year is to win it because we know that we can.
"For me it is not a minor trophy, for me it is an important trophy that we can win this year."
Zidane is though expected to name a much-changed side for the first leg of the last-32 tie with Cristiano Ronaldo and Sergio Ramos among those afforded a day off from training on Tuesday.
Fuenlabrada vs Real Madrid live online: betting odds
A win for the home side this evening (a shock win even) pays out at a price of 22/1.
Bet here (responsibly) on Fuenlabrada vs Real Madrid