Real Madrid's Under-17 stars back at La Fábrica
The Real Madrid academy welcomed back Chust, Blanco, Moha, Gelabert and Pedro after their time with the Spain at the Under-17 World Cup. We look at their situations.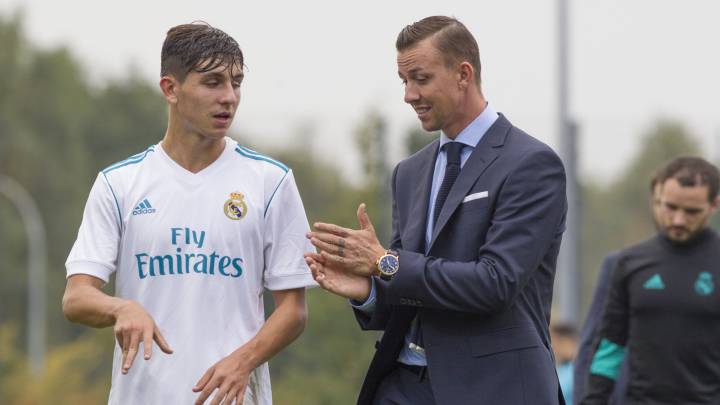 Five Real Madrid players were in the Spanish side that lost to England in the final of the Under-17 World Cup in India recently. The Rojita, the little reds as the side is known in Spain, shone at the tournament, winning followers in the host country for their shimmering football, only stumbling at the final hurdle, throwing away a 2-0 lead in the final to lose 5-2 to England.
Real Madrid players in India
The five Real Madrid players who starred with Spain at the World Cup: Chust, Blanco, Moha, Gelabert and Pedro, are now back at La Fábrica, as the Real Madrid Academy is called. All of them were born in 2000, and play in Guti's Juvenil A team, but each one has a distinct situation... here we take a look at each of them.
Victor Chust - Central defender
Victor Chust has grown in importance in the Juvenil A side and little by little is staking his place for a regular position in the starting line-up, particularly when Gorka Zabarte plays out wide. The bosses of the youth set-up at Madrid have had complete confidence in him for a long while now, (he joined the club at 12 years old, moving from Valencia) and he's been a key player in every single Real Madrid team he's played for, all the way up through the categories.
Chust stands out on the pitch for his fine aerial play, and in particular his vision when bringing the ball out from the back. He's also a noted for his responsibility off the pitch, having a reputation as a serious-minded youngster with a clear idea of how he wants his career to develop. At Real Madrid they have high hopes for his progression...
Antonio Blanco - Defensive midfielder
Martín Calderón, who is a year older than Antonio Blanco, stands in Blanco's way in the Juvenil A side, meaning he's regularly on the bench. Real Madrid have asked him for patience, with the plan being for him to gain experience this year before becoming a key player in 2018/19.
What's more, Martín Calderón is a regular in Luis de La Fuente's Spanish Under-19 side and will be out on international duty fairly regularly, as the Under-19s have qualifying for their European Championships. All of which means Blanco should get chances to prove he has what it takes to stay at the club and progress his career. Originally from Montalbán in the Córdoba region he's known for linking up well with his team-mates, looks to take control in the centre of the park and is happy to do as much defensive work as is required.
Moha - Midfielder
Of all the players who took part in the World Cup, Moha has been the least important for Real Madrid's Juvenil A so far, with Guti keeping him mostly on the bench. Similiar to Antonio Blanco's situation, Moha has players who are one year older than him in his position, meaning he's expected to use this year to learn and gain as much experience as he can, before taking on a more important role next year.
César Gelabert - Mediapunta/winger/striker
The most promising player of the 2000 generation, César Gelabert is one of the big names for the future at La Fábrica. Undisputed starter in Guti's team, he's also the most naturally talented footballer in the side. His best position is as a true mediapunta, but he's also happy and effective out on the left wing or as a false nine. He was in fine form at the World Cup and continued after he got back with a stunning goal against Tottenham in the Youth League. Although next year he'll still be with the Juvenil side, it won't be long before he takes the step up to Castilla, the Real Madrid full B side.
Pedro Ruiz - Centre-forward
The 'Ibrahimovic of La Fábrica', as Pedro Ruiz is known, has emerged this season as one of the most reliable talents in the Real Madrid youth set-up. Standing nearly 6 foot 6 inches (1.97 metres) he's a powerhouse in the air, but is also neat with his feet, and links up well with the midfield. He's an expert at unpicking stubborn defences, and un-phased in goal scoring situations, where he tends to leave the net bulging. A major promise for Real Madrid...