Real Madrid vs Barcelona El Clásico: report, goals, score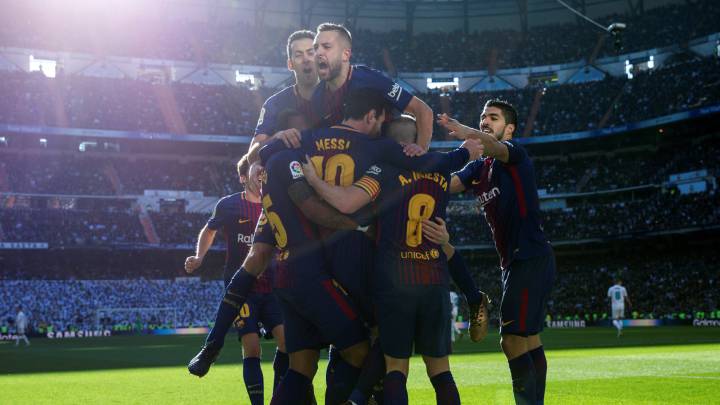 Real Madrid 0-3 Barcelona: match report
Barcelona opened a commanding 14-point lead over bitter rivals Real Madrid at the top of La Liga as goals from Luis Suarez, Lionel Messi and Aleix Vidal handed the visitors a 3-0 win at the Santiago Bernabeu on Saturday.
Victory extends Barca's unbeaten run to 25 games in all competitions as they moved nine points clear of second-placed Atletico Madrid and exacted revenge for a 5-1 thrashing on aggregate in the Spanish Super Cup at the hands of Real in August.
Real Madrid vs Barcelona: El Clásico, as it happened
90'+3' GAME OVER! Barcelona add insult to injury at the end with that goal.
90'+3' GOAL! GOAL! GOAL! And that's the end of that. Aleix Vidal drives a shot at Navas and it rolls under his arm. 3-0 and this is tough for Real Madrid as the Bernabéu goes quiet.
90'+3' Barcelona work it short as they try to run down the clock.
90'+2'   Aleix Vidal wins a corner for Barcelona. Just a minute and a half left now. 
90'+2'  Sergi Roberto is replaced by Aleix Vidal. 
90'+1'   Messi plays it through to Andre Gomes on the edge of the square. Drives it over the bar. 
89'   Kroos sends it towards goal. Headed onto Ramos but he was offside.
89' Busquets booked. He will miss the game against Levante now as he has five bookings this season.
88'   Messi with a volley that stings Navas' hands. He saves at the second time of asking.
87'   Messi with a dangerous run and he tries to clip it towards Suárez in the box. Deflected and corner for Barca.
86'   Barcelona throwing the ball around the middle now. Real Madrid gassed, it seems, with ten men and in need of three goals really.
84'   Andre Gomes with a shot. Deflected out and over for a corner.
84' Paulinho replaced by Andre Gomes.
83'   Ramos offside as Ronaldo sends a ball across goal. He slid and missed it anyway but he was offside even if he got it.
83' Marcelo booked. He wanted a penalty for a handball earlier in that play.
82'   Marcelo wins a corner for Real Madrid. Taken short again and Ramos ends up driving a shot at Ter Stegen. Saved.
80'   Semedo free down the right. Roberto puts him through and he shoots but Navas saves. Very close.
80'   Bale drives a shot at Ter Stegen. Saved and he fumbles but gathers at the second time of asking.
79'   Save. ball sent across low from the right. It falls to Bale and Ter Stegen saves it.
78'   Asensio crosses. Blocked. Corner.
77'   Barcelona looking to see this one out now. Valverde moves Roberto to midfield as Semedo goes right back.
76' Semedo coming on for Valverde. Iniesta the one to make way.
75'   Messi chases down Varane and fouls him. 
73'   Real Madrid want a penalty. Cross from the left and Sergi Roberto blocks it. Wasn't a penalty and the ref waves it away, rightly.
72' Bale comes on for Casemiro. Asensio on for Kovacic.
72'   Barcelona looking more and more dangerous on the break now.
69'   Messi strikes and Navas gets a strong hand to it.
68'   Navas gathers it.
68'   Paulinho into the penalty area.
67'   Asensio and Bale finally getting the call.
Bale ready to come on. Still sitting on the bench.
66' Nacho for Benzema? That's a strange change for Zidane.
64'   One of Messi's more convincing penalties.
64'   Okay, so what happened was. Suárez hit the post. Messi shot from the rebound and then a header was going to go in but carvajal handled it, quite clearly, on the line and got shown a red card.
62' Messi buries the penalty.
62' Carvajal sent off. That was a crazy few minutes. Real Madrid have lost it completely. 
62'  Hand ball? Penalty?
62'   Real Madrid slightly losing their heads now. A gift for Paulinho and he strikes but that's into Navas' breadbasket.
61'   Marcelo fouls Messi now.
60'   Zidane making a move now. Asensio and Bale warming up.
59' Ramos booked now for a  challenge on Suárez. A slap across the face and neck.
57'   Messi plays Suárez through but he's at a tight angle and hits the side netting.
56'   Casemiro in trouble now. He fouls Suárez and is lucky not to be booked, maybe? Nothing really in that.
54'   That opens this one right up.
54' GOAL! That's been coming in the second half. Lovely move. Rakitic drives forward, plays to Sergi Roberto and he squares to Suárez, unmarked and he shoots home. 
53'   Alba down the left, pulls it back to Suárez and he shoots low to Navas' right. Save. Nice move from Barcelona.
53' Real Madrid need to make something happen. 
52'   Casemiro fouled by Busquets. A drag of the jersey.
50'   Piqué with an excellent tackle on Ronaldo.
A look at the disallowed goal for Ronaldo.
50'   Suárez sends a dainty little dink into the box. Cleared by Real Madrid.
49'   He slows it down and sends it backwards. Barca back in control of the ball.
48'   Ramos gives it away to Paulinho. 
46'   Ronaldo strikes but it's wide. Looked like he was fouled too but nothing doing from the ref.
46'   We are back underway! 
I can't see Valverde making a change at the break. His side were slowly but surely coming into the game before the break. Paulinho a real goal threat.
The question is whether Bale has 45 minutes in him or not. 
The possession is far more even that it seemed. Barcelona started to demand the ball more.
It's Real Madrid with all the chances so far. They have nine in total with six off target and three on target. Barcelona have only had two.
We will throw some stats your way now at the break to try and make sense of that half. 
45'+1'   Messi does strike it but t's headed up into the air and that's it for the first half. 
45'   Messi fouled by Marcelo outside the box. Too far for a shot?
45'   Iniesta moves forward with Modric as company. Messi sends it out to Roberto. Can Barca grab a goal before the break.
44'   Ball falls to Ronaldo but he is offside. 
43'   Carvajal crosses and that's cleared. Throw for Real Madrid.
42'   Benzema comes out of nowhere, gets ahead of Vermaelen and heads off the post. So close to the opener with Ter Stegen grasping at fresh air.
41'   Real Madrid looking dangerous on the counter. But nothing really happening yet and Barcelona defending quite well.
41'   Carvajal crosses now and it lands to Kroos, who drives wide. Well wide.
41'   Cleared and Real Madrid break.  Benzema slows it down and Barca get back. Cross comes in from Carvajal and Ronaldo heads onto Piqué as he blocks it. 
40'   Suárez crosses low now. 
39'   Paulinho has been excellent so far. Messi crosses to him and he gets ahead of Varane. Heads towards Navas and he saves. Corner.
38'   Barca building now as the half starts to wind down. 
37'   Marcelo is down now and eventually makes it back to his feet.
35'   Casemiro coughs it up, Suárez picks it up and tries to run through two Real Madrid defenders but overruns it. Poor from the Barca striker.
33'   Corner. Ronaldo breaks free down the right and crosses to Benzema in the middle. Blocked by Piqué but it hit the striker and goes out for a goal-kick.
32'   Ronaldo from the corner and he headers over. Got a good run at it but couldn't keep it on target.
32'   Ronaldo with a stepover and drives across goal. Ter Stegen saves. So close to the opener. 
31'   Piqué looks for a penalty from the corner but doesn't get it. Would have been very harsh. Speeding up now after a tame start.
30'   Paulinho drives a shot over the bar. Dangerous ball in behind from Messi and he gets goalside of Ramos before firing over. Navas got a save to it too. Corner Barcelona.
29'   Paulinho fouled by Ramos.
29'   Modric with a high foot on Iniesta. Free to Barca.
28'   Suárez chasing down Navas again.
26'   Another foul in the air during the corner.
26'   Modric wins a corner for Real Madrid now.
25'   Suárez chases down a loose ball. Carvajal gets in his way and he hits the deck. Wants a free but nothing in it.
24'   A cagey affair.
23'   Corner as Casemiro challenges Messi in the penalty area.
23'   Piqué slides in on Kroos and it hits the German. Goal-kick for Barcelona.
22'   Almost a nice move by Barcelona. Real Madrid survive.
22'   Suárez puts Varane under serious pressure and forces him to put it out for a throw. Barcelona in no hurry. 
22'   And then Casemiro fouls Paulinho. 
22'   Ronaldo strikes from a tight angle on the left. Blocked. 
21'   Problem for Real Madrid is that this is fine for Barcelona. A draw really hurts Real Madrid's chances of a Liga win. 
20'   Free is tame and Barcelona break. Ramos fouls Paulinho as he tries to counter.
19' Vermaelen clears Modric out of it as he breaks. Yellow deserved.
18'   Paulinho breaks through on the right and pulls back but Real Madrid clear and they break. Modric with the ball, passes to Kroos, who plays it to Benzema and he loses out. Barca counter the counter.
16'   Really nice ball from Iniesta over the top to Messi but it's too strong for him.
14'   Benzema looks for Carvajal but Alba cuts it out. Real Madrid much better so far.
13'   No make or shape to this game so far.
12'   Carvajal with a deep, deep cross. Ronaldo fouled Sergi Roberto in the air. 
12'   Iniesta walks away off and gets treated off the field. Corner is head away by Barcelona.
10'   Marcelo sets Kroos away down the left. He pulls back to Ronaldo and he swings and misses. Iniesta down in a heap now as he got the ball away from Carvajal. Looks badly hurt. 
9'   Barca do win a free as Piqué is fouled by Ronaldo.
8'   Suárez gets into a nice position but he was offside. Sárez gets a talking to. He doesn't think he was off but replay shows he was marginally.
7'   Paulinho looks for a free but ref says no. Carvajal tries to clear his lines but it's a throw to Barcelona.
6'   Barcelona chasing shadows to start. No massive chances for either side (aside from the offside goal).
5'   Sloppy for a minute. Modric tries to take it down and Busquets ends up sending it back to Ter Stegen. 
5'   Carvajal with a shot from miles out. Ter Stegen saves.
4'   Ronaldo sends a low cross towards the centre. Piqué bats it away.
3'   Real Madrid with all of the ball early on.
2'   Offside! Ronaldo had the ball in the back of the net but he was offside. The Bernabéu nearly lost their collective minds.
2'   Piqué being spoken to.
1'   Ronaldo breaks down the left. He squares to Kroos, who plays it out to Carvajal. Alba blocks and it's a corner.
1'   We are underway!
Ramos with the Club World Cup as he shows it to the Bernabéu. Barcelona refused to do the guard of honour but Real Madrid keen to show it off.
Let's do this!
Barcelona have won five, lost four and drawn one in their last ten trips to the Bernabéu. That's not a bad record at all.
Three keys to a Real Madrid win:
1. Kovacic's role and how effective he is doing it. He will be asked to shadow Messi, which was what Girona did, and it worked to an extent. The problem is, what that means for the rest of the team and spaces that open up as you zone in on Messi's influence.
2. Bench! Zidane has a wealth of talent on the bench. Asensio, Bale and Isco can all be called upon. It will be important and game-changing as to when and how Zidane uses them.
3. Taking chances. Obviously. But Real Madrid have created loads this season but have failed to convert. They did against Sevilla and won 5-0. If they can be as effective in not just creating, but finishing, chances today, it will certainly help in their pursuit of three points.
Three keys to a Barcelona win are:
1. Iniesta. Having him fit and ready is massive. In the 1-1 draw at the Camp Nou last season, Barcelona failed to ever assert control in the middle of the field and he was badly missed. 
2. Jordi Alba and the freedom he gets on the wing. Dani Carvajal will be pinned back is Alba's recent role in the absence of Neymar is anything to go by. He has become Messi's go to passing option and a proper attacking left-back under Valverde this season.
3. How Piqué and Vermaelen deal with Ronaldo and Benzema. Vermaelen has been good this season but this is El Clásico and the pressure and spotlight will be ten times more powerful. The slightest of slips and it changed the game. Plenty of scrutiny on that partnership today.
There have been two red cards in the last five Clásicos with Sergio Ramos and Ronaldo sent on those two occasions. 
Some really interesting battles in todays game. It looks like Zidane has really gone for it and is matching Casemiro up against Paulinho and Messi and Kovacic and it will be a free-for-all as they realyly have to win this game or risk falling 14 points behind their rivals in LaLiga.
Here is a closer look at the team news and what it all means.

Kovacic can run from deep and is probably the closest thing to Messi that Real Madrid have in terms of mazy runs. But if he does man-mark Messi, it will free things up for Paulinho and I'd expect him to have a big game.
So, we have the team news and Kovacic starts. That's the big surprise with Isco and Bale both on the bench. The question now is what the Croatian's role will be. Many suggesting it will be to man-mark Messi. Real Madrid have never lost a Clásico that Kovacic has started in with two wins and a draw.
This is what Barcelona coach had to say ahead of the game at the Bernabeu where a win would leave Barcelona 14 points better off than Real Madrid but Ernesto Valverde is not counting on LaLiga glory.

Director of AS,  Alfredo Relano analyses the early #ElClasico ko time and despite it's detractors concludes that: "Madrid and Barça fans in Asia have every right to enjoy a game of this enormity as much as the rest of us".

This is what Real Madrid coach Zinedine Zidane had to say ahead of Saturday's LaLiga clash against Barcelona in his pre-game press conference.

Hello and welcome to our live coverage of El Clásico - Real Madrid v Barcelona in Week 17 of LaLiga Santander. The game is taking place at the Santiago Bernabéu in Madrid, with kick-off at 13:00 hours (CET)
Real Madrid v Barcelona live stream: El Clásico, preview and team news
Both Real Madrid and Barcelona will be looking for some extra Christmas cheer before they start their holidays and there's no better way of doing that than by getting one over your archenemies in El Clásico. There was positive news for both Zinedine Zidane and Ernesto Valverde on the eve of the game – both coaches were relieved to hear that key players who have missed training this week have been given a clean bill of health. Cristiano has been working inside the gym since taking a knock in last week's Club World Cup final while Jordi Alba has been mysteriously absent from Barcelona's sessions at the Ciutat Esportiva – both were back with their respective squads on Friday.
This, the 176th league meeting between the two clubs in the league and the 88th to be contested in the capital is significant for the number of points which separate the two in the standings. Valverde's team occupy pole position on 42 points while Madrid are fourth on 31.
Parallels will be drawn with the 2008/9 campaign when Barça held a 12-point advantage over Madrid in Week 16 – under Juande Ramos that lead was trimmed to just four points by the time Guardiola's side were guests in Chamartín in Week 34. And also the 2015/16 campaign, when Madrid trailed their eternal rivals by 12 points in Week 26 – again, Madrid chipped away at Barça's lead and after the leaders dropped points in four games in a row against Villarreal, Real Madrid, Real Sociedad and Valencia, their advantage has been reduced to just one point by Week 33. Both won the remaining five games to see the Blaugranas retain the title by just one point. The distance is significant because no team has ever whittled down a 12-point deficit to catch up with the leaders in the history of LaLiga.
Nevertheless Zidane was his usual calm, cheery self in Friday's pre-match press briefing. He warned that the Catalans are top of the table for a reason but pointed out that for him, it's only another three points in play and added that he is players are ready to take on Barça man for man.
Visiting coach Valverde has spent the past week meticulously scrutinizing videos of his team's recent clashes with Madrid – especially August's Spanish Supercup games. He feels he knows how his team can keep Madrid shackled and has been instructing his players where their weak points lie. Like his opposite number, El Txingurri played down the importance of a result either way and assured that even a Barça win, which would see his team enter the New Year 14 points ahead of Madrid, would not be decisive in the title race.
Real Madrid team news
Zidane has the luxury of a fully fit squad to select his starting XI. That includes Gareth Bale whose calf problems are in the past although we'll see if he starts or not. Cristiano is also now over his fitness concerns – he took a kick to the calf in last weekend's Club World Cup final and has been training at a more leisurely pace while his bruised muscle heals. Zidane has staunchly defended his 4-3-3 set-up with Bale up front alongside Cristiano and Benzema but the Welshman could well start on the bench in favour of Isco playing just behind the front two. Otherwise, Zizou will, with all likelihood field his standard XI with Varane and Ramos as the central defensive pair, Carvajal and Marcelo as wing-backs, Casemiro playing just in front of the back four with Modric and Kroos playing a supporting role for Isco, Benzema and Cristiano. Supersub Bale may have to wait his turn...
Man to watch: Isco. All eyes will be on Cristiano and Messi but sometimes, that gives other players the chance to go undetected and steal the limelight. Isco has all of the qualities needed to unlock Barça's defence – he's quick and effective in tight spaces and room will certainly be at a premium when Valverde's men apply their pressing game whenever they lose the ball.
Barcelona team news
Barcelona are almost at full strength and were boosted by the news that Gerard Deulofeu has shaken off a knee sprain and was given the medical all-clear on Friday. Ousmane Dembélé was in a race to be declared fit but in the end, doctors didn't want to risk him and want make sure his hamstring is fully healed. Also excluded from the coach's 18-man list is Arda Turan and Rafinha, who was given the all-clear on Monday but isn't match-fit. Likewise, Paco Alcácer who is recovering from an injury to his left thigh muscle and is out until after Christmas.
Man to watch: Messi. Out of all of Barcelona's current crop of players, perhaps no one loves these visits to the Bernabéu more than Leo Messi. It's a fixture which he has always lived up to, having found the net 14 times at Madrid's stadium – more than he's done at any other Spanish ground…
Real Madrid vs Barcelona: El Clásico Predictions and betting odds
It's generally assumed there are no favourites in El Clásico and that's pretty much what the betting houses are thinking with the odds on offer for this encounter. Real Madrid's home advantage gives them the slimmest of odds as favourites while Barça are 2/1 to win as they have in their two most recent visits. For various reasons, 5-0 is a symbolic result in these meetings – a Madrid Manita is being offered at 66/1 while if the Blaugranas fire five past their guests without return, bookies are offering 125/1. Casemiro is at 18/1 to open the scoring while Iniesta is 25/1 to hit the opener.
Bet on Real Madrid v Barcelona in El Clásico now