New Spain coach Hierro: "We'll have a good World Cup"
Fernando Hierro spoke to the press after being named Spain coach for the World Cup in the wake of the shock sacking of Julen Lopetegui.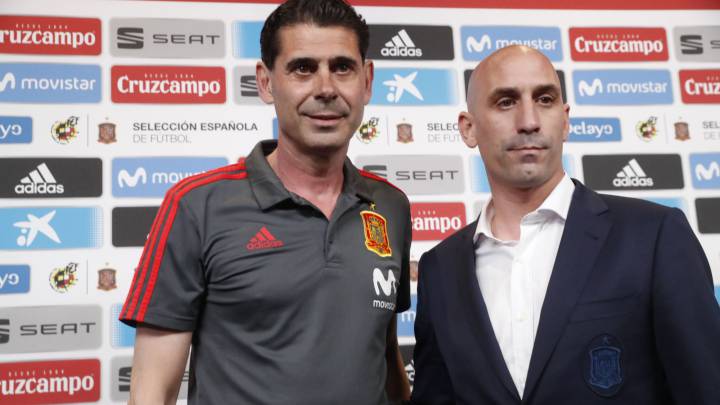 Fernando Hierro gave his first press conference as Spain coach today Wednesday 13 June, in the wake of the sacking of Julen Lopetegui, who was fired earlier in the day by Spanish FA president Luis Rubiales for the manner in which he had agreed to take the Real Madrid coaching job after the World Cup.
The new coach, who was already part of the Spain set-up as Sporting Director said he had taken the job out of a feeling of responsibility to Spain. He also said that there was little that could be "changed in two days" when the team had been working together with Lopetegui for two years, and that the squad was "fantastic".
"We're here to fight for the World Cup", said Hierro. "The team is excited. We've got a great opportunity and that has to be the focus. My job is the Portugal game, then the next one, and the next... We've got fans and a country who are excited [about the World Cup]"
Spain dressing room's reaction to Lopetegui sacking
Asked about the dressing room in the aftermath of the sacking of Lopetegui, Hierro said: "The feedback I've had has been really good. The group is really tight, mature; they're going to have dinner together today. The players are used to coaches coming and going. I know they're going to give it all they've got, 100%. In a World Cup nobody gives you anything. We all know what it means."
As to what Hierro had said to the players, he said: "I told them we've got a fine challenge ahead. I've only had one year's experience in Oviedo. One year as a coach, but 30 years with the ball".
Hierro asked Rubiales not to fire Lopetegui
Before Rubiales asked him to take over as coach, Hierro himself had pleaded with the Spanish FA president not to fire Lopetegui, but his pleas fell on deaf ears, with Rubiales feeling that Lopetegui's behaviour in accepting the Real Madrid job while under contract with the FA, and only informing the FA that he was leaving five minutes before Real Madrid announced it, a betrayal and one which he was not willing to accept.