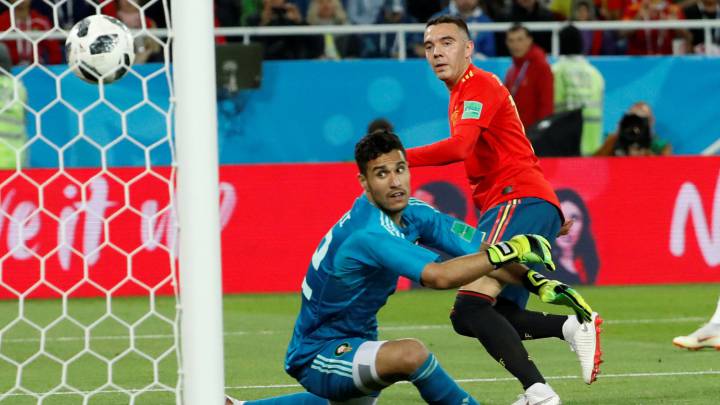 Spain 2-2 Morocco: match report
Spain managed to steal top spot in Group B from Portugal's hands at the death after an Iago Aspas goal was given having initially been ruled out. Meanwhile, in the other game of the group, Portugal squandered a goal lead in which they were dominant thanks to penalty awarded by VAR also.
Khalid Boutaib gave Morocco the lead when he pounced on a loose ball that was the result ofa communication breakdown between Ramos and Iniesta. He raced clear and slotted home beyond a helpless David de Gea.
Spain were back on level terms just five minutes later, however, when Andres Iniesta fed Isco before he slammed the ball to the back of the net from close range. Spain were dominating possession but looked nervous at the back.
In the second half, Spain started to run out of ideas and it was Morocco who took the lead when Youssef El Nesyri buried a header from a corner with just nine minutes to go. With Portugal winning their game at the time, it seems Spain would have to suffice for second place and a date with Uruguay.
Right at the death, however, Spain won a corner and Iago Aspas backheeled a goal into the back of the net with the linesman flagging and ruling it out. The referee went to VAR and the goal was given. And just as that happened, Iran scored a penalty to draw level with Portugal meaning Spain jumped to the top of the group in injury time.
They play Russia on Sunday afternoon with Portugal drawing the short straw and will play Uruguay on Saturday night.
Spain vs Morocco live: latest news
90'+6'   Spain currently top of the group but Iran and Portugal not over yet.
90'+6' GAME OVER!!!!!!!
90'+6'   Into the sixth minute of extra-time. Spain improving though.
90'+5' Fajr takes Asensio out of it. Yellow for him.
90'+5'   Lovely finish by Aspas, to be fair.
90'+5'   We are into five minutes and change now...
90'+4'   There were four minutes of added time but that VAR decision took so long.
90'+1'   Iran have just scored against Portugal and now Spain are top!
90'   The referee said it was a goal. No offside. 
90' This is incredible. Spain have been awarded the goal!
90'   He said it was offside but we have VAR here. 
90'   Aspas has the ball in the back of the net but the referee says no.
90'   Rodrigo gets the ball from Aspas and he crosses. Cleared for a corner.
90'   Spain are out on their feet now and can't even get the ball into the final third.
90'   Spain in trouble again as Morocco counter. 
89'   Isco with a through ball to Iniesta but Morocco squeeze him out.
87'   Aspas cross from the endline to Asensio and he heads wide.
86'   Free comes in and Rodrigo heads it up into the air.
86' Rodrigo replaces Silva.
85'   Change for Morocco. Ziyach is going off for Bouhaddouz
83'   Spain could do with a goal here. They have been at nothing in front of goal in this second half. Rodrigo coming on.
81' GOAL! El Nesryi with the header from the corner.
80'   Corner for Morocco in the end.
80'   Ziyech with a shot and it catches Pique's hand but that is no way intential and his hand was down by his side.
79'   Spain got off lightly there as it's now a goal-kick.
79'   Dangerous from Morocco as El Nesryi can't control it. 
79'   That's terrible from Ramos. He takes a shot from miles out and it goes miles over the bar! They need calms heads here.
78'   Carvajal cross and it's headed clear. Spain back in possession.
78'   Iniesta fouled again by El Ahmadi. He is on a yellow too.
77'   Free sent in and Ramos heads out.
75'   Amrabat fouled by Isco. Spain looked tired and out of ideas. 
73' Double Spain change. Asensio and Aspas. Costa goes off for Aspas and Thiago replaced by Asensio.
73'   Ramos with a ball over the top. Out for a goal-kick.
72'   Isco with another ball into the box! They just can't score.
72' Morocco making another change. Boutaib coming off for El Nesyri.
71'   Another dangerous Spain attack as Iniesta sends it across goal. Another wasted opportunity.
71'   Costa loses out and it gets played back to Munir. His poor clearance goes straught to Spain. 
70'   Amrabat hits the ground now and he's ruled offside. Ramos got a free one there.
69'   Lovely move by Spain. Costa lays it off to Thiago but his shot is a mile wide. That would have been a sublime move but Thiago can't apply the finish.
68'   Iniesta fouled by Fajr. 
67'   Spain with a really good chance. Isco plays it to him inside and he hesitates and loses the ball. 
65'   Spain move forward and Isco is dispossessed. Morocco try to break but Ramos steps in. He took a heavy hit to his thigh there and jogs it off.
64' Fajr replaces Belhanda. 
63'   Isco with the corner and Pique heads that just wide. So, so close again! Spain really threatening now.
62'   The ref speaks to Silva and Belhanda in the penalty area before this corner.
62'   Thiago in the box and he's dispossessed. Spain win it back and attack again. Ball into the box and Isco with a lovely header but Saiss gets a head on it to put it out for a corner.
61'   Nice ball in from Iniesta but Morocco clear it.
60'   Isco takes but it's cleared at the front post. Poor delivery from the attacking midfielder.
60'   Amrabat should have been given a yellow for that. He fouls Iniesta and is very, very close to being sent off. Next foul and he's gone.
59'   What a move. Silva from Thiago and back to Thiago. He takes a shot on the volley but slices it.
57'   Morocco drive forward. Alba caught out and it's played out to Amrabat. He pulls it back and Dirar brings it into the box. That's before Ramos sees it out for a goal-kick.
56'   Spain starting to struggle now. They need changes.
55'   Morocco keep it and Amrabat has a sht. What a hit that was! It hits the underside of the crossbar. That would have been some goal. Crazy game.
55'   Corner comes in and it's grabbed by Munit. Morocco counter and the ball comes in and Carvajal jumps on the attacker's back.
55'   Nacho is warming up for Spain too.
55'   Corner now for Spain.
54'   Saul and Asensio warming up now for Spain.
Portugal have won a penalty and Ronaldo has just missed it. The keeper makes a decent save.
53'   Spain back on the ball.
53'   They do get the ball into a dangerous position and Silva plays it to Isco but it's too tight and he loses it while looking for Iniesta out on the left.
52'   Spain not as convinving on the ball in this half. 
51'   Dangerous ball into the box and De Gea rushes off his line. He punches the ball away and looks to catch the attacker too. Brave from De Gea on Boussoufa
50'   Ball out to the left and Isco's offside.
49'   Throw for Spain. 
48'   Alba bounces off Amrabat and the ball is out for a throw.
47'   Pique really luck there. He handled the ball as it was played back to him. Referee waves away Morocco's protests.
46'   Isco sends a ball towards Silva and it's out for a goal-kick.
46'   Spain win the ball back almost immediately.
46'   Morocco get us back underway.
No changes for either side.
Teams emerge back onto the field. 
We won't complain with that last stat.
Spain need to find a goal if they want to play against Russia in the last 16.
45'+2' Half-time!
45'+2'   Costa out on the left and he plays it to Iniesta. Iniesta drives forward and sends a perfect ball across the box. Costa can't reach it. He gets studs to it but can't get enough on it.
45'   Amrabat with another foul. He chops Busquets down and it very lucky not to get another yellow. The ball was nowhere near.
Portugal have taken the lead through Ricardo Quaresma. That was a beaut of a goal! They currently sit first in the group.
45'   Isco moves forward and Alba puts it out for a goal-kick.
45'   One minute left in the first half.
43'   Shot comes in from Ziyech and that's well over the bar.
42'   Spain pile the pressure on Morocco and force a poor kick-out from the keeper. Morocco recover.
42'   Costa wins a throw now. And then Carvajal concedes one. Before a change of mind by the referee.
42'   Spain back in possession.
41'   Isco sends the free in and Busquets jumps up at the back post. He gets a knock to the head and stays down.
40'   Another foul. Thiago pulled down by Belhanda this time. Morocco really struggling.
39'   Isco fouled again. It's Boutaib this time. Late tackle and a sore one on Isco's shin. 
38'   Another dangerous attack down that left-hand side. Morocco recover just about.
37'   Free header from the corner. Busquets gets a head on it and it's a mile over the bar.
36'   Alba wins a corner as Amrabat puts it out.
35'   Spain all over Morocco here. Isco with a beautiful pass into Iniesta. He pulls it back to Costa but Morocco recover and Thiago with a foul as he tries to make it to the rebound.
35'   Spain win it back!
35'   Silva crosses and Munir gathers it. 
34'   Busquets lobs one into Carvajal and it's out for a corner.
34'   Carvajal wins it back in the corner and sends it towards goal. Referee collides with Morocco player and he falls. Spain looking threatening.
33'   Lovely ball down to Alba by Iniesta. Throw for Spain. 
32'   Isco to send it in. He does and it's headed clear. Can't beat the first defender.
31' Boussoufa, the captain, gets booked then for having a go at the referee.
31' Another yellow for Morocco. Da Costa fouls Isco. This is turning into quite a dirty game.
31'   Ramos back up and ties his shoelaces. Back in action with Isco down the left.
29' Amrabat takes Ramos down. Yellow for him. He needs to be really careful. Ball was in the air and he stands on Ramos ankle as he loses his boot.
28'   No backing down between Carvajal and Achraf. Carvajal throws his shoulder into his Real Madrid teammate on that occasion. And then a tap on the shoulder to acknowledge that they're all good.
28'   Ramos across to Carvajal. He wins a throw.
27'   Morocco clear and Spain win it back. 
27'   Alba sends it in and it's headed clear.
26'   Spain in on that left-hand side again. It comes to Costa and he whiffs it. He swung a left foot at it but that was poor. Spain back on the attack.
26'   Spain need to be nervous about how easily they have been breached now twice.
25'   Long ball down to Boutaib. It was a throw and no offside. He races clear and De Gea saves. It's his first save of the World Cup.
25'   Spain through again and it's Iniesta. He shoots and it's blocked. Then Costa loses out with a really heavy touch.
24'   Corner comes in and Pique headers down into the ground and it bounces up kindly for Munir.
23'   Iniesta down that left-hand side yet again. He pulls the ball back and it's scrambled clear by Morocco.
22'   Amrabat needs to be careful now. He fouls Isco. Morocco slightly frustrated.
22' El Ahmadi booked for taking Busquets out of it. He points to the ball and while he did make contact with the ball, he kicked his legs from under him before that!
21'   It didn't take long for Spain to get that goal back. Greatlink-up play involving Costa and Iniesta.
20' ISCO! What a finish that was from Spain. Down the left hand side. Iniesta pulls it back to Isco and he buries it into the roof of the net.
20'   Spain with all of the ball. Isco to Costa as they get the ball miles away from goal. Ball across to Carvajal and he loses it before winning a throw.
18'   Morocco growing into this one. But they still look fragile at the back. Iniesta with a shot and he drives that over. Spain need to keep their composure here. 
17'   Morocco counter again. Ziyech versus Ramos down the right hand side and the defender puts it out for a corner.
16'  Hierro looking even more nervous now.
16'   Really poor from Spain. After such a good start too.
14' GOAL! What just happened? Absolutely ridiculous from Spain. Ramos and Iniesta with a communication breakdown and Boutaib pounces. He breaks clear and slots home. 
13'   Spain back in possession and trying to figure out a way through. If they keep going like this, we might have a beating on our hands for Morocco. 
13'   Ramos with a foul on Amrabat. A little push in the back as their battle continues.
12'   Achraf sees that one off. Silva almost sneaks in around him but he gets a leg out and it's out for a goal-kick.
11'   Morocco looking shaky at the back.
11'   Spain in down the right. Silva clips it into the box and it beats Iniesta. It came at him in such a strange way and height that unless he handles it, he had no chance of controlling it.
10'   Spain more dominant but a scrappy start to this one.
10'   Jordi Alba races down the left. He's put through by Isco but Moroccan defender stands in his way and it's out for a goal-kick.
10'   Pique is lucky they can't go to VAR for that one. We are back underway. Everyone back on the field, recovered and ready to play. 
9'   Really spicy start to this one.
8'   Another fight. Pique catches Boutaib with a two-footed lunge. He's really, really lucky not to be booked or worse for that!
7'   Amrabat with the ball, again, and he initiates contact with Isco. He elbows him in the chest. Then Ramos picks it up and Amrabat fouls him. Ramos not happy. We have some bad blood here.
7'   Ramos fighting with Amrabat.
6'   Pique tries to get a noggin on the ball but that's cleared. Busquets with a foul on Ziyech.
6'   The ref has a chat before the delivery. He's telling Da Costa to calm down.
5'   Spain dominating, as expected, early on. Thiago wins it and plays it to Carvajal. It's too heavy but Carvajal slides in and Saiss catches the ball to put it out for a corner. Silva to take.
4'   Mistake from Morocco and Iniesta to Costa. He plays it to Iniesta again and out to Isco. He shoots, or crosses, and it's into Munir. Too easy for the keeper. A little rushed from Isco and a poor delivery.
4'   Pique out to Alba and he gets stopped before Spain keep it and recycle it.
3'   Amrabat down the right and he takes on Ramos with a shoulder charge. The two fall, no free and Spain recover. No need for that with Amrabat? He just drove his shoulder into the defender while he was on the ball.
2'   Carvajal versus Achraf down Spain's right-hand side. Cross from the Moroccan and that's wide.
1'   Pique on the ball and he plays it across to Ramos. Morroco win it back as Costa gets it. Long ball by Morocco and it's picked up by Ramos.
1'   We are underway! 
    Isco giving De Gea a hand to get his glove on before the game.
    Nerves taking over slightly. We will be keeping you updated on Iran and Portugal also.
    Up for the toss now. Ramos and Boussoufa. 
    And no Morocco's national anthem. They might be out of the tournament after tonight but still plenty of their fans in the stadium by the sounds of things.
    Here we go.
    Spain's national anthem! 
    Fernando Hierro not quite Sampaoli levels of nervous but he looks concerned, which might also be his natural state in the dugout. Massive game for Spain tonight!
    Leganes' powerhouse winger, Nordin Amrabat, in good mood before the game.

    It's all been very quiet and calm in Spain's camp ahead of this game and after the Lopetegui sacking. I think they've benefitted from Argentina falling to pieces and there hardly being a boring game in the tournament! Those two performances against Portugal and Iran, while not out of this world, were good enough to bury that story. 
    Spain out and warming up. Fairly extensive game of keep ball going on at the moment. Imagine being transplanted into that game right now. You'd have precisely no chance.
    These are the players in Morocco's squad who play in Spain. Only Munir, Achraf and Amrabat start.
    Bono (Girona) Munir (Numancia) Achraf (Real Madrid) Fajr (Getafe) Amrabat (Leganés) En-Nesyri (Málaga). 
Busquets was lobbying for Koke to start at the back alongside him at the press conference yesterday. "He is the player who is most compatible with me," he said. He probably figured that the Atlético Madrid midfielder could offer more defensive support and that he would cover more ground. Hierro preferes Thiago though.
    Benatia is the only change for Herve Renard. He replaces him with Saiss at the back, who is more used to playing in defensive midfield.
    A more in-depth look at Spain and Morocco's team news.

    Spain have not yet qualified for the last 16. They are close but they can still be knocked out if they lose to Morocco by two goals or more along with a draw between Iran and Portugal would leave Spain in third place. If, however, Spain beat Morocco then the winners of Portugal versus Iran will finish second and go through.
  Cristiano Ronaldo spearheads Portugal's attack in the other game and you can catch Cal's chat on that game over here.

    Morocco XI: El Kajoui, Hakimi, Da Costa, Saiss, Dirar, Ziyach, El Ahmadi, Belhanda, Boussoufa, Amrabat, Boutaib.
    Spain XI: De Gea, Carvajal, Pique, Ramos, Jordi Alba, Busquets, Thiago, Silva, Iniesta, Isco, Costa.  
Morocco coach Hervé Renard is certainly aggrieved that his side will be heading home whatever the result against Spain this evening after the manner of the defeat against Portugal. "It is highly unfair," he said. "There was a huge foul committed by Pepe on the first post, it was not seen. Why wasn't it seen? And there was Pepe's hand just as happened in Australia against Denmark for which there was a penalty. It may have been an unintentional hand, but why do we get different results in two games? And then Boutaib is tackled violently in the box and the referees don't say a word, so the whole thing is totally unfair."
Spain and Morocco have only met twice before in competitive action. Both games came on top of each other during a two-legged qualification play-off for the 1962 World Cup, with Spain winning both, 1-0 away and 3-2 at home.
"Always when we play against teams that are eliminated we don't know what they are going to do," Fernando Hierro said in his pre-match press conference. "We can't get into the coach's head, we don't know how they are going to play tomorrow it could be a very big surprise and we can't take anything for granted."
As ever we've knocked up a little guide as to how and where you can watch this one. Or, of course, you can stay right here and follow it live with AS English.

Spain take on Morocco with Portugal going up against Iran in the deciding round of fixtures in Group B with all still to play for everyone expect the Atlas Lions, who are already eliminated. Spain will top the group if they are victorious and Portugal are not, with the possibility that lots may be needed to separate the sides at the end of the evening. Iran also have a shot at going through, but will need to defeat Portugal and hope Morocco win by two clear goals in their game against Spain.
Spain vs Morocco live: preview
Spain face Morocco in their final group stage match at the 2018 World Cup with La Roja vying with Portugal to finish top of the pile in order to avoid Uruguay in the last 16 after La Celeste saw off Russia in their shoot-out for the Group A crown in Samara.
Fernando Hierro's side are not assured of a place in the knock-out stages heading into their game against the Atlas Lions but it would require a collapse of historic proportions for Spain to exit the World Cup at the first hurdle for the second time running after the debacle in Brazil four years ago.
If Morocco, who are already out of the tournament, beat Spain by two goals or more and Iran hold Portugal to draw then it's curtains for Hierro's side. A draw will be enough to secure progression but if Portugal are victorious against Iran that would leave La Roja facing the prospect of going toe-to-toe with Luis Suárez, Edinson Cavani and company in the next round.
Diego Costa looking for goals not cards against Morocco
Spain managed a clean sheet in their last match against Iran and in Diego Costa have finally found the answer to those questions being posed before the tournament about a starting number nine.
The Atlético striker has three goals in his two games in Russia so far and will lead the line against Morocco, who have proven resilient in defence at the World Cup but have yet to find the net themselves. It took a 95th minute Aziz Bouhaddouz own goal to hand Iran victory and Portugal were kept quiet after Cristiano Ronaldo found the net in the fourth minute in their second fixture.
Hierro will need all of his firepower and creative faculties on the pitch in Kaliningrad but he must also ensure that his players keep their cool, something Costa is not exactly famed for. Spain and Portugal are level on points and goal difference going into the final round of games and if that status quo is maintained when the dust settles this evening then Fair Play will decide the outcome of the group.
Spain have one yellow card on their balance sheet going into Tuesday's fixtures while Portugal have been shown two, the last a 92nd-minute caution for Adrien Silva against Iran.