England 0-1 Belgium World Cup 2018 Group G: match report
A solitary goal from Adnan Januzaj was enough to separate the sides in the game and in Group G as their paths are not set in the knockout stages.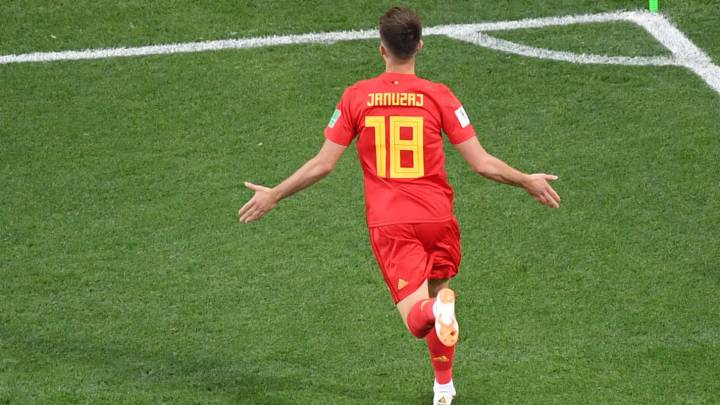 England 0-1 Belgium: match report
Belgium beat England and topped Group G with the win as well as becoming the third team in the competition to win all three games in the group stages along with Uruguay and Croatia.
Both managers made wholesale changes to their sides as the top spot in the group was up for grabs. But neither side will have minded losing despite the consequences of their first defeat in the World Cup.
After the excitement Group H earlier in the day that saw Colombia leapfrog Japan and Senegal, which also pushed Japan into second place, the tables turned.
The losers of England and Belgium would be playing Colombia on the supposedly easier side of the draw. The winners would play Japan in the last 16 on the more difficult side. Arguably an easier last 16 game with a win but much tougher tests after that.
England were the more productive side in the first half and far more proactive in attack even if they didn't create a bunch of chances. Belgium were blunt in attack and had no apparent interest in changing that fact.
They did come to life for a spell in the second half though and it resulted in the games only goal. Adnan Januzaj recieved the ball from Youri Tielemans and after a couple of lovely touches to purchase himself a yard, he curled beyond a stretched-out Jordan Pickford.
They went back into hibernation after that and England had chances through Rashford and Welbeck but they couldn't land the equaliser.
In the end, after a tame affair, it will be Belgium who play Japan and England who play Colombia in the last 16. Their paths are set. Now they have to go and travel the ones they have forged for themselves.
England vs Belgium live: latest updates
90'+3' GAME OVER!
90'+2'   Fellaini drives into the side netting from the left.
90'   Ball sent up into the air now and it's cleared by Belgium. 
89'   Mertens with an absolute beaut of a shot. It's a volley and Pickford rejects him. 
88'   Dendoncker bundles Rose over and he wins the free. He plays the free quickly to Welbeck and he pokes it wide.
85' Mertens replaces the goalscorer, Januzaj.
85'   England win it back in a dangerous position and move forward. Loftus-Cheek with the run forward and his cross is over the bar. He has played well tonight.
84'   Courtois gathers the crossed corner.
83'   It's punched clear and falls to Welbeck. He drives a strike towards goal and Fellaini stops it from going in. Welbeck with a nice effort there. Corner!
83'   Corner for England. This is where they are most dangerous. Set-pieces have been right in their wheelhouse during this World Cup. Can they find a way back into this game.
82'   Rashford blazes over as Courtois puts a precautious hand in the air to see it over. 
81'   Free for England. Rashford to take.
79' TAA is replaced by Danny Welbeck.
79'   Long ball to Fellaini. Headed to TAA. England back on the ball.
78'   Belgium in possesison now and throwing it around. 
74' Vermaelen is being replace by vincent Kompany.
74'   Bit of a scramble outside the box and the ball makes its way to Courtois. He drives it clear.
71'   Sent into the back post and Dier heads clear.
71'   Fellaini fouled and Belgium have the free.
70'   There's another chance! Rose in the box and it's cleared. Courtois gathers another ball in. England have had some chances.
69'   Ball down the field and Courtois called into action again but less effort needed this time.
68'   Delph shoots. That's wide.
66'   Lovely through ball from Dier and Rashford is through on goal. He slices it wide, saved by Courtois and out for a corner. What a chance. Lovely ball and lovely run.
65'   No chances now for a while. England on the ball though.
62'   Looked like an offside. Courtois will take the free.
62'   Loftus-Cheek with another dangerous run and it's sent out to TAA. He crosses and it's blocked and cleared. There was a foul in the middle of everything there whatever happened.
61'   Lovely run down the right by Loftus-Cheek and he crosses it. Courtois gets a bit palm to it and out. Comes back in from Jones and it's wide.
60'   Long ball by Courtois and thorgan Hazard is ruled out for offside.
58'   Vermaelen down injured now. He is back up after getting treatment for a knock on the head. He has an ice pack attached to his jaw for the time being now. He's bleeding and not happy but it does look like he will play on. They're not warming anyone up anyway.
54'   Belgium turning on the style now! Some lovely passing and Januzaj with another shot that's blocked out for a throw.
52'   Dembele chops Loftus-Cheek down. 
51' Oh lord! What a goal that was by Januzaj. Tielemans plays it to the Real Sociedad player and he takes a few very nice touches to buy a yard and curls beyond Pickford.
50'   Tielemans with the ball outside the penalty area. He tries to pass it out wide and it's picked off by Maguire and brought out from the back.
49'   Free out as Rashford is a little too eager after his touch lets him down and the ball escaped him.
48'   Rashford picks it up inside the penalty area and he curls it just wide.
48'   Belgium on the ball to start the second half. Ball down to Pickford though as Batshuayi closes him down and the Everton keeper clears.
46'   Anyway, we are back underway! Stones hs an ice pack around his calf. Might be interesting to see if he is injured or just purely precaution.
Maguire comes on for John Stones at the break. That's the only change.
One area where England are showing ambition is down the wings. Rose and TAA playing well.
45'   Corner for England. 
43'   Belgium on the ball now as we approach half-time. Januzaj crosses and it's blocked.
41'   He launches forward and Vardy battles with Courtois bu the keeper grabs it.
40'   Definitely the worst game of the World Cup so far. Pickford get a goal-kick and takes forever to actually kick it. Slower than a training session is this. 
38'   Shot comes in from Hazard. He curls it over the bar.
36'   Ball sent in by Rashford to Vardy. He gets up higher than the defender but he comes down and lands hard on the turf. He gets up quite slowly but he looks to be okay.
36'   Januzaj with an effort now and it drifts wide.
35'   Loftus-Cheek with the header. Eric Dier looked close to it but he was pushed out of the way. Loftus Cheek followed it up with a header just wide.
35'   Cross comes in and England win another corner. This is all so slow. 
33'   They are winning the card battle by 5 to 2. Meaning they have five and England two.
33' Rose with a good ball in over the top and he is tripped up by Dendoncker. Yellow card as Belgium run away with the cards here.
31'   Rashford runs inside and Belgium win it back before clearing.
30'   Loftus-Cheek wins the ball and lays it off to Dier. He crosses and it's cleared before Rose wins a free.
28'   Bit of a scramble from the corner. Fellaini with a shot and it's blocked. Then Jones has a dive as he tries to break clear and another shot comes in but England get it away.
27'   Batshuayi inside the area as he burrows his way through. He shoots off his right and it's blocked for a corner. 
25'   Belgium on the ball now. England sitting back and not too concerned with winning it back.
23'   Another foul now and England with the ball as they bring it out from the back. Stones almost got himself into a mess there as Batshuayi pressed. Pickford and Stones have words afterwards. 
21'   Corner sent in and it's headed clear by Belgium. Ball sent back in and Jamie Vardy tries to take it down. It's out for a throw to England. They've been the better side so far but that is a relative statement.
19' Danny Rose robs the ball off Januzaj and Tielemens trips up Rose. He gets a yellow and now Belgium move two cards ahead of England by two in the yellow card count.
19'   Fellaini with the foul on Alexander-Arnold.
18'   Tielemans looks for a pass inside to Batshuayi
17'   Phil Jones fouls Dembele and Belgium win a free. The United defender with a clumsy tackle.
16'   England dominating now but this is really poor stuff, folks, I'm afraid to say. All of our worst fears about this game are coming to pass.
14'   Alexander-Arnold with a cross and Vardy gets a clean header to it but it's off target.
12'   Cahill wants a corner but instead he gets whistled for a foul. Push in the back. His header wasn't far off.
12'   Rashford with a corner now. He takes a shot and it's blocked out. A very strange atmosphere around this game.
11'   England win a corner now and Alexander-Arnold to take.
9'   A scramble at the back for England. Januzaj steps over it and crosses. Fellaini heads it down to Batshuayi and he pokes it towards goal. It's not collected by Pickford and Cahill has to clear it off the line. What a mess.
7'   Rashford now brings the ball into the penalty area and it's a throw.
7'   Delph down the left-hand side. He wins a throw.
7'   What a strike. Tielemans with a really dangerous effort. Pickford had to really had to stretch to save that one and keep it out. He parries it towards a teammate and he clears. 
6'   Belgium on the ball now for their first spell on the ball. Thorgan Hazard takes it down and sends it back. Then it goes long to Fellaini as Jones heads it out over his Manchester United teammate.
5'   Courtois taking his time over this one.
4'   England on the ball now and Delph sends it down to Rashford but he's offside.
3'   A mistake for Belgium and it's crossed in. Courtois clears with his feet. Vardy with the cross.
2'   Pickford with a couple of touches early as Bathshuayi closes him down.
1'   We are underway as England get this game started. They're on the ball to start this one. 
    Martinez looking really stern on the sideline.
    Dier and Courtois, enemies in the Premier League and enemies again tonight, up for the toss.
    La Brabançonne rings around the stadium. A very jaunty number indeed. Belgium's B team stand to attention. Just shows their strength in depth too. Plenty of talented young players starting for them tonight. Tielemans in particular is a classy midfielder.
    God Save The Queen blares around the stadium in Kalaningrad. 
    Teams emerge onto the field! 
    Gary Neville says he'd be surprised if England manage to dominate the ball with that eleven that was name. He says they are primed for set-pieces though. Some people reckon England and Belgium would be happy not to play the game at all and just flip a coin to see who finishes first and second. This could be a very strange game.
    That doesn't mean it is a bad thing to give players some minutes. The problem is how it is framed. 
    England have two yellows. Belgium have three.
    England and Belgium have both played 2 games and won both with a goal difference of eight plus and two against.
Two changes at the back for England with Cahill and Jones coming in for Walker and Maguire. Trippier and Young are changed out for Rose and Alexander-Arnold as the wing-backs. Dier replaces Henderson at the base of midfield - a switch of the captain's armband too. Rashford and Vardy start up top and Kane and Sterling rested and Lingard is changed for Delph. Those changes are wholesale.
    Changes galore! 
    Belgium XI: Courtois, Boyata, Dendoncker, Vermaelen, Chadli, Dembélé, Fellaini, T. Hazard, Tielemans, Batshuayi, Januzaj.
    England XI: Pickford, Rose, Dier, Stones, Vardy, Cahill, Jones, Delph, Rashford, Loftus-Cheek, Alexander-Arnold.
As ever, we've provided a handy guide as to how and where watch this one. Or you could stay right here and follow our live coverage from 20:00 CEST.
The England boss' opposite number, Roberto Martínez, said that the result is not important after Belgium's qualification, so it will be interesting to see how this one plays out.
Gareth Southgate has said that he wants to nurture a "winning mentality" among his players and ruled out playing for anything other than a win but both sides are likely to make several changes in Kaliningrad with injuries, rest and suspensions in mind.
Both sides are level on points and goal difference going into the game, which could lead to fair play or even the drawing the lots deciding the group winners. Belgium currently have three yellow cards on their slate to England's two.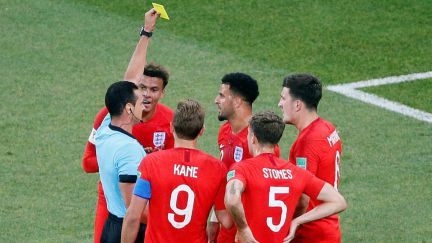 England take on Belgium in Kaliningrad on Thursday evening with top spot in Group G at stake - even if neither side may be particularly keen on claiming it given that second place would open up a less daunting path through the group stages.
England vs Belgium live: World Cup match preview
Rob Train
The Group G match between England and Belgium was a mouth-watering prospect before the World Cup kicked off with Gareth Southgate's largely untested young Lions going up against the flair and finesse of Roberto Martínez's Red Devils in a potentially decisive shoot-out for top spot.
But the build-up to Thursday's game has alighted more on whether either side will really go for the jugular with the nation finishing second having a theoretically softer route through the knock-out stages in Russia.
England and Belgium have both qualified and are locked on points and goal difference, opening up the possibility that fair play considerations or even the drawing of lots may be required to settle the affair of who goes through in which position.
Southgate rubbished suggestions that he would play a tactical game off the pitch in his pre-match press conference, joking that if he head-butted his opposite number the watching world would know the reason why: "We want to win the game, that would mean we would top the group, and we play who we play in the next round," the England boss said.
"I am trying to develop a winning mentality. I can't imagine a situation where I stand in front of the group of players I have got and start talking to them about anything else. We had a choice with our friendly matches to play teams who would be a bit easier, but we deliberately chose to play against top teams because we knew it would be better challenge."
Even so, Southgate is likely to ring the changes in Kaliningrad. Ruben Loftus-Cheek and Kyle Walker are on the disciplinary tightrope and Harry Kane, Raheem Sterling and Jesse Lingard are prime candidates for a rest.
Martínez: "The priority is not to win"
Belgium boss Martínez sang from a different songbook before the game, stating that the result was not important while suggesting he will rest a number of key players who are either struggling with injuries or in danger of missing the next round through suspension.
"We want to perform well but the priority is not to win," Martinez said. "The reality is we put ourselves in this situation we wanted to qualify and we have done that. There are players with yellow cards and I don't think it would be professional for us to put those players in a risk to miss the knockout phase."
Romelu Lukaku is unlikely to feature, with Martínez stating that the England game is "probably one day too early" in the striker's recovery programme from an ankle injury.
Kevin de Bruyne, Thomas Meunier and Jan Vertonghen are all a caution away from suspension while Eden Hazard, Dries Mertens and Vincent Kompany are all nursing minor problems.
Belgium and England have met twice before at the World Cup and the group stage precedent is encouraging for fans in the Kaliningrad Stadium: in the 1954 World Cup the sides played out a 4-4 draw in Basel. In 1990, a David Platt goal in extra time sent Belgium home in the last 16.
Either of those results, or anything in between, cannot be ruled out in Kaliningrad with both sides likely to feature several players with an eye on staking their claim for a place in the starting line-up at the same stage in Russia.