ITALY
Out-trumping Trump: 13 of Napoli president's most controversial quotes
"Messi is a cretin"; English "women don't wash their genitelia": here are some of Aurelio de Laurentiis most controversial and outrageous comments over the years.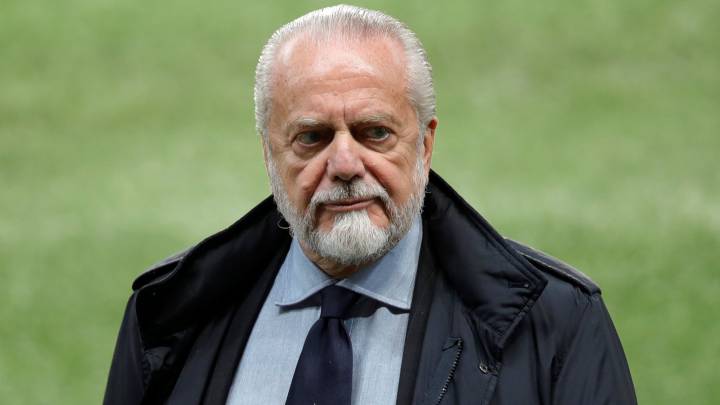 Napoli's outspoken president Aurelio de Laurentiis has never been one to mince his words. His controversial comments, downright insults and sometimes Trump-style ramblings come thick and fast. And over the years, few have escaped his wrath.
His latest targets have been PSG, Roma, and the city of Liverpool, and in the past he has also taken swipes at FIFA, England and its women, Lionel Messi, Karim Benzema, former Napoli coaches, Juventus, Serie A and the "spoiled superstars" of Real Madrid. There were too many to choose from, but here we've compiled some of De Laurentiis' most controversial and oddest comments.
The best (or worst) of De Laurentiis
"I will quit football, you lot are shit"
These were his words before storming out of out of a Serie A fixture draw a few years ago, claiming that there was a conspiracy against his club.
"The English live badly, eat badly and their women do not wash their genitalia. To them, a bidet is a mystery."
English people may take issue with his comments regarding their lifestyle, diet and lack of hygiene, but there is no argument that bidets are a scarcity on the British Isles.
"Can you imagine waking up every day in Liverpool? You only have the house of the Beatles, Abbey Road."
His latest comments caused quite a stir in Liverpool, and to the residents of Abbey Road in London.
"Messi is a cretin"
The words "Messi is" are usually followed by "the best" or "the greatest of all time", but Aurelio de Laurentiis took a curve ball with this one.
"I have studied in England during the early 70s and I can say that the English women, if they are beautiful, are extraordinarily beautiful."
Perhaps his experience in England in the 70s has shaped his negative opinion of the country. But it seems he does have a soft spot for English women, despite his previous comments regarding their hygiene standards.
"If Mazzoni starts being stupid, I'll chop his balls off"
This threat was aimed at Alejandro Mazzoni, the agent of former Napoli player Ezequiel Lavezzi, who at the time, was being linked with a move to San Paolo.
"We must change everything. Why doesn't Europe work? It should be a Europe of England, France, Italy, Germany and Spain – full stop. And it should be the same for football."
Just this week, the Napoli president gave his thoughts on who should make up the EU, and of course he included his beloved England despite its imminent 'brexit' from the Union. Although we're not sure how the other 23 other members states would feel about his proposal, which also includes scrapping the UEFA Champions League for a new competition only involving teams from Europe's top five leagues.
"PSG have great strength thanks to the fact they have no financial problems. If their budget is in red, they turn it green as if they're magicians. For me, football isn't a way to make other investments, like Qatar is doing."
Speaking ahead of Napoli's game against PSG on Wednesday, he questioned the integrity of PSG's accountants while also taking a swipe at Qatar.
"Why would I sign these two old men, with all due respect?"
This was the 69-year-old's response regarding two men 39 years his junior -- 30-year-olds Angel Di Maria and Karim Benzema, who had been linked with Napoli in the summer. "Here is another crazy person to add to the list…," was Benzema's response on Twitter.
"China and the US are the future of football, while the agents are its cancer"
It seems De Laurentiis has about as much love for agents as he does for England. Perhaps he is delighted now to see that Ezequiel Lavezzi is playing in the future home of football with Hebei China Fortune.
"I don't have to please the fans, they play football in the bar, I respect them but they need to stay calm and let us work."
De Laurentiis putting the Napoli fans in their place, which is seemingly in the bar and not in matters of the club.
"I always had the doubt in my mind that the real owner of Liverpool is the same that owns Roma. A little bird told me that a few years ago…I offered €60m for Alisson, but then realised he would end up going to the Reds regardless."
De Laurentiis fired this controversial accusation at the owners of Liverpool and Roma, after he lost out to The Reds on signing Brazilian goalkeeper Alisson from Roma in the summer. The accusation is apparently based on links between Roma owner James Pallotta and the Fenway Sports Group, who own Liverpool FC and the Boston Red Sox.
"We are destroying football… We are sinking right now… Football matches are too long – you fall asleep. You have to play two 30-minute halves"
These were his latest comments this week in an interview with Le Parisien in which he gave his proposals for the future of football, a game he has previously admitted to knowing "nothing about" until he took over Napoli in 2004. Since then it seems he has learned a lot about the game, as he certainly has a lot to say about everyone involved in it.