Malcom is no Messi but he saves Barça in Copa Clásico
Real Madrid dominated the first half and went ahead early through Lucas Vázquez, but Barcelona came back in the second to level through Malcom. Messi came off the bench in the second 45.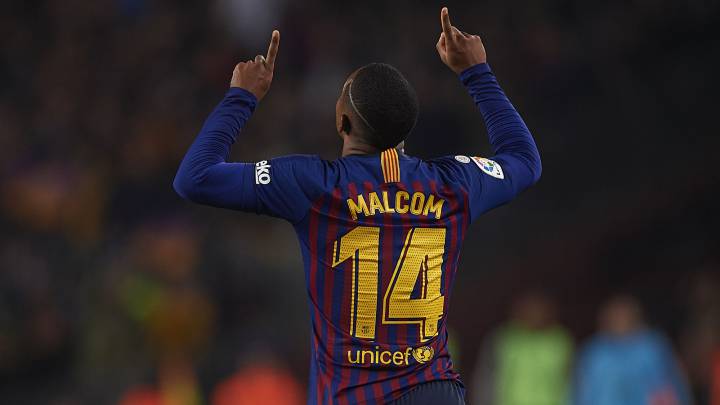 Barcelona 1-1 Real Madrid: match report
It was the second Clásico in the post-Ronaldo era at Real Madrid and the second of the season without Messi in Barcelona's starting XI but what the game was missing in star power, it made up for in cageyness as the two sides sides both struggled and looked dominant for spells.
Real Madrid were the first side to show their teeth with some high pressure on Barcelona's midfield and defense. Vinicius started brightly and Barcelona struggled to get their foot on the ball. With Benzema and the Brazilian, who became the youngest player to start a Clásico for Madrid this century, in fine form, they were causing problems for a particularly lethargic Barca defense.
That early start could not have gotten any better when Vinicius crossed deep to the back post after six minutes and Jordi Alba tried to head clear. The ball cleared the top of his dome and Benzema took a lovely touch before delivering a low pass to Lucas Vazquez. He side-footed home and the Camp Nou was stunned.
Messi and Dembélé had been ruled out and Ernesto Valverde decided to start with Malcom despite suggestions Carles Aleña would be the man to fill his exceptionally large boots. It was the Brazilian tasked with that and he almost single-handledly pulled Barcelona back into it.
After that first goal, Real Madrid backed off by design and because Barcelona weren't going to settle for not dominating possession at home with or without Lionel Messi.
Malcom was torturing Marcelo down the wing and Barcelona kept whipping the ball out to him having figured out where they could get the upper hand. He delivered a couple of frees he had won himself from that wing and Barcelona nearly had their response from those whips. Rakitic rattled the crossbar with a header and Real Madrid were looking increasingly unsteady.
Real Madrid looked plenty dangerous on the break though with Vinicius skipping around and over potential tacklers and that offered them some respite from Barcelona's assault.
The second half was much of the same with Barcelona looking increasingly ambitious. They had the equaliser on 57 minutes when Jordi Alba was sent through on goal. Keylor Navas came out and put an end to his run, and almost put an end to Alba, with a wild-looking challenge (Alba was booked after for explaining to Mateu Lahoz just how dangerous he thought it was). The ball fell to Luis Suárez and he tried to curl one home only to see it hit the post.
The man of the match for Barcelona was on hand to slam home despite having a difficult angle and three players to navigate the ball through. Malcom is no Messi but his finish levelled matters for the home side as he started showing signs of the player they thought they were fighting for when they pipped Roma to signing during the summer.
Those chanting 'Messi' in the stands got their wish after the goal and Barcelona tried their best to get the winner.
It wasn't to be though as Messi tried to combine with Suárez a couple of time to no avail. The Argentine looked good during his cameo but he might have been protecting himself more than usual with a couple of uncharacteristic touches in enemy territory.
Gareth Bale whipped a couple of dangerous crosses into the box during his spell but the resulting shots were either blocked by Barcelona or spurned by his teammates.
It leaves the second leg wide open with a presumably fit Messi to start and with Barcelona needing an away goal to give themselves a chance.
Lucas Vazquez said they had a "bittersweet taste in their mouths" after the game. In the end, though, both teams can feel both unlucky and a little relieved not to have lost in a gritty, cagey affair at the Camp Nou on Wednesday night with more of the same promised in three weeks time.
Barcelona vs Real Madrid Copa del Rey live: match updates
90'+3' GAME OVER! Real Madrid and Barcelona do it all over again in two weeks time! 1-1 it ends.
90'+3'   Aleña throws Marcelo out of the way as another, and possibly the last, chance goes to waste. 
90'+2'   Messi fouls Suarez but plays continues. Then Messi is taken down by Carvajal. 
90'+1'   Three minutes of added time.
90'   No free as Ramos jumps into a tackle and gets the ball as Messi hits the ground. No free.
89'   Another Bale cross. Falls to Asensio and he plays to Carvajal. His cross is way over everyone and out for a goal-kick.
87' Vidal will get himself a booking for that one most certainly. He takes Casemiro out of it with a kick on the back of his legs.
86'   Bale with a cross as they apply some pressure now. Headed out by Alba and Real Madrid keep it. Kroos eventually shoots and Piqué blocks it.
84'   Kroos sends it in and Varane heads wide.
84' Vazquez off for Asensio. 5 minutes to make a mark.
84'   Kroos with a foul on Kroos. 
83'   Dangerous from Barcelona as Semedo plays to Messi. He's so close to goal but can't get a chance to shoot. He ends up dribbling one towards Navas, who saves easily.
82'   Piqué heads away.
81'   Casemiro in over the top and Ter Stegen gets a touch. Benzema plays it to Bale and he shoots. Takes a deflection and it's a corner.
81'   What a chance for Real Madrid. 
80'   Suarez does really well to win the ball on his own before Vidal joins in and helps him advance it.
79'   Suárez plays for a penalty and it looked like he was pushed in the back.
76'   Messi plays the ball through to Aleña and he shoots but Real Madrid had men back and they block it.
74' Malcom off for Aleña.
74'   Ramos is really lucky not to be sent off. Foul on Arthur and it's both late and clumsy.
71'   Modric the latest to fall foul of the ref's whistle.He catches Malcom and now Mateu is sending someone from Barcelona's bench off.
71'   Long ball down to suárez and he puts Varane under pressure with a throw for Barcelona being the outcome.
70'   Mesis hits the wall with the free.
69'   Messi tripped up Vazquez after Casemiro loses the ball again! He has coughed it up a couple of times since he came on.
67'   Messi drives forward and tries toround Ramos. He can't and Real Madrid break but Casemiro loses the ball. Messi tries to put Suárez through and Navas grabs it.
66'   All Barcelona now as they push up on Real Madrid. Messi whips it out to Alba. He crosses and Navas saves it.
65' Messi comes on for Coutinho too as the look for the winner.
64' Bale on for Vinicius.
62' Vidal on for Rakitic.
62' Marcos Llorente has to be replaced. Casemiro coming on.
62'   Shot from Coutinho is low and saved by Navas.
60'   Messi is stripping off and ready to come on! 
57' Meanwhile, Alba was booked for maybe having a word with Mateu Lahoz after the goal. He thought he was taken out of it.
57' GOAL! GOAL! GOAL! Malcom with the finish. Ball down to Alba and Navas stops him before it falls to Suárez. He hits the post with a curled show and Malcom gets a shot away. 1-1. 
57' Marcelo booked now for a catching Piqué really late and very much not needed. Silly.
55'   Messi warming up...
55' Suárez throws Ramos on the ground with a shoulder. Free for Real Madrid and a yellow for the Uruguayan.
54'   Coutinho has the ball robbed off him by Carvajal. 
52'   Some movement on the bench. Vidal might be coming on. The crowd only want one man though as they chant 'MESSI, MESSI!' from the stands.
52'   Coutinho gets a yard for himself after some intricate passing outside the box. Bounces up nicely for him and he strikes over.
51'   Attacl by Real Madrid as Benzema plays it to Vinicius. He plays it back to Modric and Arthur steals in. Modric kicks the back of Arthur's foot and is down injured.
50'   Everything done by Barcelona is very disjointed in attack. They're missing something...and I can't quite put my finger on it.
49'   Barcelona attack now after some sloppy passing by Real Madrid in the middle. Fairly tame possession so far but they're setting themselves up.
48'   He's back up and looks to be fine.
47'   Lucas Vazquez takes Jordi Alba out and he's down grabbing his ankle. 
47'   Suárez ruled offside. Ramos had him sussed and had his hand up before the ball was even kicked.
46'   Teams back out and we are back underway.
No changes for either side at the break. 
Coutinho is taking absolute pelters on social media too. Many agree that he is very much off form.
I'm sure Solari will stick with his eleven for the second half but we could see a change for Barcelona. Coutinho has been anonymous.
Benzema's control to set up Real Madrid's goal was excellent. He's been on very good form recently.

Vinicius is clearly a very special talent though, and by goodness he's quick going off down the left wing. His skip past Busquets to open up Barcelona just before half-time would have really had Real Madrid fans hearts' thumping. And he's still just 18, the youngest Real Madrid player in a Cláscio this century.
Malcom and Vinicius with excellent Clásico debuts so far. Vinicius' decision making could be better but he has been a threat down the left all night.
Real Madrid controlled that half pretty well, and if Vinicius' final decision/ball was better they could be ahead by more.

45'   HALF-TIME at the Camp Nou.
45'   Coutinho bundles over Carvajal. His poor night and season continues. 
44'   Dangerous run down the right by Llorente as he closes in on the endline. He lofts a cross to the back post and it bobbles around before being cleared. 
43' Vinicius goes around Semedo and the right-back takes him out of it. Semedo booked for the deed.
42'   Lenglet tries to shepard the ball out over the endline and Vazquez fouls him. The Real Madrid attacker took a little punch in the face for himself too.
41'   Malcom back to Rakitic after the Croatian wins it back off Marcelo. He tries to play it into the middle but that's no use. 
40'   Vinicius skips past Busquets and crosses. Rakitic gets back to clear. 
38'   Busquets whips it out to Malcom and he crosses but Navas saves it. Barcelona really attacking that right-hand side.
37'   Suárez tries to capitalise on a mistake and rounds Ramos but he kicks it to far ahead of him and Navas is off his line to save.
33'   Real Madrid break and Vinicius with a low cross to....nobody. He had a man inside and he missed him completely. Real Madrid win it back and Vinicius with another shot.
32'   Lovely delivery and it's off the crossbar! Barcelona with a glorious chance to level. Rakitic with the header.
31'   Navas punches away and it reaches Malcom eventually out on the right. Vinicius trips him up and another free in a dangerous spot. Malcom will take.
30'   Really, really good chance for Barcelona! Their best so far. Malcom threads one through to Semedo and he tries to cut it back. Real Madrid put it out for a corner. They're under increasing pressure. 
29'   Barcelona have definitely improved but as Semedo wins it back, Rakitic takes over and his clipped pass is too far ahead of Suárez, who doesn't even bother chasing it.
29'   Malcom on the right and he plays to Semedo but it's way off it's intended target. Barcelona win it back and Busquets handles the ball after a fairly heavy challenge on Vinicius. He's lucky he got the ball there. 
29'   Kick on the shins for Arthur as Kroos catches him late. Ref plays advantage. 
28'   Malcom with another cross and Benzema heads away this time. 
27'   Malcom gets up and takes. Good delivery too. Piqué heads just over the bar but it takes a nick off a Real Madrid player. Corner! 
26'   Game has dipped now with Barcelona not really doing much in attack but are really dominating possession now. Malcom fouled by Llorente. 
26'   Arthur with a ball down to Alba and he chases it down having missed it first time. Navas races off his line though and saves. 
24'   Ball out to Carvajal by Navas and that's poor control. Out for a throw. Barcelona really missing Messi so far.
23'   Benzema goes solo down the middle and he gets bundled over by Semedo. Looked a certain free but ref says no. 
22'   Benzema on the ball now in the middle and feeds Vinicius. He cuts back to Kroos but he asks to much of him and his effort is a mile wide.
22'   Semedo turns on the jets down the right and Marcelo throws himself at it with a throw for Barca the result.
21'   Malcom collides with Ramos' back as he tries to go around him. Free for Real Madrid.
20'   Suárez sends Malcom free and Malcom steps back to catch him off. Regardless, Navas makes a really good save one-on-one. Might have been offside anyway but doesn't matter now.
19'   Corner comes in and is cleared as far as Marcos Llorente drives it towards goal. Well wide.
18'   Benzema takes the ball and plays to Vinicius. He tries a weird pass-shot and wins a corner. Wasted chance though. 
16'  Ball back to Ramos and he steps over it to fool Suárez. It rolls back to Navas and he launches up field. Barcelona starting to get to grips with Real Madrid now and have more possession. Nothing doing in attack yet though as Suárez, Malcom and Coutinho barely linked at all yet.
13'   Vinicius through on goal and he has men either side of him. He decides to go alone and curls into the closest defender. Replay suggests Benzema wasn't really an option. Good chance goes a-begging.
12'   He doesn't shot as he was a little too far out. Clips it in instead and Real Madrid counter. 
11'   Malcom hauled down now by Modric after the last free comes to nothing. Chance for a shot this time though. No Messi so Coutinho going to take.
9' The first yellow of the game as Ramos is booked for taking down Semedo. He obstructed the right-back and brings an attack to an end.
9'   Ball into Modric and Lenglet goes through the back of him but he puts his arms out and the ref says to play on. Barcelona attack and the ball is squared before Real Madrid clear.
8'   Real Madrid haven't let Barcelona settle on the ball at all. Malcom pressured and Kroos wins it before the Brazilian fouls him. 
7'   And now Barcelona attack. Coutinho with a strike that is blocked.
6' GOAL! GOAL! GOAL! Lucas Vazquez with the goal. Ball to Benzema way out at the back post. He rounds Lenlget and squares to Vazquez. Poked home by the wide midfielder. Lenlget should have done better.
5'   There's the first proper effort! Kroos takes it from Vinicius and he drives it toward goal. Ter Stegen beats it away with two strong fists and Vazquez can't follow it up.
5'   Semedo tries to break out but gets caught after a fairly brave attempt to beat three players. 
4'   And no Vinicius tries to outside Coutinho by being offside. He's just a yard off though as Piqué steps out.
3'   Now, after a couple of false alarms, Barcelona do get a chance to attack. Alba with a ball in behind for Coutinho but he's at least three foot off side.
3'   Rakitic is picked off on Real Madrid's left and Vinicius takes off. Semedo wraps his foot around the ball and puts it out for a throw.
2'   Modric with another long(ish) ball from the middle and it's straight back to Ter Stegen. Barcelona with their first chance to hold possession. 
1'   Real Madrid holding the ball early on before Marcelo tries a ball into Benzema. Piqué cuts that out but his pass out to Malcom goes out for a throw.
1'   We are underway with Real Madrid playing from right to left. Vinicius gets an early touch and plays it back to Marcelo.
    Real Madrid greet them in the tunnel and there's a few hugs, some fairly serious looking faces too. We are nearly all set!
    Barcelona players make their way down the steps and await the call to go onto the field.
    Keylor gets his start too as Solari sticks with the change of keepers for the Copa. 

    Suárez going through his paces before the game. Lot of pressure on him to be the leader in attack in the absence of Messi. No problem for him, no doubt.

    Vinicius is the youngest player to play in the Clásico for Real Madrid this century and the onyly 18 year old. He is second to Higuaín then Ramos and Varane.
    Dembélé's tonsilitis has opened the door for Malcom and Messi's absence opens the door for Coutinho. Chances are they won't be as potent as they would be with that attacking duo but what a chance for the two Brazilians. 
    What might be worse for Real Madrid is that Messi is on the bench. You're sitting there in fear waiting for him to come on...
    There was a belief that Aleña might be the one to replace Messi but it's Malcom instead. He has struggled since joining Barca but a pretty big stage tonight to show what he has got.
    Valverde said Messi would be a last minute decision yesterday and he has been left out of the team. He trained with the squad in yesterday's late afternoon session but Valverde has opted for precaution. He could still play a role though.
    Vermaelen doesn't make the cut as Valverde leaves him out of the squad. 
    Barcelona XI: Ter Stegen, Semedo, Piqué, Lenglet, Alba, Busquets, Rakitic, Arthur, Malcom, Coutinho, Suárez.
    Reports suggest Messi is on the bench for Barcelona tonight as he's not 100% fit for the game.
    Vinicius starts to it's not a wasted trip for Tite's scout, Sylvinho, who has been sent to Barcelona to watch him.

    Speaking of white strips, Barcelona have rejected Nike's proposal for them to wear a white jersey next year. 

    Isco misses out yet again as he remains in the cold. Bartomeu said he would be willing to chat to Real Madrid over a potential deal. Might be a good chance to have a word with him tonight.

    Real Madrid XI: Keylor Navas; Carvajal, Varane, Ramos, Marcelo; Marcos Llorente, Kroos, Modric; Lucas Vázquez, Benzema, Vinicius.
    Solari could make up to seven changes from the side that beat Alavés and reports suggest he has made a couple of massive decisions already! 

    Welcome to our live online coverage of the Clásico in the Copa del Rey. Kick-off from the Camp Nou comes at 21:00 CET.
Barcelona vs Real Madrid El Clasico live: preview
This could be dubbed the 'mystery Clásico' because there are plenty of unknowns heading into the game. Will Lionel Messi play? He's in the squad but this could be the one deciding factor as to how this game pans out. Will Vinicius, Lucas Vazquez or Gareth Bale play? This could be the making or breaking of Real Madrid and Solari has some further decisions to make too. With congested fixture lists and the Champions League on the horizon along with a Madrid derby for los Blancos, both sides might even take it slightly easier than they usually would in El Clásico. The debate leading up to the tie has been whether Real Madrid have been hard done by with the timing of it and their LaLiga games before and after the games. The claim that the fixture-makers are against them has been debunked but we will have to wait and see if their Sunday night game has averse effects on their pyshical and mental preparedness.
Barcelona are missing Ousmane Dembélé despite his efforts to overcome an illness he picked up recently. The French attacker trained on Tuesday and recovered sufficiently from an ankle injury that has kept him out for the last couple of weeks but he was struck with a bout of tonsilitis and was left off Ernesto Valverde's squad list for the game. Lionel Messi did train after getting a blow to the leg against Valencia that remained sore for a couple of days afterwards and a decision will be made on whether he plays or not just before kick-off. Santiago Solari says "it is better when the best players play" but he secretly might be hoping that the little Argentine genius is not on the field come 21:00.
Regarding whether Vinicius plays or not, Tite has sent someone to watch him as he continues to develop at breakneck speed since being jetissoned into the team by Santiago Solari. Not that this will make any difference to Solari's team selection but given recent performances and his importance on the counter, the Brazilian might just get the nod ahead of Bale on the left. Solari says Bale likes to play on the left but Vinicius is there and Vazquez was rested for the Alavés game meaning he could start on the right as a better defensive wide midfield option. Raphael Varane and Dani Carvajal will return to the back line and Sergio Reguilón could very well usurp Marcelo as the Copa left-back of choice by keeping his place. Toni Kroos, rested against Alavés, will also return and Casemiro should remain in the starting eleven despite some good performances by Marcos Llorente in his stead not long ago. Meanwhile, Isco is in the squad but could still be left off Solari's final list and Brahim, Odriozola and Fede Valverde have all been left out with more names to be included on the culled list before kick-off.