Sergio Ramos' proposed move to China full of pitfalls
The Chinese government has imposed a levy on transfers. Any club who buys a player for more than 5.8 million euros must deposit the same amount in their local federation.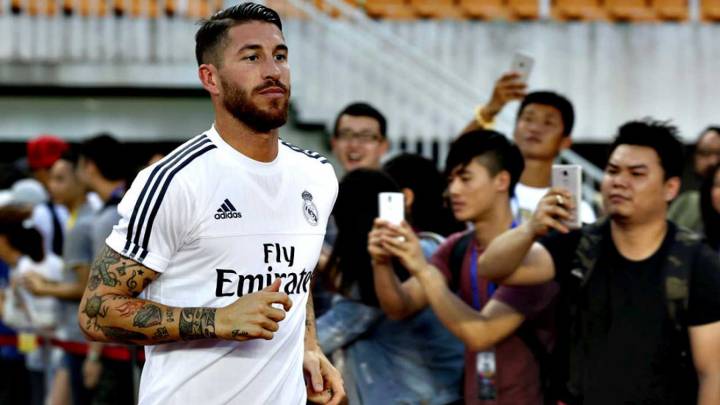 There is a reason why Sergio Ramos wants Real Madrid to let him leave on a free contract so he can move to the Chinese Super League. A couple of years ago, the Chinese government imposed a new levy on big money transfers from Europe in a bid to cool a market which was getting out of hand. A number ofn players made the move from Europe to China at inflated prices - Oscar joined Shanghai SIPG for 60 million euros), Hulk also to Shanghai SIPG for 55.8 million, Alex Teixeira joined Jiangsu Suning for 50 million, Paulinho moved to Evergrande for 42 million and Jackson Martínez joined him for 42 million.
Those days are over - any club who wants to spend 45 millones yuen (5.8 millones de euros) on a player must deposit the same amount in the Chinese Football Association -those funds would then go directly to the corresponding member associations who in turn, use the money to finance their own youth development programmes to promote home-grown talent.
Since restrictions were imposed, club expenditure has more than halved - dropping from 500 million euros spent on transfer in 2016 and 2017 to just over 211 million this season. Almost all of the transfers on foreign players during the past year have not surpassed the 5.8 million euros limit. There was only one transfer which bucked the trend - Marek Hamsiks move from Napoli to Dalian Yifang for 20 million.
Another obstacle facing players who fancy furthering their careers in the CSL is the limit on the number of foreign players every club is allowed. Every club is allowed a maximum of four foreign players, and can only field three foreign players during a game. Clubs also must have at least one national Under-23 player on the field in every match - however, many coaches have got around that by including an U23 player in the line-up then substituting them in the early stages of the match.
Those are the kinds of hurdles which Sergio Ramos will face if he ends up moving to China on a free.