REAL MADRID
365 days since Zidane sparked chaos at Real Madrid
It was a year of chaos at Real Madrid after Zinedine Zidane announced a press conference and shocked the world with his decision to leave the club.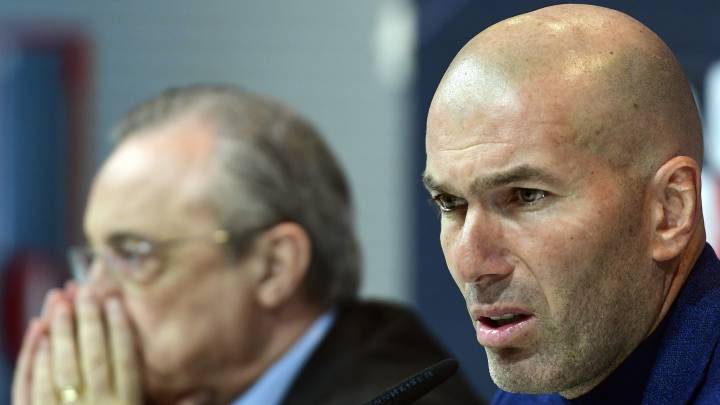 It's been a full year since Zinedine Zidane shocked the sporting world and announced his departure from Real Madrid alongside Florentino Pérez in a hastily-announced press conference after they had won the Champions League. That announcement came after two and a half glorious years that saw Real Madrid win three Champions League titles and nine of the possible 13 available to them. It was a departure that broke Real Madrid. The most recent saga was that of Sergio Ramos, who considered leaving the club due to his estrangement from the president and a succulent offer from China, but thought again and announced his plans to remain and possibly retire at the Santiago Bernabéu. The latest earthquake comes at the end of a tumultuous year filled with drama...
Zidane's departure and Lopetegui's signing
Zidane left and he took the club's stability with him. The first sign of that was the signing of Julen Lopetegui. Pérez, in a hurry to appoint a manager, didn't seem to mind that it was just three days before the start of the World Cup with Lopetegui as the manage of Spain. He signed the basque coach as his fifth option after Pochettino, Allegri, Klopp and Conte. It ended with Lopetegui being sacked in a sensational turn of events before the country's first game against Portugal. This was the harbinger of things to come.
The sale of Cristiano Ronaldo
Florentino Pérez, who was thinking about saving money in an effort to achieve his wish of renovating the Santiago Bernabéu (putting the club in €575 million worth of debt too) sold Cristiano Ronaldo to Juventus for €100 million. Ronaldo brought his goals with him to Turin along with his desire to win and his relentless pursuit to make himself and everyone else around him better. Mariano replaced him to keep Lopetegui content and to ensure he had a number '9' but it was never going to be enough. "They stole 50 goals from my son," Lopetegui's father told El Mundo after the 5-1 defeat by Barcelona at the Camp Nou.
"I am not a Casemiro"
Toni Kroos gave an interview on 12 October before the sacking of Lopetegui. "I am not a Casemiro," he said after he had been tried there on occasion under the manager. Against Athletic Bilbao, he started in Casemiro's position as the deepest midfielder and the experiment failed. He was put there to give the team balanace and to be an outlet from the back but it was a problem. "I don't know if you misunderstood me or if you wanted to misunderstand me but I just said that our characteristics are different," he said under Solari but Kroos struggled for the rest of the year and Casemiro wasn't at his best either as Real Madrid went through transition.
Sacking of Lopetegui
Lopetegui was sacked after a painful defeat to Barcelona. It ended 5-1 at Camp Nou and that was the final straw. The lack of goals, the poor performances of some of his key players and his unwillingness to risk Vinicius didn't help with the task at hand. After 137 days in charge, Real Madrid announced that "the board considers there to be a large disparity between the quality within the Real Madrid squad, which boasts eight nominees for the next Ballon d'Or award - an unprecedented number in the club's history - and the team's results to date."
Conte, Ramos and in the end... Solari
The signing of Antonio Conte was at an advanced stage but everything broke down. Captain, Sergio Ramos, was asked about the signing of the Italian, a manager known for his hard hand and he responded that "you win respect, you don't impose it." He also said that the dressing room was very important and could make or break a manager at what looked like a message to the club's heirarchy. The deal broke down due to financial negotiations and Conte was named as Inter Milan's manager at the end of the season with Santiago Solari, Real Madrid Castilla's manager named in Lopetegui's stead.
Solari and his decisions... and eventual sacking
Solari was named as the manager on a provisional basis at first. He was then given the role full time after four wins in his first four games along with a contract until 2021. The Argentine seemed to normalise the situation with a win at the Club World Cup. He played Vinicius, replaced Marcelo with Reguilón and sent Isco into exile because of his attitude. He also gave chances to played from Castilla including Javi Sánchez, Cristo, Fidalgo and Fran Gracía. But in the key months of February and March, the wheels came off. They were knocked out of the Champions League, Copa del Rey and lost serious ground in LaLiga in one week, which essentially ended their season. Solari's time was not long on the bench either.
Collapse against Ajax and row between Ramos and Florentino
On 5 March, Real Madrid suffered an embarrassing defeat to Ajax in the Champions League at the Santiago Bernabéu. After taking a 1-2 lead home from Amsterdam, they collapsed and lost 1-4. Ramos, who missed the second leg after forcing a yellow in the game late on the week before, had one of his most embarrassing nights documented as part of an upcoming documentary about his life. After the game, Florentino reprimanded the players and Ramos replied. "The squad planning was embarrassing," he said and the president said he would send him packing. Ramos said that was fine provided he was paid up, he would leave with no problems. That row was the catalyst for the meeting between the pair recently, which ended with Ramos' rather performative press conference on Thursday clarifying his future.
The return of Zidane
284 days after he announced his decision to leave in that press conference, Zidane decided to return to Madrid. Pérez sought help from the Frenchman just like he did after Benitez was sacked. "Changes will be made," he said when he was announced. The objective was to rise spirits in the dressing room and finish second but they finished 19 points behind Barcelona after what was a very poor end to their season.