Arsenal: Emery revolution leaves Özil watching from sidelines
Mesut Özil has played just 142 minutes for Arsenal this season, with the Gunners' head coach, Unai Emery, declaring: "Others deserve it more".
Something's changing at Arsenal.
Suddenly, there's a group of youngsters who, rather than fearing or being in awe of the status quo, are pulling on the red and white shirt with a determination to make it their own, to leave other more established names trailing in their wake. It's happening both in training and out on the pitch. Chiefly in the Europa League, but in the Premier League, too - just look at Bukayo Saka and Joe Willock.
This is what head coach Unai Emery is seeking to do at the Emirates: to end a culture within the club that did not encourage its players to compete with each other or show a bit of chutzpah. It is what has led Mesut Özil to play just 142 minutes this season and fail to even make the squad for four of the team's games. "Others deserve it more," Emery has said when asked about the German's absence.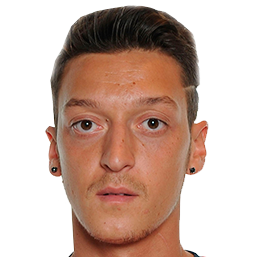 Failure to turn things around in 2018/19 marked beginning of end
For Özil, who under Arsène Wenger had netted a bumper new contract, the beginning of the end had clearly arrived when he so comprehensively failed to turn things around last term. First to report back for pre-season, the 30-year-old had spoken privately about wanting to be a leader, work harder and contribute more, and before the campaign got underway was named as one of the club's captains.
However, Özil's good intentions melted away bit by bit and, in the Europa League final, with Arsenal by now 4-1 down to Chelsea, he was hauled off to make way for Willock, who had previously played just 64 minutes of Premier League football. Over the summer, Özil was told he should find a new club. If he is to get his career back on track, he would be advised to do just that - as quickly as possible.