Dani Alves: "I told Neymar he needs to show the world the player he is"
The Brazilian said he has always spoke his mind to his compatriot. "He has to stand up and be counted because he has a great responsibility to a lot of people".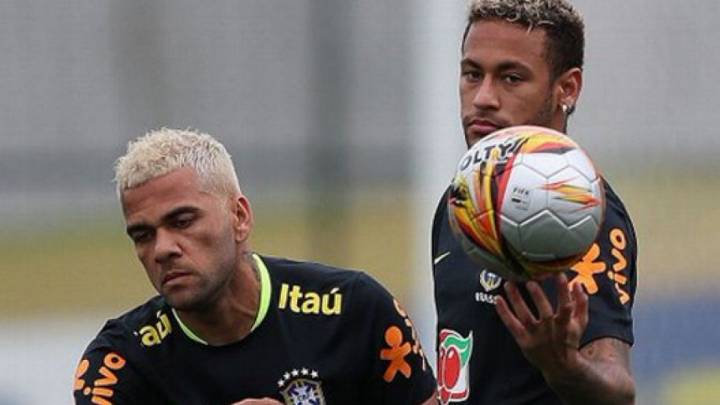 Dani Alves was one of the guests on Brazilian television show Grande Círculo at the weekend to chat about some of the hot topics in football. One of the issues the defender spoke about was Neymar. Alves declared that it's time his compatriot "stand up and be counted" seeing as he has a great responsibility towards a lot of people. He also revealed a heated conversation he had with the PSG star at the 2018 World Cup in Russia...
Neymar can't let people down - Alves

"I always give Ney advice. I think, and I've told him this, that he has a lot of responsibility to many people and I think he needs to take a stance. He knows what I think. I can speak openly about it because he knows my point of view - we've spoken about it many times. Ney has had that responsibility from the moment he became somebody who children look up to, and as a reference for other people in sport. As soon as you have that responsibility, you can't let people down. So he needs to stand up and show the world the player he is", Alvesexplained.
The former Sevilla and Barcelona full-back, now back home with São Paulo, also discussed the heated conversation he had with Neymar at the 2018 World Cup Russia: "I don't even give my own kids a talking-to but I think one of the things I said to him is that he needed to take a stances after the World Cup. I said that because Ney is and was the standard-bearer for the Brazil national team. And he's still our standard-bearer today. Today, the most important player in Brazil, and one of the most important players in the world, is Neymar. He has to show his worth because he is in a position where he needs to make a stand and make people understand who Ney is, how he thinks and they need to start learning how to respect Neymar," Alves continued.
Neymar is misunderstood - Dani Alves
"Sometimes, when he is trying not to offend, he will back off. Despite what many people think of him, Ney is just like a child. He's a very sensitive person. Ney gets really affected by things, and a lot of the things that have been done and said about him have been very unfair. It's for all of those reasons that I really think he has to stand up for himself because when people say things that aren't right, you have to respond. People need to learn to have more respect for Neymar", Alves concluded.