Valverde: "It was a difficult day, the pitch was terrible"
The Barcelona coach spoke after watching his team come from behind to beat Leganés: "We knew we might have to rely on a set-piece because the pitch was so bad".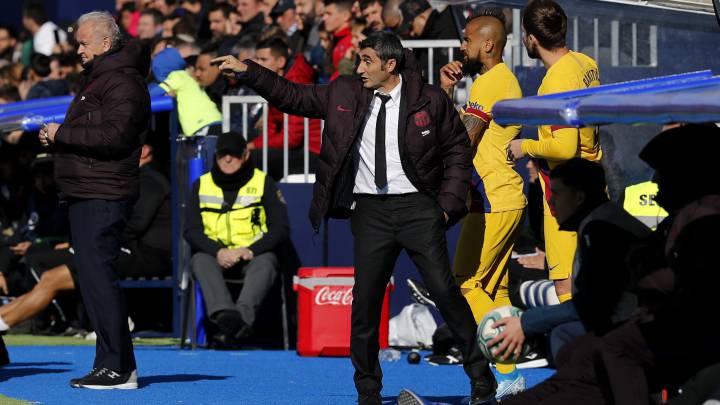 Ernesto Valverde spoke to Barça TV and Movistar Liga after watching his team come from behind to beat Leganés his afternoon and complained that the Butarque pitch left a lot to be desired...
What does this victory mean for Barcelona?
It's extremely important because we found ourselves behind and the game was going away from us. The pitch was terrible, it was very windy and they sat deep to defend. I don't want that to sound like an excuse because we struggled. By pushing hard and going in search of openings through set-pieces we were able to win. But it was very tough. I know our game wasn't brillant but we are happy with the result.
Barcelona's uninspiring performances
On a mental level, winning these kinds of games is hugely important?
I know that we have been getting a lot of criticism this season but we have had to come from behind in a lot of games. The team pushed and worked knowing that it was a difficult game - on one of those days. There are areas in which we need to improve and turn the situation around - there's no doubt about that. But the team knew how to press forward when things weren't going their way. That's what I was pleased about. In the end, we managed to come away with a result.
You have been relying on set-pieces to salvage games in recent outings... We needed to be careful today because they are good in the air. In the end we were able to turn it around. I would have liked us to have to have scored two right into the top corner, but they all count.
Suárez and Umtiti seemed to have picked up injuries?
Generally speaking, they're both fine without any major problems.
Why did you bring Busquets off before the hour mark?
Mainly because of the booking. We needed to take up a more strategic position on the pitch.