Capello on coronavirus crisis, Cristiano, Messi, Real Madrid...
A legend of the game, Fabio Capello won two LaLiga titles as manager of Los Blancos in 1996-97 and 2006-07. He spoke to AS from his home in Lugano.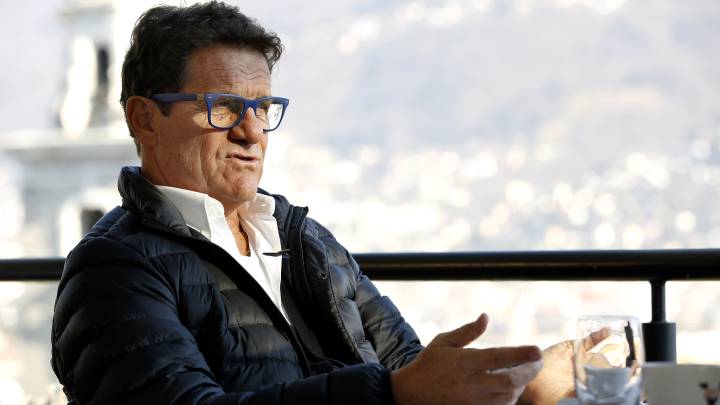 "I have never experienced anything like it in my entire life," says legendary Italian manager Fabio Capello regarding the current lockdown due to coronavirus. "The days without football are becoming very, VERY long."
Capello missing Covid-19 cancelled football
The 73-year old is fondly remembered in Madrid, having led Los Blancos to two domestic titles during his tenure there. And so, from his residence in his homeland he gave his thoughts on, among other things, how the current team under Zinedine Zidane is getting on.
"I live in Lugano," he confirmed before adding that people, although not confined there, were being very respectful of the advice not to leave home.
"I am well, relaxed, with my wife... but unable to watch any football," a clear reminder of what his whole life has been about but now, suddenly, an element that has disappeared like never before.

"We are not used to this," he laughs, "the day is long, VERY long. But I have to be thankful because nobody has fallen ill in my family. This is going to get very difficult globally. In Lombardy, in Bergamo and Brescia, they were hit very hard."
Postponing Euro 2020 and domestic leagues
On the desired topic of choice, football, Capello believed that the decision to move Euro 2020 to next year was right.
"It's a very good idea. We don't know when all this will end, so we have to put everything to next year, everything, everything."
But with that emphasis, did he also mean cancelling the domestic leagues too?
"It is not possible to say if they will be played, we will see. What you cannot do is play football when squads are being hit. Look at Valencia, Espanyol, Alavés... It will not be easy. I started playing in the late 50s, already after the War, and I have not experienced anything like this."
So how can current managers deal with a break in the season like this?
"If they continue eating like they do when they are training, you can kiss them goodbye"
"It's impossible. You can only hope that your players are professional, and that they take care of themselves, that they don't put on any weight. If they continue eating like they do when they are training, you can kiss them goodbye.
"These days, however, there is not a star that doesn't have his own personal trainer."
LaLiga and Champions League
Whether or not the former Madrid boss kept an eye on Spanish football was never in doubt, and that included in their European adventures.
"I always follow Spanish teams. It was a surprise to see Atlético beat Liverpool. Simeone raised them up for a great match. Nothing can be blamed on him. I really liked what they did. They can only do what they can do. And he does have the best goalkeeper in Oblak."

And what were his thoughts on his former club on the other side of Madrid?
"Well, I can't really say. At times they have problems, at other times they play very well.
"You need leaders in the pitch. The team must have a reference point, someone to follow who transmits the desire to win. I had Raúl, Hierro, Redondo... They always had the right desire."
The value of Cristiano and Messi
One leader who left Madrid for an Italian challenge, Cristiano Ronaldo, is clearly a big loss agrees Capello, although a complete overhaul of the team he left behind is not necessarily the right approach.
"As a television commentator I would always say that if you want to beat Madrid, you have to score at least two goals, because you knew that Cristiano would be sure to get one. The same applies to Barça with Messi.
"It is necessary to make changes, but with care. You have to sign players who make a difference, because when you wear the Madrid or Barça shirt it can weigh heavily on your shoulders. If you don't have lots of quality, you can't do it, you get lost.

"The same thing happened during my time at Milan, when it was time to play at the San Siro. There were players who thought they were good and... they found themselves lost."
Real Madrid's young stars
Los Blancos' more recent policy of signing young stars of the future, like Rodrygo, Brahim, Vinicius and Odegaard is another area that Capello feels needs to be managed well.
"You have to wait a while. They are the future, they can make history later"
"We're waiting for them to explode. In my second spell at Madrid we signed Marcelo, Gago and Higuaín. In December the president came to me and said: 'Why don't you put them on, Fabio!'
"'Because they are kids,' I told him, 'and you have to wait a while. They are the future, they can make history later.' And the only one of them who did little was Gago, while the other two did their part. They needed experience and character.
"You have to sign young people and then use them little by little, taking care of them. You cannot give them the responsibility now."
"With this break there is now no favourite between Manchester City and Real Madrid"
And on who is most likely to progress between Man City and Real Madrid if the Champions League second leg is ever resumed?
"For me it changes everything. With this break there is no favourite. We do not know, if it is played, how the teams will be at that point. There are no favourites, no one knows...
You can follow all the latest news related to the coronavirus crisis with AS English.