Coronavirus: Sweden's death rate shows danger of 'herd immunity'
While other nations have imposed lockdown restrictions to help prevent the spread of coronavirus, Sweden's shops, bars and schools remain open. But what effect has this had?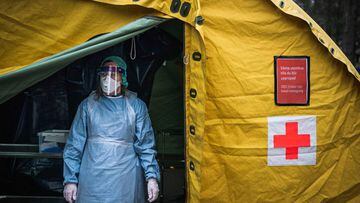 Only a month has passed since the idea of "herd immunity" first entered the discussion around the UK's coronavirus response. On 11 March, the term was reportedly used by Dominic Cummings, chief advisor to Boris Johnson, in a meeting with industry leaders and then repeated by Sir Patrick Vallance, the government's chief scientific advisor, two days later.
Sir Patrick spoke to BBC Radio 4 about the need to "build up some kind of herd immunity so more people are immune to this disease and we reduce the transmission".
A lot has changed since then. The UK government has denied that herd immunity was ever part of their official strategy and the country has now been in lockdown for over two weeks to help prevent the spread of infection. Greece is a country that showed another way of managing the crisis.
Sweden opts for guidelines over restrictions amid Covid-19 pandemic
But while the UK's policy is now firmly in line with that of the vast majority of the world, Sweden remain an outlier. The Scandinavian country says it is relying on citizens to take responsibility and has given guidelines rather than any strict restrictions. Schools, shops and bars remain open with gatherings of up to 50 people still permitted.
Much of their response is based on advice from Anders Tegnell, Sweden's chief epidemiologist, who has advocated the policy. He has previously told Swedish TV that coronavirus could be stopped by "herd immunity, or a combination of immunity and vaccination".
However, while the Swedish government continue to back Tegnell and pursue their more laissez-faire approach, recent figures suggest a worrying rise in fatalities in the country.
As of Thursday, the nation-wide total death count was 782, with the underlying statistics showing that Sweden has become more susceptible to the virus than neighbouring countries. The death rate of coronavirus-infected patients in Norway is less than 2%, with the figure in Denmark around 4%. In Sweden, nearly 8% of people to have contracted coronavirus have died.
Concerns are also growing about the spread of the virus in nursing homes, with one third of Stockholm's nursing homes reporting cases.
Academics call on Swedish government to bring in tougher measures
At the end of March, 2,300 Swedish academics signed an open letter urging the government to introduce tougher measures to help combat the virus' spread. Denmark, who began enforcing restrictions even before they had suffered their first death, have begun tentatively lifting restrictions after seeing no mass outbreak.
Denmark's pre-emptive decision appears to have put them ahead of the curve in the fight against coronavirus, with the UK still some way off a lifting of the lockdown restrictions.
One of the government's senior pandemic advisors, Professor Neil Ferguson, revealed on BBC Radio 4's Today programme that it was still too soon to consider removing any of the measures currently in place.
"Only when we can see the case numbers come down and how quickly transmissions are being reduced can we really conclude anything about what happens next and when these measures can be relaxed."