Experts recommend ignoring Trump's suggestion to drink disinfectant products
Lysol and Dettol manufacturers are urging customers not to consume its cleaning products after President Trump suggested during a daily briefing.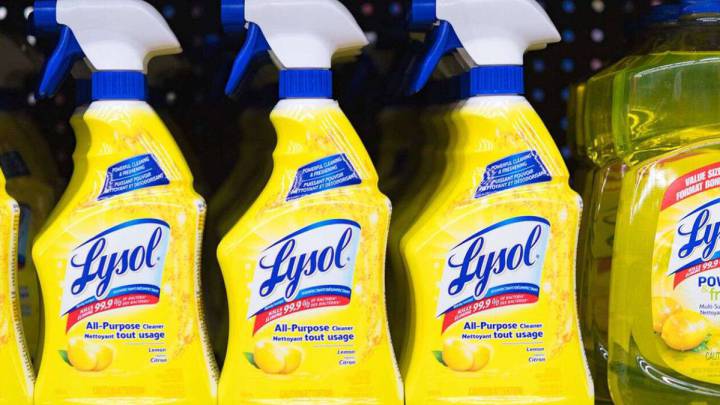 On Thursday's daily briefing President Donald Trump suggested people could possibly protect themselves from the novel coronavirus by injecting disinfectant, "I see the disinfectant that knocks it out in a minute, one minute, and is there a way we can do something like that by injection inside, or almost a cleaning? Because you see it gets inside the lungs and it does a tremendous number on the lungs, so it would be interesting to check that."
The question, which Trump offered unprompted, immediately spurred doctors, lawmakers and the makers of Lysol to respond with incredulity and warnings against injecting or otherwise ingesting disinfectants, which are highly toxic.
When asked Friday during a bill signing in the Oval Office to expand upon this, Trump said it wasn't intended as a serious suggestion. "I was asking a question sarcastically to reporters like you just to see what would happen," Trump said.
"My concern is that people will die. People will think this is a good idea," Craig Spencer, director of global health in emergency medicine at New York-Presbyterian/Columbia University Medical Center, told The Washington Post. "This is not willy-nilly, off-the-cuff, maybe-this-will-work advice. This is dangerous."
On the other hand, the manufacturer behind disinfectants Lysol and Dettol has pleaded with the public to ignore the president of the United States and refrain from drinking their toxic heavy-duty cleaning products.
On Friday, the maker of Lysol said that due to "recent speculation," it wanted to urge people not to ingest their disinfectants. "We must be clear that under no circumstance should our disinfectant products be administered into the human body (through injection, ingestion or any other route)," said the Reckitt Benckiser Group in a statement early Friday, adding: "please read the label and safety information."
Live coverage of the coronavirus pandemic
You can follow the latest developments in the Covid-19 crisis with our daily live blog.