Real Madrid: James: "I'd like to know why I'm not playing too..."
The Colombian told Gol Caracol: "A lot of things are said about me - most of it are lies. What really annoys me is when people doubt my professionalism".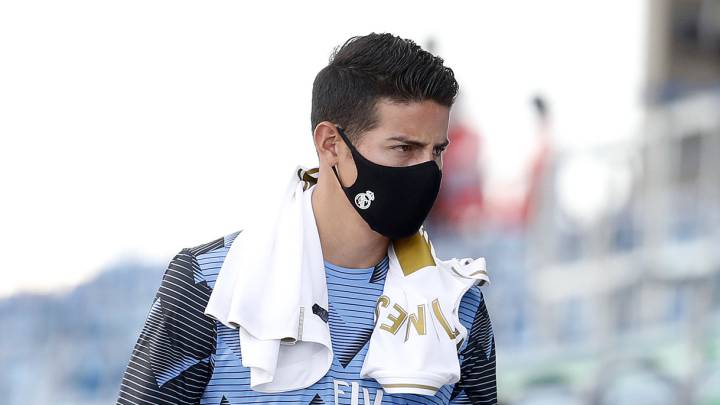 James Rodríguez returned to Real Madrid last summer after spending two seasons on loan at Bayern Munich. He was transfer-listed by Zidane and came close to joining Atlético but that operation was brought to a half after the 3-7 thrashing to Atleti during the pre-season. The start of the season looked promising for the Colombian but a series of injuries and poor performances . He returned to the team against Real Sociedad on Sunday - his first league game since the meeting with Mallorca on 19 October... James spoke about his lack of playing time in an interview with Gol Caracol.
Zidane was allegedly unhappy that you flew out to Medellín for the irth of your son... "Not at all, how can someone by unhappy at the birth of a child?"
A lot of lies have been said about me - James
Out of everything that's been said about you, what's hurt the most? "Many things have been said about me and the majority of it are lies. One of the things that does annoy me is when my professionalism has been put in doubt, that is something which I won't accept. I am very professional, that is why I have reached this far in the game. I am comforted that the people who are close to me and who work with me know what I am taking about. I really look after myself. I train very hard. I am always looking to improve".
Problems with Zidane: "I've never had any problems with him. Every coach has his preferences. We have a normal, working relationship".
Would you like to stay at Real Madrid? "No one knows what will happen in the future but if I could choose, I'd like to be at a club where I can show my qualities".
What is your role at Real Madrid at the moment? "Right now I am not one of the high profile players. I'm training and working so that I will be ready when I am picked to play. I'm also thinking about the future, where I am I have to be at my best level. I'm working hard to keep myself in shape and that, along with my talent won't stop me from dreaming".
Insults aimed at Zidane in Colombia for not playing you: "I don't think it's fair that other people show a lack of respect for someone for not playing a player. I don't agree with the insults. I ask for more respect!".
James: "I could bring something extra to Real Madrid"
Why do you think you aren't playing? "That's a good question, I'd like to know myself (laughs). As I said before, when you have won major trophies with players who you trust, and you have the core of a successful team, it's very difficult to make changes. It's also complicated when the coach isn't playing you all of the time, you can't really show what you can do when you only play for a small amount of time. Those involved in football know what I mean".
How do you feel when you aren't playing? "I always want to play, I'm a competitive person. At Real Madrid, there are players who have a lot of quality but I know that with my talent, and with a little more regular playing time, I could help the team in various areas. But I understand that Zidane has the backbone of his team as he wants, he's won a lot with players who he has faith in".