Transfer market rules under the spotlight: loans, Brahim, Arsenal
FIFA's James Kitching and sports lawyer Enric Ripoll, at a World Football Summit workshop, analysed a number of new rules and interpretations affecting clubs and players.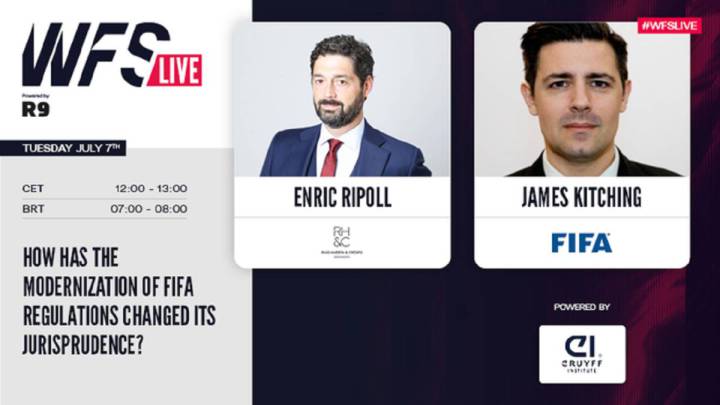 The World Football Summit, running all this week in an online version due to the coronavirus pandemic, held a workshop to explain some of the new rules FIFA have brought in and how these affect both players and clubs.
Entitled 'How Has The Modernization Of FIFA Regulations Changed Its Jurisprudence?', the workshop was hosted by James Kitching, Director of Football Regulatory at FIFA, who is responsible for the drafting of the regulations and how they are implemented, along with Enric Ripoll, a senior lawyer at sports law firm Ruiz-Huerta & Crespo.
FIFA updating regulations
Kitching explained that FIFA is currently involved in an ongoing process to update and to bring the transfer system for players into the 21st century, saying that the governing body had been discussing making changes for some 20 years, but was now engaged in bringing in these rules to make the system fairer and more transparent.
An example is the concept of 'Bridge Transfers' where a player is sold by Club A to Club B, and then in a very quick timeframe sold again to Club C. FIFA regulations had previously considered these to be not allowed, however there was no specific regulation governing them, meaning that the Court of Arbitration for Sport (CAS) was unlikely to rule against them, unless they were clearly flagrantly abusive.
FIFA has now brought in a new rule, (Article 5 Bis) which specifically prohibits them, and mean that any sell-on of a player within 16 weeks of the initial transfer will in principle be considered a bridge transfer, with an investigation being opened and it being up to the club to prove there were good reasons for the second transfer taking place.
All the clubs involved in a bridge transfer will be subject to sanctions.
Third-party influence on clubs
Of particular interest at the moment is the rule on 'Third-part influence on clubs' which has been invoked in two high profile cases recently.
These cases involve the situation where a club enters into a contract which enable the other club they are contracting with, or vice versa, to have the ability to influence in employment or transfer matters that other club's independence, its politics or its sporting performance (including team selection for example).
Arsenal case
The examples given included Arsenal, which has been fined 40,000 CHF and given a warning because of a contract affecting sell-on fees for players.
Arsenal sold Chuba Akpom to PAOK Thessaloniki and Joel Campbell to Frosinone Calcio. In both cases Arsenal would receive a higher % sell-on fee if the player was sold-on to a British club rather than a club from anywhere else in the world (40 to 30% in the case of Akpom and 30 to 25% in the case of Campbell).
FIFA's disciplinary committee held that these clauses had the ability to unduly influence the buying clubs in the future because they would be less likely to sell to British clubs. Arsenal can still appeal the decision.
Real Madrid's Brahim clause
FIFA reached a similar conclusion in the case of Real Madrid's acquisition of Brahim from Manchester City. Here the sell-on fee was set at 15%, but would be 40% if it were to another club in Manchester (clearly aimed at Manchester United).
This would clearly influence Real Madrid's decision in the future as to where the player would be transferred.
FIFA initially hit Real Madrid with a 20,000 CHF fine, which was reduced to 10,000 CHF on appeal, with a warning. Real Madrid can still appeal. Manchester City were also fined 30,000 CHF.

Undue influence on loan deals
Ripoll admitted he was nervous about the way the rules would affect loan deals, where a young player is loaned out, with a clause stipulating the player needs to play a certain amount of games or, say, a fee will be incurred. In his opinion, this could see clubs deciding to play that player even where it was not the best sporting decision, in order to reduce the amount they might have to pay, which could be considered undue influence and expose the clubs to penalties. That in turn could lead to players being unable to go out on loan.
Kitching agreed it was a difficult question, but noted the importance for FIFA of clubs not being influenced by anything other than sporting criteria when picking teams.
They noted the case of Courtois on loan at Atlético Madrid from Chelsea who was unable to play against his parent club in the Champions League due to the 'fear clause'. FIFA want to get rid of these types of situation.
Kitching noted that while the rule has been on the books for some 10 years, FIFA has only recently started properly enforcing it, leading to some clubs falling foul of the rules. He explained that in September FIFA will be publishing an analysis of all the recent cases to help clubs understand the situation.
Protection for players
The workshop also covered the new rules which in the main seek to protect players, in two specific circumstances.
Firstly, allowing a player to terminate a contract 'with just cause' where the club has engaged in abusive conduct. According to Ripoll the most common types of abusive conduct include demoting the player to the second team, or forcing them to train alone, and may also include such things as taking away their club car.
Players will also be allowed to terminate contracts for outstanding salaries with the ability to claim those salaries. While the rule existed previously, there was confusion over the length of time the player had to have been waiting for their money. The new regulations make it clear that if a club fails to pay two monthly salaries on their due dates the player will have just cause to terminate their contract, provided they write to the club and give it 15 days to pay up.
The new rules also provide for clear compensation where one party has terminated the contract for just cause.
Effect of Covid-19
The impact of the coronavirus pandemic has seen "swathes of players" taking pay cuts across football as clubs struggle to adapt to the lack of income. This in turn has led to a number of cases of disputes between clubs and players.
Kitching said there were now enough cases that on 20 July, FIFA's District Resolution Chamber will be holding a meeting to look exclusively at cases brought about by the Covid-19 crisis, with 20 cases already line up to be heard.