Among Us: how to get Glitch pet for free
Pets are an excellent way to personalise your characters in Among Us. For the first time ever, players can get a pet for free from a Twitch promotion.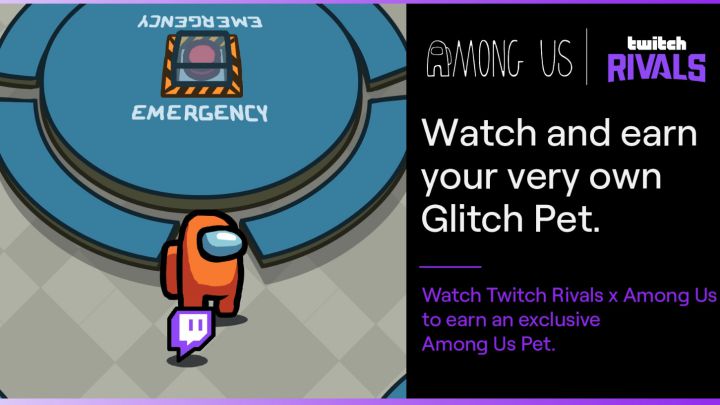 Among Us picked up the accolade of best multiplayer game of the year at The Game Awards 2020 on Thursda, where the developers Innersloth also took the opportunity to announce a tantalising new map which may be available early next year.
Though most of the characters in Among Us look the same with the exception of the different colors, players also have the opportunity to customize their spacemen with hats, skins, masks, and even pets. Players on all platforms usually need to pay for pets, smaller characters that will follow the player character around the map during a match.
Until 18 December, players on any platform have the chance to unlock a new free pet, the Twitch Glitch pet. This little Twitch logo icon will follow you around as you complete tasks or sabotage the map and kill other players. When a player dies, the pet remains where the body was found for the duration of the game, mourning their friend. To claim theirs, players need to perform a few steps outside of Among Us, including watching some Twitch Rivals streams. Once the promotion is over, players won't be able to access this pet later.
https://youtu.be/NSJ4cESNQfE
what does every crewmate need?

YOUR very own Glitch Pet!

watch and claim yours with Twitch Drops during @AmongUsGame x Twitch Rivals shows, starting today Dec 4 through Dec 18

here's how to get the Pet 👇👇👇 pic.twitter.com/WrBuRyN0Cj

— Twitch Rivals (@TwitchRivals) December 4, 2020
How to use Among Us to unlock Twitch Glitch pet
First, you'll need to connect your Twitch account to Among Us, by opening the game and selecting Settings.
Once you've selected Settings, you should then click Data and then the Twitch Glitch icon, which is found next to the Manage Data Collection and Privacy Policy buttons in the bottom right of the screen.
After clicking on the Twitch Glitch icon, you will then be redirected to its website where you will be asked to log in.
Once logged in just click Authorise to receive Among Us Drops.
Once you've followed these steps and the 30-minutes is complete, the Twitch Glitch pet will automatically unlock. You will can claim your reward in either the Chat panel or in your Drops Inventory.
And one other thing, to link your Among Us to Twitch you'll need to update to the latest version of the game.
The offer began on 4 December and expires on 18 December, so what are you waiting for? Claim your free Twitch Glitch pet in Among Us now!