Marcos Llorente: "I'm really happy that I came to Atlético and I don't regret anything"
The Spain international sat down with AS to discuss his move from Real Madrid, that game at Anfield and his European Championship ambitions.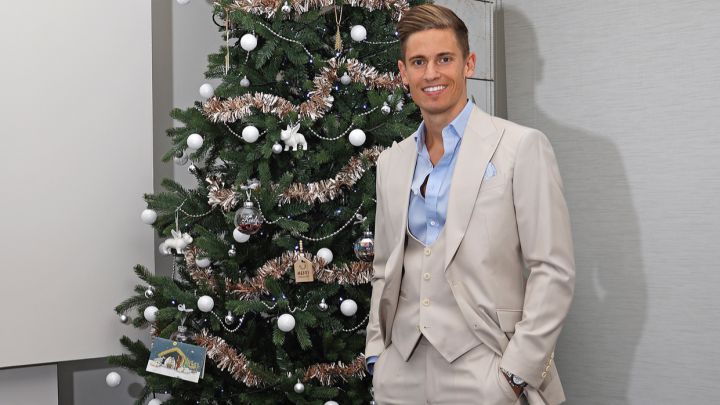 Marcos Llorente is the most recent player to cross the great capital city divide from Real Madrid to Atlético, continuing a family tradition that also saw his father Paco Llorente do the same thing albeit in the opposite direction. A scion of football royalty, Llorente's great uncle is Real Madrid legend Paco Gento and his grandfather Ramón Grosso represented Los Blancos for 12 seasons. All played for Spain, with Llorente following suit in November when he made his debut for Luis Enrique's side against the Netherlands after a stellar 2020 capped by his famous performance against Liverpool at Anfield in the Champions League.
The Atlético Madrid player sat down to chat to AS and discussed his move from Real Madrid, Atlético's tag as favourites for this season's Liga title and his evolution under Diego Simeone.
People have Atlético down as favourites for LaLiga this season.
I don't know of any side that has won the league in December. The season is long, there are a lot of games remaining and there are a lot of teams at the top of the table as well as us. When you take your foot off you drop down and when you keep it on you move up. Anything can happen and we don't think any further than the next game. It's something that works well for us and although there's a long way to go of course we're going to fight for the title.
The million-euro question: is this Atlético's year in the Champions League?
It could be, but it's not something we think about. It's a very difficult competition because there are so many great teams and great players. We qualified from the group stage and we'll compete until the end as we do every year. If the title comes it will be a huge objective achieved but there's a long way to go, it's very difficult to do and we'll take it game by game.
Was 2020 Marcos Llorente's year?
I'd say so, totally. It's been the best year for me as a footballer, not just because of Anfield, which was the most special night of my career, but for the consistency after that game. After the lockdown I played an important part, we qualified for the Champions League and we weren't in the top four before the shutdown. And it's been the same at the start of this season, I'm doing my bit for the team and playing well so I'd say it has been my year.
Was the Anfield game the beginning of a new chapter in your career?

Definitely, I'll never forget that game and it will stay with me forever. But it wasn't just the Anfield game, I think this year I've made huge strides in the way I play. Now I'm helping the team more and I've achieved the consistency I was looking for.
How has your game changed?
This year I've been playing in positions I never imagined I would. I've played as a striker and as a winger, behind the forwards and as a midfielder. That means I've got many more options to give the coach to help the team and what's important to me. I've played in a lot of different positions but I've also progressed as a player, I'm adding attacking elements to my game that I never knew I had and I'm very happy to be able to help the team in various positions.
What are the differences between Real Madrid and Atlético?
Well, one plays in white and the other in red and white… they are both huge clubs who are fighting for the same titles every year. I was at Real Madrid and now I'm at Atlético with different teammates, a different manager, at a different club. One has nothing to do with the other. What I can say now is that I'm really happy at Atlético, we're a very united family with a very tight squad and we show that on the pitch, the technical staff, the players, the people at the club, physios, kit people, the photographers… everybody gets along well with each other and that makes for a positive atmosphere every day. I'm really happy that I came to Atlético and I don't regret anything.
You're following in the footsteps of your dad, who played for Atlético and Madrid, and he and your grandfather played for Spain… that doesn't happen very often.
Yeah, I always say that it's a privilege to belong to this family in which there have been so many athletes playing at the top level because it's shown me the right path to follow as they have all been where I am now. When I talk to them, I make sure I listen to their advice. They are an example and having a family like mine helps to make sure nothing goes to your head and you keep your feet on the ground. I'm very grateful for that.
You made your debut for Spain this year
For me playing for your country is the pinnacle for any player, very few people have the opportunity and to have done so is to achieve a huge objective. I still have a lot more and I hope to tick them off in 2021.
There are a new generation of Spain players coming through that are a cause for optimism.
There are some great young players who are doing well at their clubs and that the most important thing as it opens the door to the national team. They are pushing hard and it's great that we have them and because they're still young they have a lot of room for improvement and that's great news for Spain.
Is one of your next objectives to be at the European Championship?
Absolutely. But at the end of the day what you do at your club is what's important. That's what allowed me to make my debut for Spain and that's what will take a player to the Euros. There's still a long time before the tournament. You have to keep playing well and maintain your level and when the time comes you'll see if you've made the squad or not, but the important thing is how you play for your club.
Football lost Diego Maradona this year…
We all know what Maradona meant for football. It was a tough blow for everyone who loves the sport. But it wasn't just Maradona, it's everybody we have lost this year. I'd like to take this opportunity to send my support to all the families who have suffered during this period, let's hope it passes soon and we can get back to normal.