Why did Brady & Gronkowski go to Tampa Bay Buccaneers?
The former New England Patriots teammates made history on Sunday after defeating the Kansas City Chiefs in Super Bowl LV.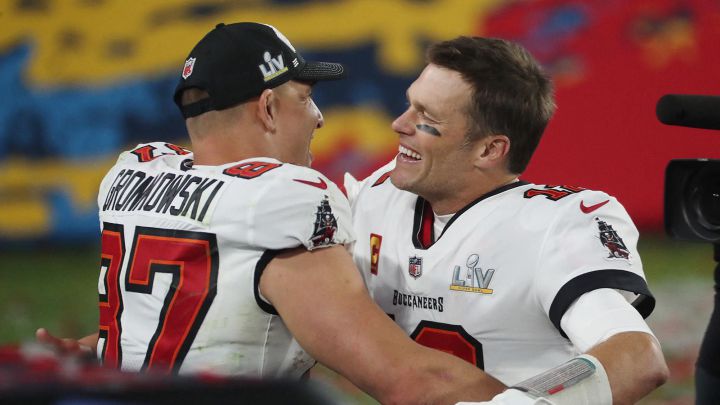 When it comes to playoffs games there is arguably no better offensive duo in the history of the NFL than Tom Brady and Rob Gronkowski. This postseason, however, was a little different for the former New England Patriots teammates because prior to Super Bowl LV, they hadn't connected for a touchdown pass. That would not last.
Best duo in the NFL playoffs era
Brady and Gronk knew it was only a matter of time for things to start clicking between them. In the first quarter the 43-year-old quarterback hit the tight end for an 8-yard pass to score the first touchdown of the game. This was Gronk's fourth career receiving touchdown in a Super Bowl and in the second quarter Brady threw a 17-yard pass to make it five for his friend.
With the first touchdown, Brady and Gronk tied at 12 with San Francisco 49ers legends Joe Montana and Jerry Rice. And with that touchdown, the tight end also scored his 13th playoff touchdown to put him second in the all-time scoring list in the history of the NFL.
With the second touchdown catch, Gronkowski joined Jerry Rice as the only two players with multiple touchdown catches in multiple Super Bowls. On top of that, with it Brady and Gronk became the duo with more playoff touchdowns (14) than any other in NFL history, and they have won five Super Bowls together.
What made Brady join Tampa Bay?
With two decades of his life at the New England Patriots - not to mention all the success - many observers initially found it strange that Brady would move down to Tampa to join the Bucs. But there was clearly real method in that perceived madness.
"There were a lot of things that really were intriguing to me about the organisation," the quarterback said in 2020 ahead of the move. "The players, and the coaches, and the willingness of everyone to try to accomplish the goal of what playing football is, which is to win."
As well as the 'intriguing' project, Brady was also pleased with the location due to what was reported as "family considerations" which usurped another option in Los Angeles.
The truth is, this was a decision that was a long time in the making. His contract was changed a year earlier to give him the choice if he wanted to leave as a free agent. But there was an attitude shift at the Patriots that was more fundamental in the request to leave.
Both head coach, Bill Belichick, and franchise owner, Robert Kraft, were said to be reluctant to give their star man a long enough contract to keep him in New England until retirement. Instead there was talk that they were eyeing up a successor to the throne. That sent the player a message that he was no longer fully wanted, and with that the idea to look elsewhere snowballed.
Why did Gronk join Tampa Bay?
"You know, everyone keeps asking me 'Did Tom (Brady) get you to Tampa?'" Rob Gronkowski told Ellen DeGeneres when he appeared on her show. "Well, of course it didn't hurt that Tom went to Tampa, you know, and the opportunity to go to Tampa was there too.
"But you know, Tom was like the appetizer, and then there's a few other reasons. I love the weather.
"But the main course, the main reason why I came down to Tampa to play is because my mother live two hours away. She can get to all the games, all eight of our home games. Whenever I have days off, she's two hours down the street and I get to see her. So she's super excited."