How to cash out your third stimulus check EIP debit card
Stimulus payments will start hitting bank accounts this weekend, but you may be receiving your stimulus money via an EIP debit card. Find out more.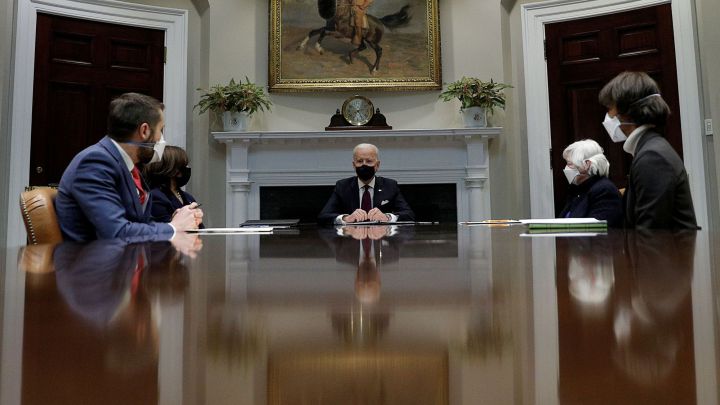 Now that President Joe Biden has signed the American Rescue Plan the third round of Economic Impact Payments (EIP) can begin to be paid to Americans. Around 85% of all US households will receive direct stimulus checks in one of three forms; direct deposit, paper check or an EIP pre-paid debit card.
The US Department of Treasury will send out the payments depending on the information that the Internal Revenue Service (IRS) has on file when it comes time to send you your payment. Taxpayers who receive their tax refund via direct deposit should have their stimulus payment sent directly to thier bank account. However, if there is a problem with your account or you don't have direct deposit with the IRS, your payment will arrive by paper check or EIP pre-paid debit card.
What is a EIP debit card?
The Economic Impact Payment Card (EIP Card) is a prepaid debit card that the US Treasury used as an alternative to direct deposits and paper checks to distribute some stimulus payments in the previous two rounds under the CARES Act and the covid-19 relief bill in December. The Treasury's financial agent, MetaBank, will mail out the EIP Cards to eligible recipients. Each mailing will include instructions on how to activate and use the card, or you can visit the EIP card website to activate it and learn more about how to use it if you receive one.
The EIP Card works just like any other Visa debit card, you'll need to activate it when you receive it. Then you can use it to make purchases where Visa debit cards are accepted, get cash from in-network ATMs and transfer funds to your personal bank account without a fee.
The IRS provided an example of what the EIP Cards look like.

How to get cash out your EIP debit card
There are multiple ways you can access cash using your EIP Card, but remember there may be limits to the amount that you can withdraw at any one time. MetaBank's Money Network give these instructions for getting cash from your EIP Card along with other frequently asked questions.
Cash from an ATM:
There's no fee to withdraw cash at in-network ATMs that carry the AllPoint or MoneyPass brands, but fees may apply if you use an out-of-network ATM.
To get cash, simply:
Enter your 4-digit PIN
Select "Withdrawal" from "Checking"
To find surcharge-free in-network ATMs, use the Money Network EIP Card ATM locator found at EIPCard.com or in the Money Network Mobile App. (iOS / Android )
ATM Withdrawal Limits Apply: $1,000 per transaction and per day (bank limits may be less). Please see your Cardholder Agreement online at EIPCard.com for more information.
Cash-back from participating merchants:
The easiest way to get cash back with your Card is at the places you already shop, like grocery and convenience stores. Simply:
Select "Debit" on the keypad
Enter your 4-digit PIN
Select "Yes" for cash-back
Enter the amount and hit "OK"
Point-of-Sale (POS) Transactions Limits Apply: $2,500 per transaction and per day (merchant cash back limit may be less). Please see your Cardholder Agreement online at EIPCard.com for more information.
Cash from a bank or credit union teller:
You can visit any bank or credit union branch to withdraw cash, but fees may apply¹. To withdraw cash:
Know your balance beforehand – the teller cannot tell how much money you have on your Card
Ask the teller for the amount you would like to withdraw
You'll need your 4-digit PIN and may be asked for an additional form of ID
Bank/Teller Over-the-Counter Withdrawal Limits Apply: $2,500 per transaction and per day (bank limit may be less). Please see your Cardholder Agreement online at EIPCard.com for more information.
Keep an eye on the mail, don't throw away your stimulus payment
Nowadays it seems like the only things that comes in the mail are bills and advertisements, but in the coming weeks there could be a very important letter for you. The EIP Cards will arrive in white envelopes with the return address "Money Network Cardholder Services" from MetaBank in Omaha, Nebraska. The envelopes will also have the Treasury seal in the upper left-hand corner.
The IRS provided an example of the what the envelop looks like.

Be careful of scammers
Naturally, wherever there is money involved, there are usually scammers trying to take it from you. To avoid losing your stimulus payment remember:
The EIP card will come with instructions telling you how to activate it. You can visit the EIP card website as well for instructions.
Be very careful that you call the correct phone number. Don't search the Internet for the number. Scammers sometimes set up fake customer service numbers to deceive people and take their personal information.
Never give your personal identification number (PIN), EIP debit card number or Social Security number to anyone who calls or texts you.
Check your mail carefully to avoid tossing your EIP card out with your junk mail.
If you've destroyed or thrown out your EIP card, it is important that you call the toll-free customer service line at 800-240-8100 (for the hearing impaired: 800-241-9100) to ask for a replacement. You'll need to select the option lost or stolen.
You can find additional information at the official EIP Card website.