EURO 2020
Italy v Spain: who is referee Felix Brych?
Spain play their semi-final against Italy with the German referee, who is also a lawyer, in charge, and with whom they have never won a match before.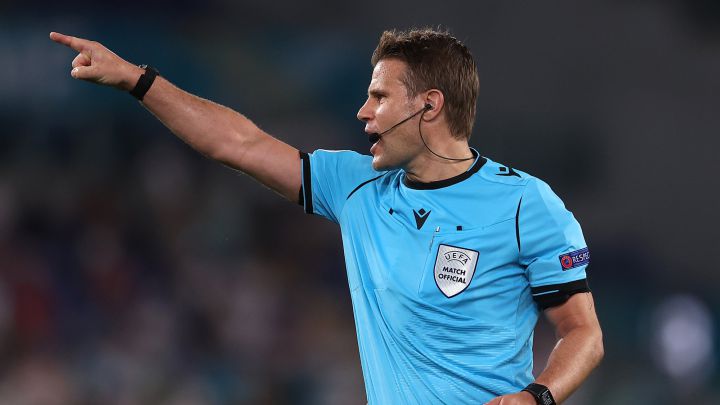 On Tuesday at 9:00 p.m. in Wembley the first semi-final of Euro 2020 takes place, where Italy and Spain will battle for a place in the final on Sunday. For this first semi-final, UEFA have appointed veteran Felix Brych as the referee.
Brych: one of the world's best-known referees
45-year-old Felix Brych is the German representative for Euro 2020.
Having started International refereeing in 2007, Brych has definitely built his way up in big competitions such as the Champions League, where he whistled the final in 2017. Also, he had a lot of prominence in World Cups 2014 and 2018, a highlight of which came in Russia, where he was engaged in huge controversy by failing to give Serbia a penalty against Switzerland.
Not afraid to implant his authority and show cards if necessary, Brych is possibly best remembered in Spain by those who support Atlético Madrid for sending off Arda Turán for a double yellow against Real Madrid in the Champions League clash that took place in 2015 and expelling Fernando Torres in the same competition in 2016 against Barcelona.
However, he is not only a renowned referee, but also a qualified lawyer away from the football pitch.
His debut in Euro 2020
Throughout Euro 2020 he has been in charge of four matches.
Starting with Netherlands 3-2 Ukraine, Finland 0-2 Belgium, Belgium 1-0 Portugal and Ukraine 0-4 England, he is now heading towards Italy-Spain in the semi-finals.
Why Brych is a bad memory for Spain
Tonight will bring up bad memories for Spain, not only because the Spaniards have never won a match refereed by Felix Bych, which tend to end up in draws, but also because Brych already whistled in 2016 when the Italians confronted the Spaniards in a qualifying round, which ended up in a 1-1 draw.
Conversely, Italy has never known defeat with the German referee, where they have had three victories and two draws.