Sergio Agüero: "I was shocked when Messi said he was leaving"
The Argentine denied that he considered leaving the club when his close friend and supposed team-mate Lionel Messi joined PSG.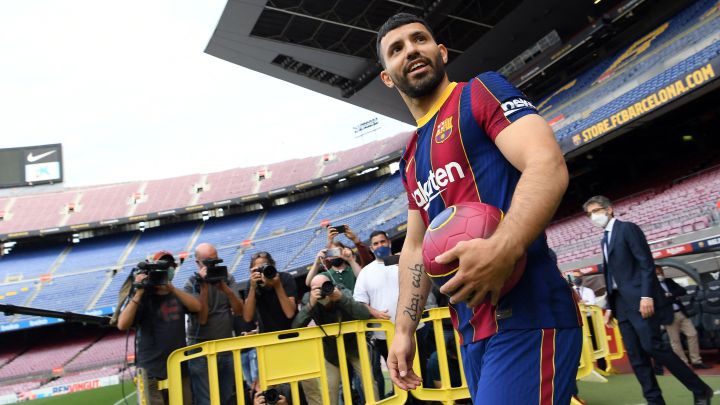 Sergio Agüero is aware that he still has a long way to go before he can play for Barça as he is still recovering from a calf injury, but in an interview with the programme Tú diràs on RAC1 he discussed the current situation at the club. The veteran striker admitted that when Lionel Messi left Barcelona, he was in "shock", but that he never considered leaving Barcelona. The former Manchester City player admits that "I have to earn my place in the team and I know that at the beginning I will start from the bench".
On recovery
"It's going very well, I'm making good progress. There is no prognosis for a return but we are making progress and I hope to shorten it by a few weeks. It is painful and the problem is that it is close to the calf. The last MRI scan was pretty good".
On injury concerns
"Last year I missed games because of my knee, but I had the operation in July and I was recovering until December, then I went through COVID and it was complicated. The team was set up and Pep continued with his tactics and I had missed several months which made it difficult for me to get into the starting line-up because the team was playing very well".
Tough start
"I didn't understand why it came out that I was going to leave. When I signed, Leo hadn't signed. It was closed and that was it. I was waiting for Leo's agreement, but at no time was there a clause to leave. Then Leo's departure happened and I got injured and I couldn't even walk".
Messi leaves Barça
The Argentinian striker discussed dealing with club legend and friend Leo Messi leaving Barcelona. "When the talk came about signing for Barça, I knew that financially they weren't doing well, I didn't care about the money and I wanted to go and play in Barcelona. I told my agent to arrange it. It was clear that what I was earning at City was impossible here, but I was excited to play here.
"During the negotiations, I spoke to Leo, but not about his future at the club, I didn't want to bother him, but he told me he was about to arrange it. We were at the Copa America and then his departure happened and I was shocked. I would definitely sign for Barça again now knowing how the club is. The club will improve financially and compensate the younger players for their efforts. I have spoken to Leo and it is he will return to live in Barcelona. I hope it goes well for him. I already played against him with City and it would be nice to play against him again".
Griezmann returns to Atlético Madrid
Agüero went on to admit that is was a struggle to keep Antoine Griezmann. "It's understandable [his departure] because of how Barça are financially. There is a lot of debt and until the last minute there was always a chance that it could happen, although I didn't expect it. Then he just disappeared, like Miralem Pjanic did. We have very good players. Good players have left, but we have players to cover the losses".
On goals
"We don't need one player to score 30 goals, we have to help each other. Sergi Roberto is our goalscorer now, I call him a goalscorer and he cracks himself up laughing. I don't set myself numbers, what I want is to win titles, that's the only thing that interests me. You have to win, win and win".
Titles in Spain
"I've never won a title here. I want to win LaLiga and the Copa del Rey, which I don't have".
Champions League chances

"Because we are Barça we have to fight for every title. I don't think we are favourites, but the rivals have respect for us. I played against Barça at a bad time against City and I knew it was Barça".
Working under Pep Guardiola
"From the day he [Pep Guardiola] arrived, he set out his tactics from made it very easy for me not to move so much. He made it quite clear what we had to do, and in my case that was being close to the box. He helped us a lot, we won a lot, but for me the important thing is that I learned a lot. He's a guy who doesn't stop. We'd win a title and the next day he'd demand the same. At Barça the training sessions are also demanding and very good".
On competition for places
"If you want to be a starter, you have to be good and nobody here has a guaranteed place. You always have to be at 100 per cent. I'll do my best, I'll probably start on the bench and I'll give my best. I hope I can play a lot of games and if it's as a starter, all the better".
On Ronald Koeman
"I spoke to him on the phone during the Copa America and you can tell he is a very direct guy and players appreciate that. He makes it very easy for you, he tells you what he likes and what he doesn't like and that's better than not knowing what's going on".