Unemployment benefits
Unemployment benefits: How will states return payments to the central government?
Many state unemployment trust funds are now empty, meaning difficult measures are going to be taken to balance the books - and workers will lose out.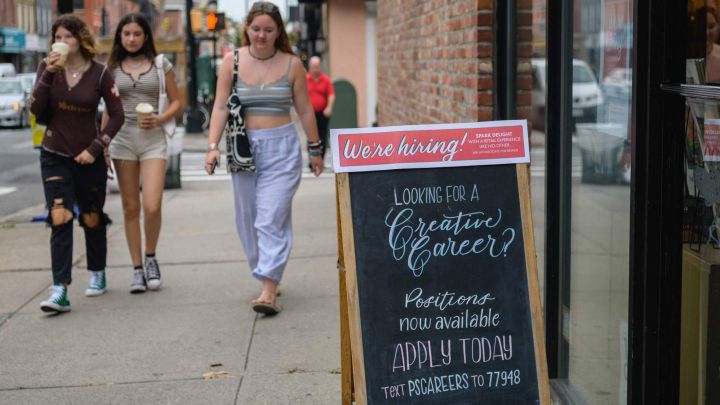 When the pandemic took hold in the United States back in March 2020, Congress quickly passed the CARES Act, which made significant changes to unemployment insurance. Through two main programs, the federal government was able to extend the number of weeks those unemployed could claim benefits and increased the value of their benefits.
At one stage there were more than 29 million people claiming unemployment benefits. The tens of millions who lost their jobs benefited from these new programs:
Pandemic Unemployment Assistance (PUA), which provided unemployment benefits "to individuals who are self-employed, seeking part-time employment, or who otherwise would not qualify for regular unemployment compensation."
Pandemic Emergency Unemployment Compensation (PEUC), allowed those eligible to receive unemployment compensation and additional coverage beyond the usual limit. States have a cap on the number of weeks claims can be made. This program also provided $300 a week in addition to state benefits.
After September 4, 2021, DOES will continue to process claims that were timely filed and include periods of unemployment that ended on or before September 4, 2021. Claimants who are found eligible will receive benefits for properly reported weeks. Visit https://t.co/OTRmdcly3e pic.twitter.com/N41SWHEhnl

— DC DOES (@DOES_DC) October 2, 2021
Clearly, this was to cost a significant amount of money. Usually states pay for unemployment benefits out of their own funds but the federal government had to step in due to the huge numbers of unemployed.
Now they want their money back.
What options do states have?
Each state will take a different approach to paying back their debt and their choice will broadly be within these three categories.
Using more federal funds to pay off the debt and refill their fund for further unemployment,
Increase taxes on employers,
Cut future benefits.
States have spent about $175 billion since the start of the pandemic, about three and a half times their typical payments for the period, according to Jared Walczak. There is a $115 billion shortfall that states need to make up before their funding levels are at an adequate minimum. Some 34 state accounts are considered insolvent by the federal government, meaning the balances are below the minimum level needed to get through a year-long recession, Walczak said.
In the last big recession, less than 15 years ago, states raised unemployment tax on employers as well as slashing the length of their unemployment programs. These measures are expected to happen again this coming year.
Who will be affected the most?
The group that will be put under the worst strain are unemployed and low-paid American workers. If unemployment tax is raised on employers, it will mean fewer jobs will be available, despite the historic job vacancies in the US economy. Further tax raises may come next year on businesses too.
You know unemployment was cut because 2 weeks ago, baby formula was sold out at the grocery store and now there's a locked cage around it with theft sensors taped on every can. People can't afford baby formula for their babies anymore.

— Rebecca Parson for Congress, WA-06 (@RebeccaforWA) September 27, 2021
Another poor outcome for workers would be a cut to unemployment benefits. Poor Americans have already been stunned by the end of the extra benefits on Labor Day and help is sorely needed. Unemployment is still much higher than it was before the pandemic so further cuts to the safety net would leave hundreds of thousands of Americans in need of support.