NBA
Who are the top scorers in the NBA? Full list
In the lead as the all-time scorer is Jabbar; however, current player LeBron James threatens to challenge the record, 27 years later.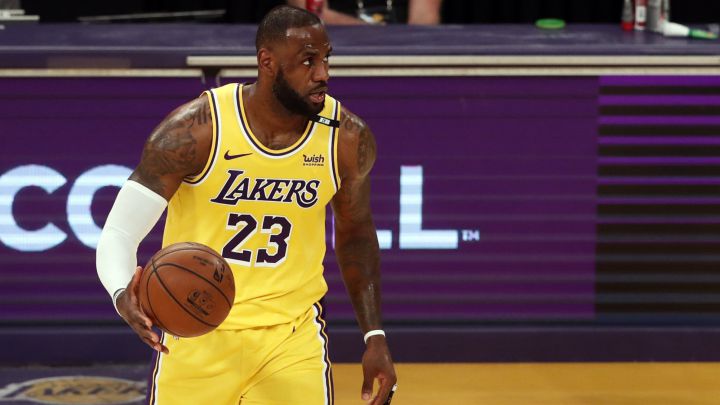 With the 75th NBA season tipping off, the race for the scoring record continues. Despite Lebron James being the unquestionable scoring leader of current times, he still has two more spots to climb to dethrone the all-time scoring leader Kareem Abdul-Jabbar, who has kept the record for the past 27 years.
Top 7 scorers of all time!
7. Wilt Chamberlain
Scoring Average: 30.1
Chamberlain was an absolute blast at the time, and even now he still possesses the most number of records in NBA history, having averaged over 50 points in one game. The record for the highest-scoring game is also stamped in his name, adding up to 100 points in a single game.
Having won the scoring title in his first seven seasons, Chamberlain left NBA IN 1973 as the unquestionable scoring leader of that time, 5,000 points beyond the second-highest number.
6. Dirk Nowitzki
Scoring Average: 20.8
No one could have expected that the young player who started averaging 8 points in his beginnings, would become the beast he turned into, becoming one of history's top scorers! 21 seasons after he began, Nowitzki carried on playing for the Mavericks, with whom he debuted.
5. Michael Jordan
Scoring Average: 30.1
The GOAT has the record for the most scoring titles in NBA history, winning the title on ten occasions. He also has the record for the highest scoring average (30.12), roughly edging out Chamberlain who achieved an average of 30.07.
Basketball icon Michael Jordan retired on two occasion, claiming in 1993 that he didn't enjoy the game as before before making his comeback two years later. The star played all the way through 2003, when he officially retired for good, earning a third spot in the top scorer ranking, just behind Malone and Jabbar.
4. Kobe Bryant
Scoring Average: 25.0
Three-time MVP Kobe Bryant left an incredible amount of memorable moments all across his career, including the five championships he won with the Lakers, making him one of the most revered NBA players of all times. The 81 points he achieved against the Toronto Raptors in 2006, places him second in the ranking of most points in a single game. The Lakers retired two of their numbers-- 8 and 24-- following the star's retirement in 2016.
3. LeBron James
Scoring Average: 27.0
LeBron James, who also won as MVP on three occasions, was averaging 30 points at the age of 23 and has well been established as another basketball star. "The King" has declared his will to carry on playing basketball for a long time and there is a good chance he'll manage to dethrone the all-time scoring leader Jabbar.
2. Karl Malone
Scoring Average: 25.0
As surprising as it might seem, the second-ranked top scorer in NBA has never won a scoring title.
Despite never been awarded scoring recognition, he has averaged over 25 points per game across 12 seasons, with King James being the only player to average over 25 points per game in more seasons.
1. Kareem Abdul-Jabbar
Scoring Average: 24.6
Jabbar is not only the NBA player with more points scored, but is also the player to maintain its record for the longest time, currently being 27 years. Next one in line for record longevity is Malone, whose record lasted for 18 years.
Full list of top scorers below.
52 YEARS AGO TODAY
Kareem Abdul-Jabbar had 29 PTS, 12 REB, 6 AST, 4 STL, 3 BLK in his NBA debut.

Rookie Season:
28.8 PTS & 14.5 REB
Rookie Of The Year
All-Star
All-NBA 2nd team
All-Defensive 2nd team
3rd in MVP Voting

pic.twitter.com/27PqM0TE5I

— Ballislife.com (@Ballislife) October 18, 2021
Next in line is Kevin Durant, who adds up to 23,883 points.
Top 25 scorers of all time
| | | |
| --- | --- | --- |
| Ranking | Player | Points |
| 1 | Kareem Abdul-Jabbar | 38,387 |
| 2 | Karl Malone | 36,928 |
| 3 | LeBron James | 35,367 |
| 4 | Kobe Bryant | 33,643 |
| 5 | Michael Jordan | 32,292 |
| 6 | Dirk Nowitzki | 32,560 |
| 7 | Wilt Chamberlain | 31,419 |
| 8 | Shaquille O'Neal | 28,596 |
| 9 | Moses Malone | 27,409 |
| 10 | Carmelo Anthony | 27,370 |
| 11 | Elvin Hayes | 27,313 |
| 12 | Hakeem Olajuwon | 26,946 |
| 13 | Oscar Robertson | 26,710 |
| 14 | Dominique Wilkins | 26,668 |
| 15 | Tim Duncan | 26,496 |
| 16 | Paul Pierce | 26,397 |
| 17 | John Havlicek | 26,395 |
| 18 | Kevin Garnett | 26,071 |
| 19 | Vince Carter | 25,728 |
| 20 | Alex English | 25,613 |
| 21 | Reggie Miller | 25,279 |
| 22 | Jerry West | 25,192 |
| 23 | Patrick Ewing | 24,815 |
| 24 | Ray Allen | 24,505 |
| 25 | Allen Iverson | 24,368 |